Avis de décès
LuAnne Faubion
31 octobre 1956

–

10 septembre 2021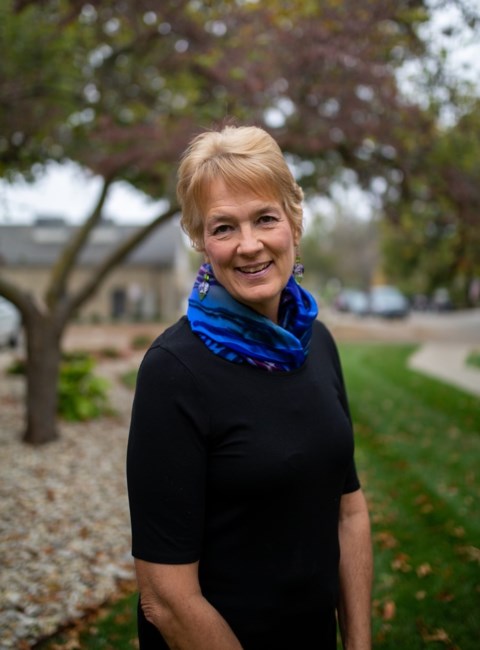 LuAnne Faubion, 64, passed away peacefully on Friday, September 10, 2021 at her sister's home in Overland Park, KS, in a room full of "her people," surrounded by their love. She had been diagnosed with an aggressive brain tumor (Glioblastoma) only 5 months prior, in April 2021. She underwent surgery, chemotherapy, and radiation, taking everything in stride with a "bring it on" attitude, and never uttering a complaint. The treatments bought her several more months of quality time to enjoy with her large family and many of the multitude of friends she had accumulated over the course of her six plus decades on Earth. She held on long enough to meet her third grandson, Ethan, just days before she left us. Let's rewind almost 65 years and start from the beginning… LuAnne was born October 31, 1956, in Phillipsburg, KS to Dr. Hiram and Lydia (better known as "Hi and Wixie") Faubion. She was delivered by her own grandmother, Dr. Mary Townsend. Lu grew up in Smith Center, KS, where she graduated from high school, with honors, in 1974. Born to two purebred Wildcats, Lu bled purple, so it was only natural that she chose Kansas State University (KSU) for college. But, since KSU didn't have a nursing program, Lu finished her studies with a Bachelor of Nursing Degree at Wichita State University (WSU) in 1978. A few months after graduation, on August 6, 1978, LuAnne married Gerald Lindholm, MD of Little River, KS. Two years later, after Gerald finished his residency in Kansas City, he and a heavily pregnant LuAnne put down roots in Newton, KS, where they would raise their three girls: Emily, Abbey, and Kirsten. As the girls grew, Lu joined them at their school where she worked several years as the school nurse, allowing her to share their schedule. One of LuAnne's superpowers was possessing an endless supply of energy that even a child would envy. While already going above and beyond what was typically expected of wives in the 80's and 90's (working outside the home while still being responsible for most of the child-rearing, cooking, cleaning, etc.) by also finding time to throw birthday parties, plan daytrips to full vacations, fit in plenty of activities for the kids and the whole family, and even found time for herself to stay active, spend time with other "grownups," and indulge in some adventures of her own (like skydiving), she was determined to go even further to prove her superhuman skills. With an already hectic schedule, Lu somehow managed to go back to school herself to pursue a graduate degree in the early 90's. By now a single mom of 3 "tweens," she took classes and worked frequent 12-hour overnight shifts in Wichita, all while remaining very involved in her children's lives and managing to still have time for her interests and friends. In 1994, she received her master's degree at Wichita State University to become a Nurse Practitioner (APRN). In the summer of 1995, LuAnne moved to Manhattan, KS to put her new degree to use at KSU's Lafene Health Center. Now back in Wildcat Land after two decades, she made a habit of donning the purple and white on autumn Saturdays to root for the football team that her dad, Hi Faubion, played for in 1948-51. After his death in 1999, she took over the season tickets Hi had held every season since the stadium opened in 1968: 2 primo seats near the 50-yard-line and 29 rows up. Ever the extrovert, Lu enjoyed hosting company. Her new proximity to the alma mater of many of her family and friends made her home the go-to Saturday destination for Wildcat game day tailgating and a post-game afterparty. LuAnne's love of purple attire and accessories she developed during her days as a Manhattanite earned her the nickname "Aunt Purple." In 1999, at All Faith's Chapel on the KSU campus, LuAnne married Robert "Bob" Dodge of Topeka, KS, adding him and two stepchildren, Luke and April, to the family. Once all her girls had graduated from high school, she and Bob spent a few years in Topeka, where Luke and April were in school. When things didn't work out with Bob, Lu moved to the Kansas City area to be closer to her 3 sisters. Before long, in true Lu fashion, she just up and announced, "I'm moving to Florida" …and just like that, she was off to new adventures! While biking was Lu's main fitness passion in Kansas, swimming quickly took its place in Florida. She joined VAST (Villages Aquatic Swim Team), a swim team for seniors (even though she hadn't even hit the big Five-O milestone yet). She got a kick out of the team's cheerleader squad (yes, for a swim team) composed of old ladies in short skirts! Lu was an expert swimmer. She was one of few who could claim mastery of the butterfly stroke, and in 2008, placed in the breaststroke event in Florida's "Senior Olympics." In between sets of laps, she met Robert "Bob" Roth, a fellow VAST teammate. Fast-flutter a few years and, on October 10, 2010, Lu and Bob were married outdoors on a beautiful autumn day (or as 3 of the 4 seasons are known in Florida, "less hot summer"). It was a Sunday, but even if it had been a Wednesday, Lu would have insisted on that wedding day. She wasn't about to let a date like 10-10-10 go by without making it a Sharpie-worthy event for the wall calendar! In 2019, LuAnne learned she had another grandson on the way, to join her first – Aiden (2008)! She headed back home to Kansas in time to greet little Jameson in November and help momma Kirsten settle into mommy-hood during her maternity leave. While back in Kansas, Lu felt a strong pull to stay awhile and reconnect with her Kansas family. After spending the holiday season in Kansas, she had made up her mind, and finally hung up her nursing scrubs for good. LuAnne was a never known to sit idle, so "retirement" took on a different meaning for her than for most. She could not be contained by lockdowns, so during the summer of 2020, she traveled to Montana to be a camp nurse for a Boy Scout camp, one of the few summer camps running during that historic year. When she returned, she thought being a sorority house mom sounded fun, so she returned to Manhattan to be "Mama Lu" for KSU's chapter of Pi Beta Phi for the 2020-21 school year. LuAnne is survived by a huge family: husband Robert; daughters Emily, Abbey, and Kirsten; grandsons Aiden, Jameson, and Ethan; step-granddaughter Kaitlyn; siblings Mary Kaye, Joseph, and Amy; nieces Becca, Amanda, and Lydia; nephews Phillip, Pierce, and Reed; great-nephews Austin, Gabriel, Damien, and Jackson; and great-nieces Alexis, Marietta, and Tenley. She was preceded in death by her parents, Lydia (1994) and Hiram (1999) Faubion, and her youngest sister, Beth (2016). LuAnne was not a big fan of many conventional practices, so she asked for no formal funeral service. Instead, the Faubion family will be holding a "Happiness Hour" for Trick-or-Drinking in her honor at J. Rieger & Co. Bourbon Distillery in Kansas City on Saturday, November 6, 2021. In lieu of flowers, memorial donations are requested to support LuAnne's small hometown of Smith Center, KS in their swimming pool renovations so they can provide current Smith Center residents with an enjoyable way to beat the heat during the long, hot Kansas summers. LuAnne Faubion Memorial Pool Fund 119 West Court St. Smith Center, KS 66967 The Faubion family would like to thank the many loved ones that reached out or visited LuAnne during her last few months with us. All the many prayers, cards, calls, texts, meals, gift cards, and donations to her chair lift fund were very much appreciated by LuAnne and her caregivers.
VOIR PLUS
VOIR MOINS
DONS

LuAnne Faubion Memorial Pool Fund

119 West Court St., Smith Center, KS 66967
Prestations de Service
Aucun service public n'est prévu en ce moment. Recevez un avis lorsque des services sont mis à jour.
recevoir des avis
En mémoire de
LuAnne Faubion
Aidez à raconter l'histoire de la vie unique de votre bien-aimé. Laissez un souvenir ou partagez une photo ou une vidéo ci-dessous pour montrer votre soutien.