Avis de décès
Christine "Chris" Gugar
26 décembre 1957

–

18 janvier 2022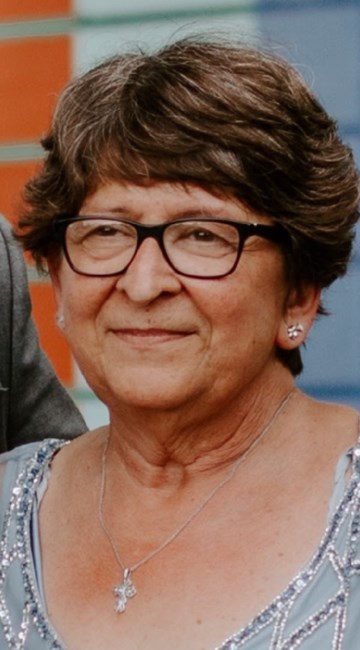 On Tuesday, January 18, 2022, the world lost a generous and loving soul with the passing of Christine Annette Gugar, neé Klonaris, known to her family and friends as Chris. Chris was predeceased by her parents, Thomas and Joann Klonaris, and her sister, Sheila Papagianis (John). She is survived by her two loving sons, Michael and James (Sarah) Gugar, sister Marie (Adrienne) Whitlock, nephew Thomas (Karrin) Makris, nephew Dino Papagianis, step-sons, Richard (Lisa) Gugar Jr. and Scott Gugar, as well as many cousins, friends, and neighbors. Chris was born in Fairview Hospital on December 26, 1957, the day after Christmas. A lifelong Lakewood resident, she spent many happy years on Lakewood Avenue, first with her parents, sisters, and cousins, and later, in a house across the street with her two sons. After graduating from Lakewood High School in 1976, Chris attended Baldwin Wallace University, where she earned a bachelor's degree in home economics. She married, and in 1988, gave birth to her first son, Michael William. Three years later, James Emanuel was born, completing her family. The Klonaris's are a tight knit crew, and Chris loved nothing more than being together with her family. If her sons were the center of her life, her sisters were the pillars; they raised their children together and weathered all of life's highs and lows as a team. Being a mother to Jimmy and Michael was her proudest accomplishment, and she extended her loving care to their friends as well; everybody called her "Mom". Chris loved being around people, had an easy laugh, and an insatiable sweet tooth. She was down-to-earth and easygoing but direct––"a straight shooter"––and always, no matter the situation, unabashedly herself. Whether she was sunbathing with her sisters at Madison Avenue Pool, baking galaktoboureko for a holiday party (which she later attended in her PJs because she was "feeling cozy"), or cackling whole heartedly in conversation with a friend, Chris allowed simple joys and an enduring love of others to guide her life. She also demonstrated remarkable strength, beating cancer and enduring three brain surgeries while caring for her family. Never one to give up, she came through on the other side with her smile and sense of humor intact. Community-minded and committed to caring for others, Chris was a consummate "helper". She was also a do-er, helping out with Cub Scouts, always coming to her parents' aid as they aged, and each year growing enough tomatoes to feed all of Lakewood Avenue all summer long. A prolific baker, Chris could always be counted on to supply endless baklava and koulourakia for every event. She also spent years working in vocational habilitation for adults with developmental disabilities, supporting their independence and centering their dignity. Her life was not easy, but she had a way of moving through it with joy and charity, never losing sight of the needs of others. Any remembrance of Chris's life would be remiss without also acknowledging her beloved dog, Rocky. Twelve years ago, when Chris's younger son brought home a starving, raggedy pup, abandoned on the golf course where he worked, Chris had two words: absolutely not. Come morning, however, Jimmy found the two of them snuggling on the couch. True to her nature, Chris was quick to warm to the dog and sympathetic to his plight; Rocky stayed, and was a faithful companion for the next 12 years, through the end of Chris's life. Chris will be dearly missed for her genuine and open heart, playful spirit, and the devoted care she showed to everyone she loved. She valued family above all else, and her legacy will continue in the joy and love that those she leaves behind share with one another. A visitation for Christine will be held Friday, January 28, 2022 from 4:00 PM to 8:00 PM at Corrigan Craciun Funeral Home, 23040 Center Ridge Rd., Westlake, Ohio 44145 where funeral services will be held on Saturday, January 29, 2022 at 10:00 AM. Interment will follow at Lakewood Park Cemetery, 22025 Detroit Road, Rocky River, Ohio. Fond memories and expressions of sympathy may be shared at www.corrigancraciunfuneralhome.com for the Gugar family.
VOIR PLUS
VOIR MOINS
Services Précédents
vendredi,
28 janvier, 2022
Visitation
En mémoire de
Christine "Chris" Gugar
Aidez à raconter l'histoire de la vie unique de votre bien-aimé. Laissez un souvenir ou partagez une photo ou une vidéo ci-dessous pour montrer votre soutien.