OBITUARY
Dr. Israel Leon Dogon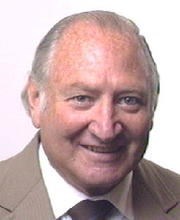 Israel Leon Dogon, 92, Professor Emeritus at the Harvard School of Dental Medicine, devoted his career to working in underserved communities around the world I. Leon Dogon, LDS, RCS, DMD, Professor Emeritus at the Harvard School of Dental Medicine and longtime research scientist at The Forsyth Dental Center, was a native of South Africa, and witnessed firsthand that country's disparities in health care. Since 1957, when he earned his first dental degrees from the University of London and Royal College of Surgeons, Dr. Dogon devoted his career to expanding dental health care to underserved communities around the globe. He established preventative oral health programs in Bosnia, China, India, Indonesia, Macedonia, Poland, and the United States. "As a dentist interested in preventing oral diseases," he said, "I always want to work in areas where health care is not readily available for most people." He had an early interest in China and traveled there for the first of many visits in 1979. What ensued was a dedication of 2-3 months a year working in China for the next 25 years. During that time there were few dental education resources in that country. That has changed in part due to Dr. Dogon's work. As a result of his contributions to curriculum development, Dr. Dogon was granted honorary professorships at three major dental schools in China. He served as Project Hope's director of the dental education program, based in a large part on the pioneering work he had done with underserved school populations in the Boston area. In Boston, he worked with 3M to develop a tooth sealant to help prevent dental decay, that could be applied by lay people who had little access to dental health practitioners. In order to enable future students to follow in his footsteps, Dr. Dogon established the first of its kind endowed Harvard School of Dental Medicine Student Travel Fund. The fellowship funds will be available for students who wish to travel to a developing area and either conduct a research project or carry out service work or education in a clinic abroad. Leon, known as Issy in South Africa, was born in Krugersdorp, South Africa, April 13, 1930. He attended Witwatersrand University in Johannesburg, South Africa, and earned his first dental degrees from the London Hospital Dental School, University of London, and the Royal College of Surgeons. In 1958, Leon accepted a temporary research position at Forsyth Dental Center, met his future wife Sally, and settled in the Boston area. In 1963, Dr. Dogon received his DMD from Harvard University. Some of the appointments he held include Head of the Department of Restorative Dentistry and Biomaterials Sciences, Assistant Dean for Student Affairs, Associate Dean for Administrative Affairs at the Harvard School of Dental Medicine, Head of the Department of Dental Materials, Forsyth Dental Center, and Director, Peter Bent Brigham Hospital, HSDM Residency Program in General Dentistry. A passionate lover of family, travel, food, and a good cup of tea, Leon loved to entertain family, coworkers and friends. He was never happier than after a day spent on the beach in Dennisport, MA, with a glass of scotch in hand, grilling enormous amounts of meat for family and friends. Leon died peacefully on May 6, 2022, surrounded by his family. He was buried in a Jewish ceremony on May 8th, Sharon Memorial Park, Sharon, MA, in an intimate celebration of a life well lived. Leon leaves his beloved wife of 61 years, Sally Sinaiko Dogon, of Wellesley Hills, MA; his daughters Andrea Dogon Stiller of Sherborn, MA, and Temi Dogon Correll, of Dover, MA; and his son Dr. Alexander Dogon, of Needham, MA; their spouses, and his adored seven grandchildren Emma and Carly Stiller, Riley, Sam and Tessa Correll, and Avery and Isaac Dogon. He was a beloved member of a large extended family in South Africa, Israel, England, and the United States. His family would like to extend their deepest gratitude to his cardiologists, Dr. Bernard Lown and Dr. Charles Blatt, for their long-term expert medical care.
See more
See Less
In Memory Of
Dr. Israel Leon Dogon
Help tell the story of your loved one's unique life. Leave a memory or share a photo or video below to show your support.