OBITUARY
Gerina "Inday" Tabigue Concon
October 3, 1947

–

January 15, 2023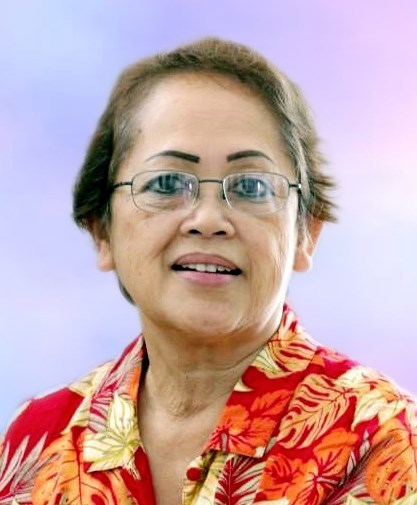 In the song of life, Gerina "Inday" Tabigue Concon was surely the composer. A very observant woman who would rather spend her time creating than talking, Inday preferred to live in a world of harmony where everything around her made sense. In fact, she depended on her sensory world to provide her with concrete data. A free spirit, Inday believed that actions definitely spoke for themselves. She seemed to know what fit and what didn't fit in everything she did. Inday perceived that all of life's possibilities were open to her, yet she lived with a definite sense of purpose. She was a woman who was always ready to share her creations with those around her. Inday was born on October 3, 1947 in Cortes Bohol Philippines. Her parents were Maximino "Terio" and Maria "Iyay". Inday was raised in Rosario, Cortes, Bohol. As a young child, Inday was optimistic in her outlook. She sought out the possibilities in a given situation and looked for ways to apply her creative energies. Inday rarely calling attention to herself, but when she did speak out, her message was clearly understood by those around her. Early on in her family relationships, Inday showed that she was a tolerant and flexible person, and she got along fairly well with everyone. She was raised with five siblings. She had older brother Baldo (deceased), older brother Makoy (deceased), younger brother Lamberto (deceased), older sister Helaria (deceased), and younger sister Celing. She was a calm and playful child who was adaptable to any situation. As she was growing up, Inday developed into a person who enjoyed physically doing things, and she took pleasure in using her hands in order to create. Whether it was growing things, building things and fixing things, Inday liked concrete things. She grew up in the province to a poor family, so she spent most of her time helping out her parents in the farm and help her parents take care of her younger sibling. Early on in her school years, despite her families limited means, Inday showed an interest in learning. At times, school learning did not provide Inday with sufficient challenges, but being an avid reader, she could often be "lost in a book" well above her grade level. When she knew that her own parents could not afford to send her to school, she sought a way for her finish her secondary schooling so she can pursue higher learning. She sought help with relatives from other provinces and lived with them to work and go to school at the same time. She graduated from Dumingag National High School in Zamboanga Del Norte in 1966. In college, Inday showed that she was able to focus on what was necessary. She found it quite easy to dive headlong into classes, especially those that truly interested her. Using her understanding of language, Inday was able to move comfortably through a wide variety of courses. At the time, Inday knew early on that becoming a nurse would help her and her family financially, and be able to provide for her parents a more comfortable life. However, none of her relatives were able to afford to send her to nursing school. She even sought a pen pal in the USA, and she was able to find a generous American couple who agreed to partially finance her college education. Unfortunately, they too could not guarantee her to send her to nursing school, but they were agreeable to Inday's second choice of becoming a teacher. Inday's ability to assemble highly creative projects became second nature to her. She earned her Bachelors degree in Education, major in Math from the University of Bohol in 1971. She graduated college as a working student along with the American couple's financial assistance. It was unfortunate that she lost touch with the American couple even before she graduated college. But she remained thankful and prayed for them where ever they may be for their kindness and generosity. As soon as she was able to work, she helped send her other siblings go to school and pursue higher education. She was able to get her parents their own home and got them to not work in the farm fields anymore. Those who didn't know Inday well might not view her as being an outgoing person, those who called her their friend knew differently. Inday was shy and sensitive, a person who never forced her opinions and values on others. Close friends knew that her kindness was unmatched, and once you became a friend of Inday's, you understood how true a friend she could be. While growing up, some of her best friends were Terio Cosmod, Rose Cosmod, Lilia Jumamil, Virginia Batingal. Later in life, she became friends with Victoria Tatad, Winnie Flores, Mila Gallego, Agging Fuderanan, Flor Cabo, and Gina Mortejo. A person who was sensitive to others' feelings, modest and tolerant, Inday had the ability to become completely devoted to another when that affection was returned. On Church wedding May 21, 1975, Inday exchanged wedding vows with her life partner Ariston "Boy" Concon Jr at the church wedding was at St Nino Catholic Church in Cortes, Bohol. However, a year prior to that on July 19, 1974, without their parent's knowledge and only a couple of their friend's support, Inday and Boy had a secret civil wedding in Municipal Hall of Baclayon, Bohol. Inday was exceptionally sympathetic and compassionate when it came to her children. These emotional bonds made her as much playmate as parent. She gave her family unconditional love and kindness, sharing her artistic nature by turning everyday events into creative play. Inday was blessed with three children, her son Archie, and two daughters Abegail and Angeli. She was also blessed with seven grandchildren, Aaron, Amaya, Aj, Gabriel, Colin, Madelyn, and Tessa. Inday found ways to enjoy what she did for a living. She worked hard and did her best to succeed every day. Her primary occupation was a high school math and science teacher. She was employed for 22 years as a high school teacher between Immaculate Heart of Mary Seminary, Agusan National High School, Bohol National High School, Infant King Academy, and Carmel Academy. Inday tended to be a team player, doing what was necessary in order to get the job done without imposing her will on others. When her family immigrated to the US, she was not able to practice what she loved, teaching, due to difficulty and complex process of getting a teaching license in the US. She ended up working as quality inspector in various manufacturing companies including robotics, food preps, medical supplies and pharmacologic companies. Despite being unable to do what she graduated from, she worked hard and was loyal to the companies she worked for, being recognized as an exceptional employee a few times. She made a lot of sacrifices to give her children better education opportunities and future for her family. When she saw her children were doing well, starting their own families and slowly achieving their own dreams, she strived to build her dream retirement home in Bohol, Philippines. For many years, she worked two jobs and doing double shifts, putting a lot of stress to her body. But nothing and no one would or could stop her, as she had a goal in mind. Inday enjoyed her leisure time by taking part in various hobbies. Her favorite pursuits were gardening particularly growing roses and lilies. She enjoyed making home improvements, cooking/backing, watching Filipino teleserye and any action movies. She loved listening to gospel music. She also was her children's seamstress and hairdresser, as many times she would cut their own hair and sewed their clothes when they were younger. Inday was content to enjoy her hobbies alone but was also willing to share her interests with others. She was relaxed in her approach to her leisure time because she wanted to savor the present moment. Inday enjoyed sports, not as a perform but more as the spectator. She enjoyed following her favorite events whenever she got the opportunity. Tops on her list were basketball, volleyball and figure skating. Inday's faith was important to her. She was a devout Roman Catholic all her life. Her patron saint was Padre Pio, the patron saint of healing. Inday's passionate commitment to upholding her values placed her at home in her religion, where she took comfort in the company of others who believed as she did. Because she loved the world around her, Inday enjoyed traveling and going away on vacations. It was an opportunity for her to kick back and relax, to visit new places and experience new things. Inday put her personal trademark on any leisure planning that she undertook. Because Inday longed to retire home in Bohol, Philippines, she looked forward to any chance to travel back to Bohol. When she and Boy retired in 2013 in Bohol, Philippines, she looked forward to visiting her children and grandchildren in the US, but she deeply yearned for her children and grandchildren to actually visit her in the Philippines as she has each dedicated a room for each of her children to stay should they all come home together at one time. Inday was a lover of animals and cherished her pets particularly when she retired. In Dauis, Bohol, she had two lovebirds that eventually multiplied to over 30 in the span of 9 years. She had a couple dogs and a few cats in the house as well. When Inday's retirement finally arrived in 2013, she was well prepared. Inday and Boy sold their home in Round Lake, Illinois to build their dream retirement home in Dauis, Bohol, Philippines, less than an hour away from her hometown Cortes, Bohol, Philippines. Her new life involved relocating to Dauis, Bohol, Philippines. In retirement, she continued with her love in gardening and growing indoor and outdoor plants, flowering plants, and orchids. She loved it their even more because of its tropical climate, therefore, she was able to garden all year round. She took care of a couple lovebirds which has multiplied into a few dozen. She enjoys making home improvements to her dream retirement home in Dauis, Bohol. She looks forward to visiting and seeing her children and grandchildren, but more excited when it is them who comes to visit her in Dauis, Bohol. Even in retirement, Inday continued to stay in touch with her old friends while making plenty of new acquaintances. In these later chapters of her life, she became active in the community, feeling fulfilled with the opportunities retirement offered her and simply enjoying what she had worked so hard to attain. Inday passed away on Sunday, January 15, 2023 at home in Las Vegas Nevada. Inday fought a brave battle against liver failure due to hepatitis B infection. She was diagnosed in 2017 and remained stable and asymptomatic with frequent visits to her doctors in the US and her doctors in the Philippines. It was not until early 2022 when she caught Covid 19 that all the possible complications from cirrhotic liver presented itself, leading to liver failure. She fought hard and gave it all she could as she did not want to disappoint her children who begged her to return to the US to get treated. Nevertheless, her body can only take so much, and in the afternoon of January 15, 2023, she left this world to join our Creator. She is survived by her husband Boy Ariston, children Archie, Abegail and Angeli, grandchildren Aaron, Amaya, AJ, Gabriel, Colin, Madelyn and Tessa, in-laws Mica, Ben and Ryan and her only living sibling, her sister Celing. Services were held at Palm Southwest Mortuary in Las Vegas, Nevada; and at St Nino Parish Catholic Church in Cortes, Bohol, Philippines. Inday's last wish was for her family to bring her body and lay it to rest in her homeland Cortes, Bohol, Philippines at Cortes Cemetery. Inday was a good woman, a kind woman, and a practical woman who will for all time be remembered by her family and friends as being warm, smart, generous, thoughtful and deeply caring. She leaves behind her a treasury of life-long friendships and wonderful memories. Inday always had much to give and was able to make those connections in her life, where her gifts were appreciated. Inday was a faithful, practical and loving person. Everyone whose life she touched will always remember Inday Gerina Tabigue Concon.
See more
See Less
Past Services
Friday,
February 03, 2023
Visitation
Friday,
February 03, 2023
Funeral Service
In Memory Of
Gerina "Inday" Tabigue Concon
Help tell the story of your loved one's unique life. Leave a memory or share a photo or video below to show your support.