OBITUARY
Patricia Mary Tulipani
April 3, 1935

–

May 3, 2017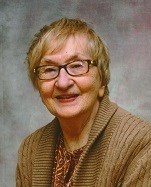 After 82 years of spreading joy to the world, Patricia Tulipani left this earth on May 3 to continue sharing joy among the other angels in heaven.
A daughter of Josephine and William Rowe, Pat was born on April 3, 1935 in Dorchester Mass. One of her most cherished childhood memories are the years she spent at the former Camp Andover in Meredith, NH. It was here that she first developed her love of nature and all of God's creatures. It was a gift she treasured all of her life.
In 1961, Pat married Joseph Tulipani, and during that decade the three greatest joys of her life arrived: her children, Gail, Mary, and John, which she lovingly referred to as The First Born, The Second Born, and The Third Born for the next five decades. Her children gratefully remember the kind, gentle, nurturing, and loving way she raised them, in a home she always filled with her singing and, with the patience of Job, not once, ever raising her voice. With mom making every day so much fun, the Tulipani house was the one where all the neighborhood children eagerly flocked to play. As her children got older, Pat returned to the workforce when the family moved to Nashua in the 1970s. Her bright spirit and abundant joy positively affected everyone around her. She won Employee of the Year awards at both the former Continental Insurance Company and Target Corporation. She liked to have fun entertaining customers over the intercom when announcing the store's nightly closing by singing lyrics like "I'm So Glad We Had This Time Together" from the Carol Burnett Show. Years after she retired, Target employees would still greet her in the aisles when she visited the store, beaming "Hi, Miss Pat! We miss you!"
When Pat moved to Colliston Yard in 2006, she met new friends whom she cherished, and who cherished her in return. Many recount stories of her singing and dancing in the hallways, and how uplifted they felt being around her. Two months before mom fell ill, her dear neighbor and friend, Patti Kulas, took her on a cruise, and mom had the time of her life. Mom's children will always be sincerely thankful for Patti's loyal friendship, and for all of mom's neighbors and friends, who were so kind while she was well and during her illness.
The family would also like to sincerely thank Pastor Michael Meyer, and the Ladies Bible Study Group from the Grace Lutheran Church. Mom's spirituality blossomed during her years at the church, and she treasured the sense of community she felt there. When mom fell ill, their dedication, prayers, and visits continued to buoy her spirits.
Even when she was ill, Pat continued to remember birthdays, anniversaries, and events that were important to others, as she had done while she was well. While in the hospital, she was an inspiration to other patients and the doctors, nurses, and everyone who met her. She would walk down the halls during physical therapy singing the Bee Gee's "Stayin' Alive" and bring a smile to everyone's face. The doctor who delivered her diagnosis said he'd never met anyone like her. She received the news with amazing grace and dignity, saying "Well, I guess that's the way it was meant to be. I have everything I need: the love of my children, and The Lord. I have the pot of gold at the end of the rainbow. I will be okay."
In addition to her children, Pat is survived by two loving and dedicated sons-in-law, Richard Ingram and Richard Cassoni, a sister-in-law, Shirley Campanella, her husband John, three nieces, a nephew, many friends, and her cat, Peanut. She never liked to say good-bye to anyone, instead preferring to say "so-long". Please join us at the Grace Lutheran Church on Monday, May 8 to say so-long to Pat, and wish her and her family well in this next stage of life's journey. Visiting hours will be from 10:00 AM -12:00 PM, followed by a Service from 12:00-12:45, and lunch immediately after. Pat will then be laid to rest at the Woodlawn Mausoleum in Nashua.
While mom always said she loved carnations because they lasted a long time, she would be even happier knowing that the Grace Lutheran Church of Nashua, the Massachusetts General Hospital, Home Health and Hospice Care of Merrimack, or any Humane Society received a donation instead. She had tremendous empathy for people and animals, and would be happy knowing that others on this earth were now being helped as she smiled upon them from heaven.
See more
See Less
In Memory Of
Patricia Mary Tulipani
Help tell the story of your loved one's unique life. Leave a memory or share a photo below to show your support.