OBITUARY
James K Ko
10 July, 1939

–

22 September, 2022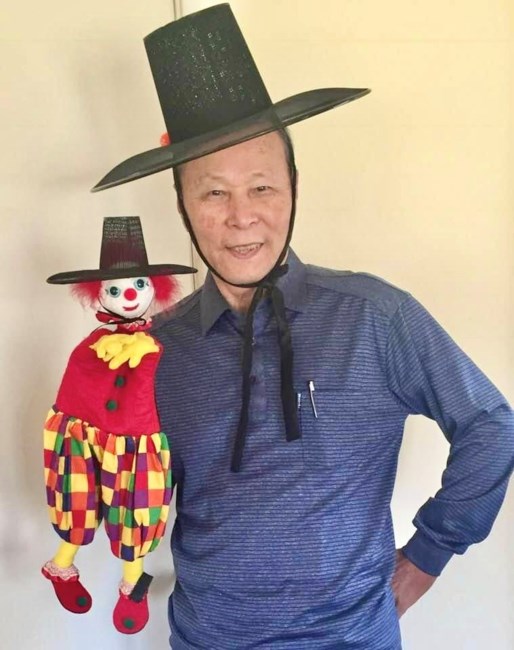 James Kyu Whan Ko, puppeteer and entrepreneur, passed away peacefully at his home in Anaheim Sept. 22. He was 83. Ko was born in Hong Chun, Kang Won Do in Korea on July 10, 1939. The first born of Yong Chun and Ok Yol Ko, he was so small and weak that his parents named him Kyu Whan, Kyu meaning star and Whan meaning strong. During the Korean War, he and his family moved to Nonsan, where they lived for 10 years before settling in Seoul. In his youth, he was a natural leader in school and always ranked in the top ten of his class. He dreamed of becoming a high school teacher or church pastor. After graduating from Kookhak College with a bachelor's degree in Korean literature in 1960 and briefly serving in the Korean Army, he set out to pioneer a new form of puppetry. He founded the Korean Puppetry Institute, of which he served as president. His institute put on puppet shows with marionettes they made and strung by hand. All his siblings helped him make those puppets and worked behind the scenes. He wrote the scripts and they performed on Korean television. He traveled to Germany in 1967 for an international puppetry convention where he met the soon-to-be famous American puppeteer Jim Henson. He decided not to return home and instead immigrated to the United States. He once told his story to a neighbor who asked him why he left Korea, to whom he replied, "I was hungry." He settled in Hollywood and worked as a custodian at the Villa Garden Convalescent Hospital where he met and fell in love with Hope Galicia, who was a nurse there. They could barely communicate and used a lot of body language; their friends helped them translate. He learned Spanish quickly and they got married in Guatemala in October 1967. After a few months there, they moved back to Hollywood, where he worked as a maintenance man at Los Feliz Apartments. He earned $2 an hour and an extra $8 to $12 to wash tenants' windows on the weekends. Soon he bought his first car, an Oldsmobile, for $50 and later sold it for $75. He knew hard work and perseverance would be the keys to success in America and he was always working hard, never giving up. Those times were tough but happy as Ko became a father to three girls — Mimi, Susan and Jeanie. He loved discovering new things and giving his daughters experiences to explore through road trips and visits to colleges and historical sites. He wanted them to learn as much as possible and to reach for the stars. After working for many years at Pioneer Chemical Company in Los Angeles as the plant manager, he and his family moved to Anaheim in 1976. Four years later, he opened American Maintenance Supply, where he sold cleaning supplies and equipment and also ran a cleaning service. He even taught "How to Start Your Own Small Business" classes at his shop. His motto was "querer es poder" (Spanish for if you have the will, you can achieve). That was the theme of his seminars as well as his lessons for his children and anyone who needed a little encouragement to pursue their dreams. "We are in this great country where you can do anything you desire, so work hard, con ganas (wholeheartedly), and do it," he would say. He was the greatest example. When reflecting on his time as a young man, he once wrote: "I was very brave and had no fear at all for anything new." That's how he lived his life. When obstacles appeared, like when he was denied office rental space due to his race, or when he received threatening phone calls when he became the first Asian to move into his neighborhood, he stood strong. He argued that America is the land of opportunity for all and he had every right to thrive and succeed in this nation like anyone else. And thrive he did. He always did everything to the best of his ability and he would always tell his daughters to do the same. No matter if the task was cleaning the toilet, studying for tests, or giving a performance, "always give it your all, 100 percent." After he became a U.S. citizen, he sponsored his parents, all six siblings and their families so they could come and live in America, too, and he was so proud of them for making a good life here. Though he never struck it rich, he was comfortable but he was always mindful to live humbly. He never drove a fancy car or wore designer clothes. He credited his parents and his faith for teaching him to value humility, kindness and honesty. He never became a pastor of a church but he led all the prayers at home. He even read the entire Bible with his family, one chapter at a time, every night over several years. One of his favorite things to do was to buy scores of toys and drive to the poorest area of Tijuana at Christmas time to pass them out. When the toys and other gifts ran out, he'd hand out cash. Giving made his heart full. In his later years, he'd write prayers to recite at special occasions, like Thanksgiving. This one is from 2017: "Dear God, sometimes life gets us down and we find it hard to see things to be thankful for. Open our eyes to see the gifts you've given us in our life. I'm going to start by thanking you for loving us enough to come to Earth and die so we can live together forever. Amen." After enjoying retirement from his business for a few years, he decided to go back to work so he took a job as a custodian at Cal State Fullerton. There, he won a grant to motivate his team members to find ways to work more efficiently and with pride. Later, he went to work at the Centralia School District in Buena Park. The kids and teachers adored him there, so much so that they named him the district's 2002 Classified Employee of the Year. He even rode in the city's parade alongside that year's Teacher of the Year. It was quite an honor and so well deserved. What a great year it was for him to retire again. It was time for grandfatherhood and a return to puppetry. He loved putting on Christmas, birthday and school puppet shows because of the joy they spread. He also loved being a part of the Orange County Puppetry Guild, of which he served as president in 2010-11. He produced his shows in English, Korean and Spanish and his puppets included a juggling clown, a bear on a trapeze, dancers, singers and of course Mozart, who played the piano at every show. He loved to laugh and making people laugh. And, he loved teaching others how to make puppets and put on a show. He taught Korean missionaries, who then performed at orphanages in Mexico. He found so much joy in teaching his beloved craft. When he wasn't teaching, praying or working, he was a social butterfly, passing time with friends at the gym, around the neighborhood, at his favorite restaurants, at church and at so many festivities. He was the life of the party. He enjoyed Korean folkloric as well as mariachi music and dance. And, he loved dancing with his beloved wife. Whenever he was asked to go do something fun, he'd always respond, "why not?" He will be greatly missed by all who loved him. Ko is survived by his wife Hope Ko; his daughters Mimi Ko Cruz and Susan Guilfoyle; sons-in-law Ed Cruz and Matt Guilfoyle; brother Myong Whan Ko; sisters Yun Whan Park, Jung Whan Joh, Sook Whan Lee and Eun Whan Lee; and grandchildren Nicolas Cruz, Emily Guilfoyle and Brian Guilfoyle. His daughter Jeannie Ko and his brother Gin Whan Ko preceded him in death. His memorial will be held at Funeraria del Angel in Anaheim Saturday, Oct. 15, at 10 a.m. Fond memories and expressions of sympathy may be shared at www.funerariadelangelanaheim.com for the Ko family.
See more
See Less
Services
No public services are scheduled at this time. Receive a notification when services are updated.
RECEIVE UPDATES
In Memory Of
James K Ko
Help tell the story of your loved one's unique life. Leave a memory or share a photo or video below to show your support.