OBITUARY
Abelardo V Alde Sr.
4 May, 1930

–

16 September, 2022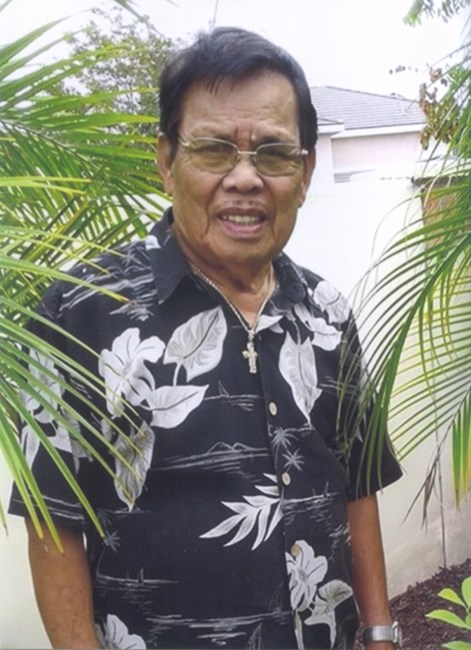 Abelardo Villegas Alde, Sr., known to many as "Bill" or "Kuya Dodoy," passed away peacefully in his home on Friday, September 16, 2022 at the age of 92. Abelardo was born on May 4, 1930 in Noveleta, Cavite, Philippines. He is survived by his wife Francisca (Fanny), who was the love of his life. Abelardo and Fanny met in high school and were married for 65 years. Abelardo is also survived by his five children Almar, Perlita, Soly, Caroline, and Abelardo Jr. He was the proud grandfather of five grandchildren: Valerie, Jessica, Clarissa, Christian, and Angelica with one great-grandson, Tupu. His grandchildren always kept Abelardo happy and active. Abelardo was the youngest child of nine from Simplicio and Crispina Alde. He had five older sisters Aning, Ides, Clara, Ating and Cila, as well as three older brothers, Emong, Nesto, and Jaime. In Noveleta, Abelardo began working on the family farm at a very young age. They grew vegetables and various fruit and brought them to market in Manila. As a young man, Abelardo also worked as a bus conductor. When Fanny was 18 years old and attended Cavite High School, she enrolled in a steno typing class. Abelardo would visit the school regularly to hang out with friends, and that is where he met Fanny. The two dated a few years and then were married on May 9, 1957. Two years prior to getting married, Abelardo enlisted in the US Coast Guard in 1955. Upon joining the US Coast Guard, he left for the United States and was stationed on Staten Island in New York for 10 years. Every two years Abelardo would return to visit his lovely wife Fanny back home in the Philippines. Their first three children, Almar, Perlita, and Soly were born in the Philippines. In November 1966, the Alde family all moved to the United States. The family moved to Boston Massachusetts, where Caroline and Junior were born. Then in 1970, the entire family moved again; this time to Oahu, Hawaii. Naval Air Station Barbers Point was now their new home. Three years later in 1973 the family moved again to Naval Station Treasure Island in San Francisco, California. Abelardo's last military tour of duty was when he was assigned to the USCG Cutter John Midgett, where they patrolled the coast of Kodiak, Alaska. In 1975 Abelardo decided to retire after serving 20 years in the service. After Abelardo retired from the military in 1975, he continued to work a second career. He was hired by Anacomp/Datagraphix, all under the umbrella of General Dynamics. Abelardo was the lead supervisor of maintenance services. He retired from General Dynamics in 1995 after another 20-years. Abelardo never forgot his roots. And even after retiring from his second career, he often traveled back to his hometown of Noveleta, Cavite to reacquaint with old friends and relatives. He loved to work on projects and was a real "handyman". Abelardo could never stand still... If there was nothing to do... well, he would find a project to work on. Abelardo founded the Noveleta Association of Southern California; and was the first President from 1980 to 1981. He built the image of "The Holy Cross," the Noveleta patron saint. He brought it to all Noveleta fiestas, masses, and the "Karakol" celebrations in San Diego. Even after his term, Abelardo continued to play an active role in the Filipino community COPAO (Council of Philippine-American Organizations), Cavite Association of Southern California (CASCI), and General Trias Association (GENTRI) - just to name a few. For his tireless efforts, Abelardo was awarded the "Most Distinguished Service Award" on July 14, 1996. Abelardo was also a member of the social group called the "McBuddies." Visits with them were a must and kept him socially active. He loved talking about old times and enjoyed a quick bite to eat. Many members of this group were also retired military and townmates from in and around his hometown in the Philippines too. Abelardo was also very mechanically inclined. He loved cars and loved repairing them. He once rebuilt and entire engine on a 1969 Chevy Malibu. Abelardo was always the "go-to person" for his kids whenever their cars needed repairs. In summary, Abelardo wore many hats, but the hat he wore the most was being our father, our "Superman." Abelardo had a lot of favorites. His favorite food was spaghetti, and of course he had to have the garlic bread with it too. His favorite color was blue, favorite movie genre was action, and his favorite sports to watch were boxing, football, and Padres baseball. Listening to music was also a favorite pastime of his. Abelardo had a passion for gardening. He could grow just about anything. He had the greenest thumb of all, and always enjoyed sharing his harvest with everyone. The latest thing that Abelardo always loved to do was spend time in his other home; he called it "The Big House" aka "Pera-py" - otherwise known as BARONA Casino. Throughout his life, Abelardo celebrated many accomplishments. He was an extraordinary and amazing husband, father, grandfather, great grandfather, brother, cousin, and friend to all. He touched the lives of many people. His legacy and memory will live on forever in our hearts. Never forgotten, always loved, and always our "Superman." We love you Dad, and we will miss you dearly... But your watch is not over, because we know you will continue to watch over us, now as our Guardian Angel.... Thank you, Dad... A First night of visitation in Glen Abbey's Magnolia Room for Abelardo will be held Saturday, October 8, 2022 from 5:00 PM to 9:00 PM, 3838 Bonita Road, Bonita, CA 91902. A Second Night of Visitation in Glen Abbey's Magnolia Room will occur Sunday, October 9, 2022 from 5:00 PM to 9:00 PM. A Funeral Mass at St Charles Catholic Church will occur Monday, October 10, 2022 from 10:00 AM to 11:00 AM, 990 Saturn Blvd, San Diego, CA 92154. A Committal Service will occur following the Funeral Mass on Monday, October 10, 2022 from 11:30 AM to 12:00 PM. Following the conclusion of the Interment the Alde family invites you to join them at Glen Abbey's Orchid Pavilion for a Celebration of Life Reception. Fond memories and expressions of sympathy may be shared at www.glenabbeysandiego.net for the Alde family.
See more
See Less
Past Services
Saturday,
08 October, 2022
First Night of Visitation in Glen Abbey's Magnolia Room
Second Night of Visitation in Glen Abbey's Magnolia Room
Funeral Mass at St Charles Catholic Church
Celebration of Life Reception at Glen Abbey's Orchid Pavilion
In Memory Of
Abelardo V Alde Sr.
Help tell the story of your loved one's unique life. Leave a memory or share a photo or video below to show your support.