OBITUARY
Rudolph Valentino Valdez Jr.
20 July, 1960

–

14 January, 2016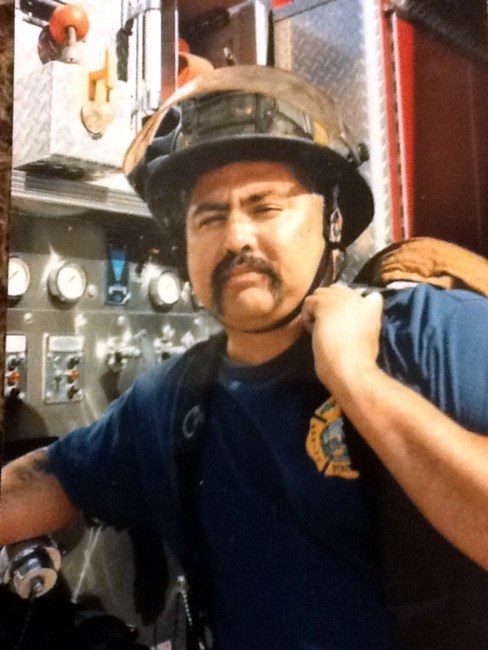 Rudolph Valentino Valdez Jr. born July 20, 1960 passed away January 14, 2016. He is preceded in death by his father, Rudolph V. Valdez Sr. Rudy will be greatly missed by his wife, Sandra Valdez of Humble TX; daughter, Natalie Valdez and husband Rudy Chavez of Houston TX; son, Rudolph V Valdez III and wife Cassandra Ybarra of Humble TX; mother, Adelina Caballero and step-father, Manuel Caballero Sr. of Houston TX; brother, Steven Valdez and wife Myriam Valdez Spring TX; sister, Carol Ibarra and husband Victor Ibarra of Houston TX; step-brothers, Jesse Holt of Houston TX, Manuel Caballero Jr. of Houston TX; step-sister, Sabrina Cervantez of Houston TX; four grandchildren, Jonathan Tristan, Jacob Chavez, Alyssa Chavez, and Jordan Valdez, numerous nieces, nephews, aunts, uncles, cousins and friends. Rudolph Valentino Valdez Jr was born on July 20, 1960 to parents Rudolph Valentino Sr. and Adelina Caballero, and he was returned to God on January 14, 2016, he was 55 years old. He is survived by his wife Sandra Valdez, daughter Natalie Valdez, and son Rudolph Valdez III. Rudolph Valdez or "Rudy" as known by his friends was a Houston Firefighter for over 25 years and his years of service and contribution to the community are greatly appreciated and would be hard to replace. Rudy had a love for fishing and riding motorcycles and every time he had free time you would find him with a fishing rod in his hand or riding his motorcycle around town with his wife and friends. He will be greatly missed. To me, Rudy was a guiding light. He set the example of what a good husband, father, and friend should be. He always did his best to be patient with his kids, and if you know his kids, you know that was not an easy feat. Rudy always did his best to carve out quality time with his family, always making sure they would have found memories of their childhood and of him. As for his life with Sandra, they were high school sweethearts and have been married for 35 years. Since the day they met they were inseparable. Sandra always said that Rudy treated her like a princess and would do everything in his power to make her happy. Their best memories they had together was on their trips across the country on their motorcycle, trips across the Caribbean and to Hawaii. Sandra recollects that her friends would say that she was so lucky to have him, because Rudy would sit at the bar looking at Sandy with "Little boy stare and a big ole smile". Rudy set a shining example of the kind of unconditional love that is required in a marriage, Rudy's love for Sandra was insurmountable and was clearly shown to the world. If he could, he would move the world for his wife. Growing up Rudy was raised by a single parent and as the oldest of his siblings he had to assume many responsibilities in helping his mother at home with his brother and sister. It was said that God "built Rudy solid" and his mother was thankful she could lean upon him if she needed to. His mother Lina remembers that one summer when Rudy was 12 years old, he got a job doing the paper route, and at the end of that summer he bought himself and his brother Steve school clothes that year. Lina couldn't have asked for a better son and she is very proud of the man he has become. Rudy's daughter Natalie remember his father as someone that was always there for her. For someone to talk to and confide in. To her, her father was everything she could ever ask for in father. The foundation and rock she could always rely, to lean on to. Rudy always provided everything she ever wanted and spent so much time with her, ensuring that she would have very fond memories of him. Her father was a teacher of all things. His method was simple. He taught by example. At any age, when faced with an dilemma, she found herself coming back to one simple question. What would Dad do? His character is the foundation of her conscience and her father's teachings are endless. She loves her Daddy very much. Rudy's son , Rudy the III, remembers his father as always being there for him and always having his back, even when he knew he didn't deserve it. Not only was he the best father that he could ask for, he was his best friend. He has never been embarrassed or ashamed of his father and has always been and still is his hero. Rudy's sister Carroll also does not recollect a bad memory of him, he was always real good to her and kind. She remembers that when she was 16 she had a very hard and difficult time with life and Rudy was there for her, every step of the way. Carroll's daughter Michelle was Rudy's first niece, and this was before Rudy had kids, so Carroll remembers that Michelle was his adoration and he would get up at 5 am just to have some time to spend with her and play with her before he would go to work. Rudy's brother Steve remembers him as a someone to look up to and was always there for him. Rudy was a "Jack of all Trades" , if he ever needed something he could count on his brother. Steve learned a lot from him while working alongside him throughout the years. He is very proud of him and remembers how hard he studied to get into the fire department. Rudy was someone to look up to and he will miss him very much, it's going to be real tough not having his brother around. Rudy was also very close to his Grandfather "Pops", whom he shared a room with him as a child. In a little wooden frame house on Easy St. Carroll recalls that every morning Pops would yell "time to get Uppppp" , "time to get Uppppp" , over and over, to get them ready for school. These years with his Grandfather is what shaped him to be the man that he is, through his grandfathers love, teachings, and skinny leather belt. Rudy is remembered as man with such a compassionate heart, during his life there were several people that he took in to his home and under his wing when no one else would. These were the people that truly needed help, but had a lot of baggage with them. To Rudy this didn't matter, his doors were always open to anyone who needed help and these traits were passed down to him by his father, Rudolph Valdez Sr. which was the same way. Rudy and his dad were very close and worked for many years together doing side jobs or tile jobs. Rudy's Stepfather Manuel Caballero was also very close with him and Rudy looked up to him for advice. He had the upmost admiration and respect for him. Manuel always said that Rudy was his son, his golf buddy and he loved him very much. As a young man Rudy realized he had a talent for working with his hands, which led him to start his small company called Valdez and Son tile, for years Rudy and his son remodel many firefighters homes. This is also were I learned how to work with my hands and I am very grateful for everything that he has taught me. As many of you may know Rudy was also a huge prankster and jokester. One story we recall is over his daughter Natalie… You see when Natalie was little, Rudy would always call her Nelly Mae Johnson. Well after a while Natalie started Kindergarten, and after a few weeks of school the teacher wanted to set up a conference over an issue regarding to Natalie's hearing. So Rudy and Sandy were confused and concerned because they never noticed an issue. So during the conference the teacher said Natalie is a great student but when she would do roll call, Natalie would not answer to her name, which led her to believe Natalie had a hearing problem. So when Rudy and Sandy asked her why she wouldn't answer to her name, Natalie responding by saying that, that was not her name and that her name was Nelly Mae Johnson, because that's what her Daddy calls her, and Rudy immediately burst out in laughter. Carroll also remembers that Rudy would always scare her and prank her while growing up as kids. So Carroll one night decided to get revenge and prank Rudy by acting like she was an intruder in the house, she remembers she snuck into the house, made rustling noises, and as Rudy got close to her she jumped out and screamed at Rudy, and he was so scared that he punched her in the face. He felt so bad for doing that, that he apologized to her in tears over and over until Carroll finally said "oh stop crying about it already"….. Or the time when Rudy shot her in the foot with a homemade arrow, by accident, and begged her not to tell, till this day she never told and still has the scar. That just shows the love and loyalty they had for each other. His brother Steve also remembers that his mother would work at night as a nurse and she used to have mannequins heads with wigs on them. So Rudy the prankster that he was would dress them up like a ghost like deal, he would get a cord and pin it to the head and then door knob, so when Steve would open the door the head would jump up towards your face and scare you. Rudy will be sorely missed, both by his family and by his many friends, whom he helped and inspired. But as he rests from his life's long labor, this great husband, father, brother, son and friend should know that he has made his family proud. His humility, integrity, and hard work continue to inspire those who knew him. This world is most definitely a better place because of Rudy Valdez.
See more
See Less
Past Services
Tuesday,
19 January, 2016
Funeral Service
In Memory Of
Rudolph Valentino Valdez Jr.
Help tell the story of your loved one's unique life. Leave a memory or share a photo or video below to show your support.