OBITUARY
Maria Del Refujio Ceniceros Noriega
4 July, 1956

–

13 November, 2021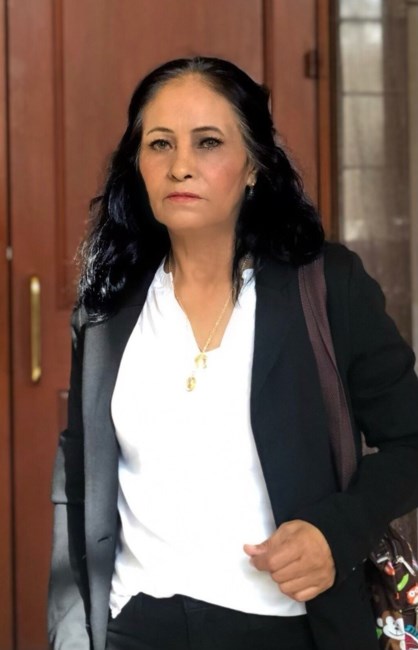 Maria Del Refugio "Cuca" Ceniceros Noriega was born on the Fourth of July 1956, in Huejuquilla El Alto, Jalisco Mexico to Antonio Ceniceros and Leonor Noriega. Although Cuca wasn't born in Texas, as the saying goes, she got here as fast as she could in 1976. She became an American citizen in 2019, and on Saturday the 13th, she gained true freedom as she entered eternal life in the state's oldest town, Nacogdoches. Cuca was born on a Wednesday, on the observed feast day of Our Lady of Refuge––for which she was named. Throughout the years, family, friends, and even strangers sought refuge in her accommodating and complimentary nature. Regardless of the hour, if you found yourself lured onto her porch by the smell of perpetually brewed coffee, she would happily embrace you with a nickname, offer to cook you the very best pot of rice, and you'd be assigned the role of cousin to her children. Her love language was gift giving. If you happened to like anything in her house, or even something she was wearing, it was automatically yours. She held a special tenderness for the outdoors and plants––especially rose bushes. This adoration developed during childhood, when she would pick roses with her little sister. If you called her and she didn't answer, she was probably outside keeping an ailing plant company. Her tenderness extended to animals. When she was given a cat, that quickly multiplied, she was enchanted by the fact that her kittens bore the same heart-shaped markings. Her cats would often forfeit their freedom in the outdoors to join her in her home. Purple was her favorite color. When she wore it, it would accentuate her eccentric nature. She paired this color with a look in her eyes that made you feel important and needed. She didn't care about money or that in ancient times, purple used to be the most expensive thread. Instead, she cared to ask if there was more time than life or more life than time? Cuca's life was a self-less journey, made worthwhile with camaraderie, communion, and coffee. She was the matriarch––not only of her family, but also her younger sister's family. Despite her love of nature, she would have traded every second spent outdoors to be with her family. She was deeply religious, charismatic, wise, and, more than anything, accepting. She was leaned towards by plants as their sunshine, followed by pets as their leader, sought by friends for solace, loved by all for love's sake, and patriotically appreciated for the freedom her struggles granted family members in the United States. If it were not for her, almost everyone listed below would have been born in Mexico––without the ability to seek refuge in freedom. Preceded in death by: mother, Leonor Noriega; grandson, Jose Hernandez; and granddaughter, Azul Guardado. Maria is survived by father, Antonio Ceniceros; husband Juan Mesa and children, Ramon Guardado and wife Trisha, M. Imelda Guardado and Jose, Chito Guardado and wife Viviana, Leslie Hernandez and husband Rigoberto, Sandy Eastepp, and Alex Mesa and wife Michelle. Grandchildren; Jose Guardado and wife Destiny, Marlena Guardado, David Meza Jr., Omar Meza and Yara, Anita Meza, Saul Guardado, Andy Hernandez, Juan Dimas, Joel Guardado, Johnny Guardado, Angel Mesa, Odalis Garcia, Damaris Garcia, Alejandro Garcia, Andrea Garcia, Brizeda Garcia,and Kylie Mesa Great grandchildren; Jayden Guardado, Jose Guardado Jr., Briella Guardado, Kaylee Guardado, Melanee Meza, Alonzo Meza, Alyson Alvarez-Meza,and Kelvin Alvarez-Meza Sister; M. Inez Felix and husband Roman Brother; T. Reyes Ceniceros Nieces and nephews; Flor Qamhieh, Alma Felix, Maria Ramirez, Victor Felix, Eduardo Felix, Jasmyn Luna, Lizeth Ramirez, Natalye Ramirez, Sophia Felix, and Malik Qamhieh. In addition to the aforementioned, Maria's much-loved friends that were considered family. The family will receive friends, Friday, November 19, 2021, from 5:00 PM until 7:00 PM, with a Rosary starting at 7:00 PM, at the funeral home. A Mass of Christian Burial will be held at 2:00 PM, Saturday, November 20, 2021, at Our Lady of Guadalupe Catholic Church. Interment will follow at Lazarine Cemetery. Funeral arrangements are under the direction of Cason Monk-Metcalf Funeral Directors. Maria Del Refugio "Cuca" Ceniceros Noriega nació el 4 de julio de 1956, en Huejuquilla El Alto, Jalisco México, fue hija de Antonio Ceniceros y Leonor Noriega. Aunque Cuca no nació en Texas, como dice el refrán, llegó tan rápido como pudo en 1976. Ella se convirtió en ciudadana estadounidense en 2019, y el sábado 13th, ganó verdadera libertad cuando entró en la vida eterna en la ciudad más antigua del estado, Nacogdoches. Cuca nació un miércoles, en el día de fiesta observado de Nuestra Señora del Refugio – para el cual fue nombrada. A lo largo de los años, la familia, amigos e incluso extraños buscaron refugio en su naturaleza complaciente y complementaria. Independientemente de la hora, si te encuentras atraída en su porche por el olor del café hecho a perpetuidad, ella felizmente te abriría con un apodo, ofrecer a cocinar la mejor olla de arroz, y se le asignaría el papel de primo a sus hijos. Su lenguaje de amor era dar regalos. Si te gustaba algo en su casa, o incluso algo que llevaba puesto, automáticamente era tuyo. Ella sostuvo una ternura especial para el aire libre y las plantas – especialmente los rosales. Esta adoración se desarrolló durante la infancia, cuando ella escogería rosas con su hermana pequeña. Si la llamaste y ella no respondió, probablemente estaba afuera apreciando la hermosora de sus plantas. Su ternura se extendió a los animales. Cuando le dieron un gato, que se multiplicó rápidamente, ella estaba encantada por el hecho de que sus gatitos llevaban las mismas marcas en forma de corazónzitos. Sus gatos a menudo perdían su libertad al aire libre para unirse con ella en su hogar. Morado era su color favorito. Cuando usaba este color, acentuaría su naturaleza excéntrica. Ella emparejó este color con una mirada en sus ojos que hacia a las personas sentir se importante y necesario. A ella no le importaba el dinero o que en la antigüedad, el color morado era el hilo más caro. En vez de eso, se preocupó de preguntar si había más tiempo que vida o más vida que tiempo? Ella era la matriarca, no sólo de su familia, sino también de la familia de su hermana menor. A pesar de su amor por la naturaleza, ella habría cambiado cada segundo al aire libre para estar con su familia. Ella era profundamente religiosa, carismática, inteligente, y más que cualquier cosa adaptable. La vida de Cuca fue un viaje sin ser, que valió la pena con camaradería, comunión y café. Ella fue el sol por sus plantas, seguida por las mascotas como su líder, buscada por amigos para el consuelo, amada por todos, y patrióticamente apreciada por la libertad que sus luchas concedieron a los miembros de la familia en los Estados Unidos. Si no fuera por ella, casi todos los enumerados a continuación habrían nacido en México, sin la capacidad de buscar refugio en libertad. Precedida en la muerte por: madre, Leonor Noriega; nieto, José Hernández; y nieta, Azul Guardado. María es sobreviviente por el padre Antonio Ceniceros; el esposo Juan Mesa y sus hijos, Ramón Guardado y su esposa Trisha, M. Imelda Guardado y José, Chito Guardado y su esposa Viviana, Leslie Hernández y su esposo Rigoberto, Sandy Eastep, y Alex Mesa y su esposa Michelle. Nietos; José Guardado y su esposa Destiny, Marlena Guardado, David Meza Jr., Omar Meza y Yara, Anita Meza, Saul Guardado, Andy Hernández, Juan Dimas, Joel Guardado, Johnny Guardado, Angel Mesa, Odalis García, Damaris García, Alejandro García, Andrea García, Brizeda García y Kylie Mesa. Bisnietos; Jayden Guardado, Jose Guardado Jr., Briella Guardado, Kaylee Guardado, Melanee Meza, Alonzo Meza, Alyson Alvarez-Meza,and Kelvin Alvarez-Meza Hermana; M. Inez Felix y su esposo Roman Hermano; T. Reyes Ceniceros Sobrinas y sobrinos; Flor Qamhieh, Alma Félix, María Ramírez, Víctor Félix, Eduardo Félix, Jasmyn Luna, Lizeth Ramírez, Natalye Ramírez, Sofía Félix y Malik Qamhieh. Y muchos amigos y amigas muy queridos que se consideraban familia. La familia recibirá amigos, el viernes 19 de noviembre de 2021, de 5:00 PM a 7:00 PM, con un Rosario comenzando a las 7:00 PM, en la funeraria. Una Misa de Entierro Cristiano se llevará a cabo a las 2:00 PM, sábado, 20 de noviembre de 2021, en la Iglesia Católica Nuestra Señora de Guadalupe. El internamiento seguirá en el cementerio de lazarine. Los arreglos funerarios están bajo la dirección de Cason Monk-Metcalf Funeral Directors.
See more
See Less
Past Services
Friday,
19 November, 2021
Visitation
Friday,
19 November, 2021
Rosary
Saturday,
20 November, 2021
Funeral Mass
In Memory Of
Maria Del Refujio Ceniceros Noriega
Help tell the story of your loved one's unique life. Leave a memory or share a photo or video below to show your support.