OBITUARY
L'Hon. Pierre De Bané, C.P., C.R.
2 August, 1938

–

9 January, 2019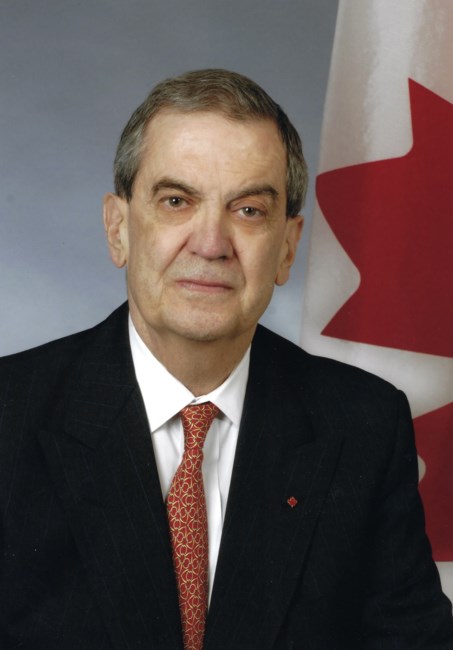 L'hon. Pierre De Bané, C.P., c.r. C'est avec une immense tristesse que la famille de Pierre De Bané annonce son décès à l'Institut de cardiologie d'Ottawa le 9 janvier 2019. Il laisse dans le deuil Élisabeth Nadeau, son épouse depuis 1980, son fils Jean-Manuel, son frère Joseph (Suzanne Tritschler), sa sœur Thérèse, la mère de son fils, Andréanne Bournival, ses cinq petits-enfants Pénélope, Jean-Gabriel, Delphine, Laurent et Lambert et ses nombreux cousins, neveux et nièces. Né à Haïfa, en Palestine, en 1938, il a immigré au Canada à l'âge de 11 ans. Il a étudié le droit à l'Université Laval et a été admis au Barreau du Québec en 1964. La même année, il devient professeur à la Faculté de droit de l'Université Laval. Il rejoint par la suite un cabinet d'avocats à Québec, ce qui l'amène à plaider devant des tribunaux de nombreuses juridictions, y compris la Cour suprême du Canada. En 1967, il accepte un poste auprès du ministre de la Justice de l'époque, l'honorable Pierre Elliott Trudeau. En 1968, il est élu député de la circonscription de Matane, puis Matapédia-Matane, devenant ainsi le premier parlementaire canadien d'origine arabe. Il a été réélu pour cinq mandats successifs et a fièrement représenté les citoyens de sa circonscription pendant plus de 16 ans. Au cours de cette période, on lui confie plusieurs portefeuilles ministériels au sein du cabinet. En 1984, il est nommé sénateur, poste qu'il occupera pendant 29 ans. Il était le doyen du Parlement au moment de sa retraite en 2013, après une carrière dans les deux Chambres totalisant plus de 45 années de service parlementaire. Il était particulièrement fier de sa contribution à l'Assemblée parlementaire de la Francophonie (APF), pour laquelle il a présidé la Commission des affaires parlementaires pendant 19 ans. On se souviendra de l'honorable Pierre De Bané pour son dévouement envers sa famille et ses amis, l'amour de son pays, son attachement à ses racines moyen-orientales, sa passion pour les droits linguistiques et ses nombreuses années au service de ses concitoyens. La famille tient à remercier chaleureusement le personnel de l'Institut de cardiologie de l'Université d'Ottawa. Au lieu de fleurs, un don à la Fondation de l'Institut de cardiologie de l'Université d'Ottawa serait apprécié. Les détails concernant le service commémoratif seront fournis à une date ultérieure. Hon. Pierre De Bané, P.C., Q.C. It is with great sadness that the family of Pierre De Bané announces his passing at the Ottawa Heart Institute on January 9th, 2019. He will be deeply missed by his wife, Elisabeth Nadeau (m. 1980), his son Jean-Manuel, his brother Joseph (Suzanne Tritschler), his sister Thérèse, his son's mother Andréanne Bournival, his five grandchildren Pénélope, Jean-Gabriel, Delphine, Laurent, Lambert and his cousins and many nieces and nephews. Born in Haïfa, Palestine, in 1938, he immigrated to Canada at the age of 11. He studied law at Laval University and was admitted to the Bar of Québec in 1964. He became a Professor at Laval University Law School in the same year. After joining a law firm in Québec City, he pleaded cases before courts in many jurisdictions, including the Supreme Court of Canada. In 1967, he began working for the then Minister of Justice, the Honourable Pierre Elliott Trudeau. In 1968, he was elected Member of Parliament for the riding of Matane and then Matapédia-Matane, making him the first Canadian Parliamentarian of Arab descent. He won five successive mandates and proudly represented the citizens of his riding for over 16 years. During that time he served as Minister of the Crown in several portfolios. In 1984, he was appointed to the Senate, a position he held for 29 years. At the time of his retirement in 2013 after more than 45 years of parliamentary service, his combined career in the two Houses made him the Dean of Parliament. He was especially proud of his contribution to l'Assemblée parlementaire de la Francophonie (APF), having served as the chair of the Parliamentary Affairs Committee for 19 years. The Hon. Pierre De Bané will be remembered for his devotion to his family and friends, his love for his country, his attachment to his middle-eastern roots, his passion for language rights, and his lifetime commitment to public service. The family would like to express their heartfelt thanks to the staff of the University of Ottawa Heart Institute. In lieu of flowers, memorial donations may be made to the University of Ottawa Heart Institute Foundation. Details regarding the memorial service will be provided at a later date.
See more
See Less
Past Services
Thursday,
17 January, 2019
Recueillement
In Memory Of
L'Hon. Pierre De Bané, C.P., C.R.
Help tell the story of your loved one's unique life. Leave a memory or share a photo or video below to show your support.