OBITUARY
Mary Ellen Neighbors
10 June, 1921

–

16 January, 2022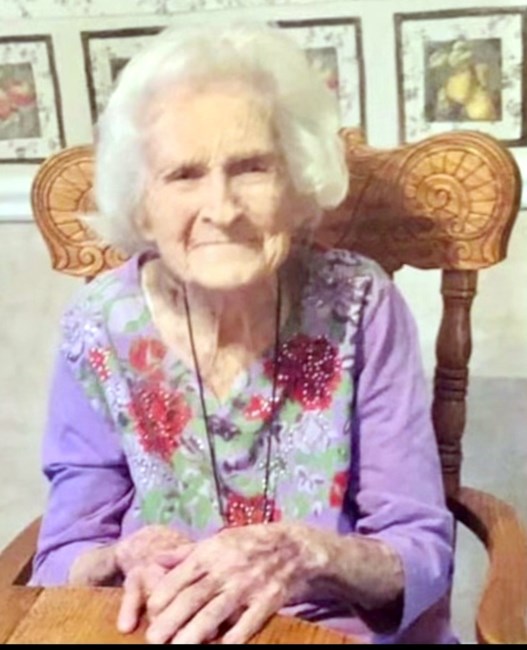 Mary Ellen Smith Neighbors went home to be with her Heavenly Father on January 16, 2022. Mary was born on June 10, 1921, to Emmett (Ike) and Sally Taylor Smith in San Saba County. Emmett and Sally had five sons and one daughter. One might think the only daughter might be pampered and favored. However, growing up on a farm in the 1920's was hard work, and everyone pulled their weight. Mary helped her Mother with cooking, cleaning, and hauling water from their well. When they were caught up with housework, she would work in the fields with her Father and brothers. Having four younger brothers, Mary became a great babysitter! Often, after the Smith family had planted or harvested their crops, she would go to an aunt's home to help take care of their children while that family planted or harvested their crops. Mary and her brothers were remarkably close, and they enjoyed many fun times as children and later as adults with their families! There were always plenty of stories told and plenty of laughter! Mary married the love of her life, Melvin Ellis Neighbors on July 3, 1938. They were blessed with four children: Peggy Sue, Ronny, Teri, and Jerry; seven grandchildren: Kyle, Wayne, Clint, John, Ellis, Garret, and Justin; and 16 great-grandchildren: Nicholas, Cale, Blair, Arpitha, Luis Neighbors Mikayla and GT Jackson, Clay, Ellen, Conner and Caleb Boness, Pearl, Olive, Brodie, Colby, and Parker Neighbors. She loved to take care of her family, friends, and neighbors! Mary enjoyed sharing her delicious food and hospitality with everyone! She did not always know who would show up around mealtime, but they were welcome, and they left with a full belly of home goodness! Melvin and Mary's home was filled with faith, family, food, and lots of laughter! Mary's church home was Belmore Baptist Church for over 65 years! She served the Church in many capacities, including working as a Sunday School teacher, working in the Nursery, and working in Vacation Bible School. She later volunteered in the church kitchen, preparing snacks and meals for VBS, and preparing and serving Wednesday night meals. She was an active volunteer for many years. Mary's walk with God was evident to everyone around her and served as an example for family, friend, and sometimes for strangers. She truly lived a life of grace and love! Her "kid spirit" was a blessing to so many people over the years. She enjoyed cooking, but especially loved to bake! She made The BEST Pies! She knew each of her family member's favorite pie and she would bake it for their birthdays. Such a wonderful expression of love! She enjoyed baking items for the Church auction. Her coconut pies brought top dollar and were considered the best! Everything she baked had a special ingredient...LOVE! She shared her recipes and coached two of her granddaughters and two great-granddaughters on pie baking. Such a fun afternoon and special memory! Mary was an accomplished seamstress. She made clothing for her children, her daughters-in-law, sisters-in-law grandchildren, nieces, and others. She was able to see an article of clothing or a picture in a magazine, then make it specifically for whomever she was sewing for at the time. She also made quilts, blankets, pillows, and other items for the home. She enjoyed crafting with her daughter and grandchildren. Over the years, Mary continued her babysitting. She watched several nieces, nephews, and church children after school, over the summer months, or until their parents got off work. She also worked outside the home, retiring from the Billeting Department of Goodfellow Air Force Base. After retirement, she never slowed down. She had more time to travel and more time to visit with her children, grandchildren, and great-grandchildren! She also enjoyed time shopping and having lunch each week with her sisters-in-law, her niece and on a separate day with her best friend and next door neighbor, Gracye Odum! She is known for her kind, caring, and loving spirit! Her smile was turned upon anyone in her presence and it would warm your heart! Her thoughts were always of others and how she could serve or help them. Now, it is our turn to celebrate the 100 years, 7 months, and 6 days that she blessed our lives! The Celebration of Mary Ellen Smith Neighbors' Life will be held on Saturday, February 12, 2022, at 10am, at Belmore Baptist Church, 1214 South Bell Street, San Angelo, Texas. Mary is survived by her two sons and their wives: Ronny and Jane Ann Neighbors, Jerry and Tammy Neighbors; her daughter and son-in-law: Teri and Roy Jackson; five grandsons and one granddaughter: Wayne and Shelly Neighbors, Clint and Julie Neighbors, John and Kacy Jackson, Ellis and Chris Boness, Garret and Paige Neighbors, Justin and Shayna Neighbors; 16 great-grandchildren and many nieces and nephews. She was preceded in death by her husband, Melvin; her daughter, Peggy Sue; her grandson, Kyle Kerley; her parents; her brothers and their wives; her in-laws, Jess and Eudora Neighbors; Melvin's siblings and their spouses The family would like to thank everyone who came by to visit with Mary, sent a card, said a prayer for her, or just had her in their thoughts. She enjoyed being around others and visiting! Cards and letters were special treats! We would like to thank her "companions" Becky LaBadelle, Barbara Wright, and Molly Lopez! We appreciate all you did to spend time with our Mother! Also, thank you to Visiting Angels for their care and attention! Memorial donations, if so desired, may be given in Mary's name to the "Giving to Grow Fund" at Belmore Baptist Church, 1214 South Bell Street, San Angelo, Texas 76905.
See more
See Less
FAMILY

Melvin Ellis (Cap) Neighbors

Husband (deceased)

Peggy Sue Neighbors

Daughter (deceased)

Kyle Neighbors

Grandson (deceased)

Emmett (Ike) and Sally Taylor Smith

Parents (deceased)

Douglas Smith

Brother (deceased)

Spud Smith

Brother (deceased)

Glen Smith

Brother (deceased)

Chock Smith

Brother (deceased)

Billy Ray Smith

Brother (deceased)

Melvin's Parents

. (deceased)

Melvin's sisters and their husbands

. (deceased)

Melvin's brother and his wife

. (deceased)

Ronny Neighbors (Jane Ann)

Son

Jerry Neighbors (Tammy)

Son

Teri Jackson (Roy)

Daughter

Wane Neighbors (Shelly)

Grandchild

Clint Neighbors (Julie)

Grandchild

John Jackson (Kacy)

Grandchild

Ellis Boness (Chris)

Grandchild

Garret Neighbors (Paige)

Grandchild

Justin Neighbors (Shayna)

Grandchild

16

Great Grandchildren

Many

Nieces and Nephews
PALLBEARERS

Wayne Neighbors

John Jackson

Garret Neighbors

Justin Neighbors

Chris Boness

Nicholas Neighbors

Blair Neighbors

Clay Boness

G. T. Jackson

Honorary

Conner Boness

Honorary

Brodie Neighbors

Honorary

Luis Neighbors

Honorary

Caleb Boness

Honorary

Colby Neighbors

Honorary

Parker Neighbors

Honorary
Past Services
Saturday,
12 February, 2022
Celebration of Life Service
In Memory Of
Mary Ellen Neighbors
Help tell the story of your loved one's unique life. Leave a memory or share a photo or video below to show your support.