OBITUARY
Curtis Lee Etherly Jr.
18 September, 1968

–

19 March, 2018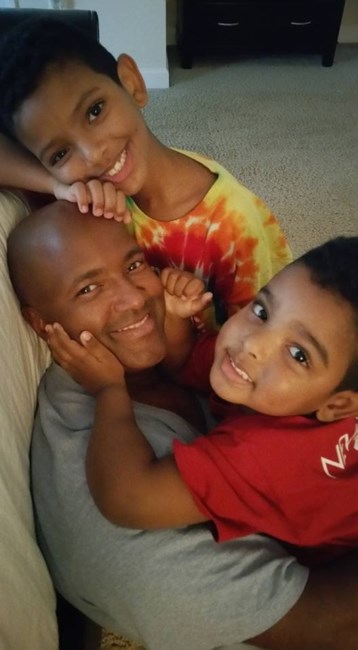 Curtis L. Etherly, Jr., 49, of Kensington, MD, passed away on March 19th surrounded by friends and family. A loving husband, father and friend, Curtis is survived by his cherished wife, Nohemee, and sons Ezra and Alex. His parents, Curtis L. Etherly, Sr. and Sarah Mae Etherly and brother, Anthony Hargrave, preceded him in transition. A native Washingtonian, Curtis grew up in Southeast D.C. and proudly hailed from Ballou Senior High School – a source of pride he shared whenever he had the chance. His resolute thirst for education and zeal to help others led him to earn his bachelor's degree in political science from Yale University and then on to obtain his Juris Doctorate from Georgetown University Law Center. A lover of culture, Curtis found inspiration in the words of Ralph Waldo Emerson: "Life is a journey, not a destination." Curtis' remarkable journey was characterized by his dedication to others and a selflessness that knew no bounds. He was a mentor and active member of his community, giving his time and voice to countless causes. In recent years, Curtis served on the boards of the Anacostia Coordinating Council, the Boys & Girls Clubs of Greater Washington, the D.C. Chamber of Commerce and the Greater Washington Urban League. An ardent supporter of public education, Curtis also chaired the Friends of Ballou Advisory Council and previously served as a member of the Board of Trustees of the Washington Math Science Technology Public Charter High School in northeast Washington, D.C. Curtis brought open-mindedness and passion to everything he did. In his over fifteen years with The Coca-Cola Company he built relationships across different cultures, political parties, and points of view, championing the values of diversity and inclusion at every juncture. In his most recent role of Director of Federal Government Affairs & Diplomatic Relations, Curtis worked collaboratively with congressional constituencies, including the Congressional Asian Pacific American Caucus, the Congressional Black Caucus, the Congressional Hispanic Caucus, the LGBT EQUALITY Caucus and the Veterans Jobs Caucus. He also worked to support and strengthen communities in Sub-Saharan Africa. He cared deeply about all of these groups and pushed everyone he worked with to make the world a better place for them, and for everyone. Prior to joining The Coca-Cola Company, Curtis served as Staff Director for District of Columbia Government Affairs with the Greater Washington Board of Trade, and held a variety of roles in local government, the non-profit sector and private industry before that. Curtis' family, friends and colleagues will always remember his unwavering positivity. Quick to offer an inspirational thought, a good joke, a comforting word – always accompanied by a big hug – Curtis immediately found his way into your heart and stayed there. He left an indelible mark on everyone he touched, and has inspired others to carry on his legacy of serving others. Curtis' light will live on in those who had the honor of knowing him, and especially in his precious sons Ezra and Alex.
See more
See Less
DONATIONS

Curtis L. Etherly, Jr. Scholarship Fund
In Memory Of
Curtis Lee Etherly Jr.