OBITUARIO
Jeanne Marie Borie
13 noviembre , 1927

–

18 septiembre , 2021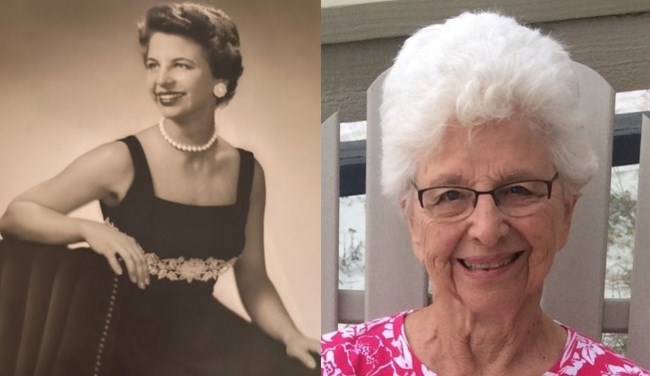 Jeanne "Patsy" Marie Mottram Borie November 13, 1927 – September 18, 2021 Jeanne "Patsy" Mottram Borie, a native of New Orleans and a longtime resident of Baton Rouge, passed away peacefully surrounded by family on September 18, 2021. She was 93 years old. Patsy was born in New Orleans, Louisiana, just before the Great Depression to Francis deLivaudais Mottram and Caroline Prados Mottram. Her father was a sugar engineer and her parents and older brother Preston were living in Cuba at the time, but their mother came home to New Orleans to deliver both babies and then went back to Cuba, where Patsy spent her first year. After Cuba, they lived in Brazil until she was four years old before coming back to New Orleans. She was nicknamed "Patsy" when she was a baby by her father because he said she looked more like a little Irish baby instead of a French baby with her chubby cheeks. They were very close with Patsy's mother's sister, Anita "Neensie" Prados, who never married, and she lived with them for several years in Brazil. After moving back to New Orleans, she grew up in the Carrollton Neighborhood with many aunts, uncles, and cousins in the neighborhood, and sometimes in the same house. She was a straight A student and after graduating as valedictorian from Holy Name of Jesus High School, she earned a Medical Technology degree from Loyola University, graduating in 1947 at nineteen years old. After graduation, she got a job at the LSU Medical School. She worked there for almost ten years, continuing after she was married and up until two months before her first child, Vonnie, was born. She enjoyed her work there in the Microbiology department working with viruses and infectious diseases. She also enjoyed being able to meet a lot of the medical students (and dated a few of them), and the wonderful young people who worked there. She had many friends and enjoyed nine years of single life after college socializing, travelling, and sailing in Lake Pontchartrain and along the Gulf coast on the sailboat "The Bobbsey" that she and her friend Norma bought together. (Named by her friend Francis O'Connor who called them the Bobbsey twins because they did so much together.) She and Norma were members of the Southern Yacht Club, and they kept the boat until Norma moved to Washington, DC a few years later. She and Norma and her cousin Edwina went on a few trips together, the first one being to Havana on a "banana boat" in 1949. At the time United Fruit and Standard Fruit both had cruises out of New Orleans to Cuba, then to Central America to pick up bananas. A neighborhood friend, Eleanor Gondran also went with them. She said "We had a blast! It wasn't like the huge cruise ships nowadays, being primarily a cargo ship, but there were about 100 passengers, a swimming pool, parties, and a good relaxing time." They had a wonderful time in Havana because her father had contacted an old friend of his there who entertained them at his house and introduced them to three eligible young men who took them out to a beautiful outdoor nightclub and their beach club during the day. As she said, this was long before Castro and Havana was a beautiful and interesting city. In 1956, she met the love of her life Edward "Ned" Taylor Lewis Borie. Again. They had originally met in grade school, and their families knew each other. Ned escorted her to a Mardi Gras Ball for their first date. They were married later that year at Mater Dolorosa Catholic Church in New Orleans. Ned was continuing his career as an engineer in the petrochemical field, and after Vonnie was born, they were transferred to Baltimore, MD and New Brunswick, New Jersey, where their second child Louise was born. Ned and Patsy longed to be back in Louisiana near family, and he accepted a job as Vice President with Walk, Haydel and Associates, which had offices in New Orleans and Baton Rouge. They moved to Baton Rouge in 1960, where they settled down and grew their family to five children and provided a wonderful family life to not only their own children but to many more! "Mama Borie" was loved by all and she's been called an oasis of calm in a sea of chaos. The family took amazing annual family vacations, around the United States and in Europe. This tradition continued until Patsy broke her hip in October 2020. In Baton Rouge, Patsy continued her medical technology work, worked part time at the Dermatology Clinic; sang in the St. Thomas More Choir, which she did for decades; loved and supported the arts, especially the Baton Rouge and New Orleans symphonies and operas; was a Girl Scout leader and the Baton Rouge Cookie Chairman; loved reading books and the newspaper; enjoyed taking continuing education classes through Lagniappe/Ollie Studies (with Ned), and travelling the world with family and friends. Patsy and Ned were very social and very involved with their community. They had many friends with whom they traveled, owned real estate, enjoyed good food and wine, went to cultural events like the opera, and they were members of a group of old friends that got together at least once a year called "The South Louisiana Christmas Club". Patsy and Ned were loved by all and she was his rock. She enjoyed her last four years at St. James Place in Baton Rouge, where she enjoyed meeting new friends, reviving old friendships, singing in the Snazzy Singers and Happy Hour! She left a very big footprint and will be missed by many. A life well lived. She is survived by her five children: Yvonne "Vonnie" Borie Good (Larry), Louise Borie Kilshaw, Adele Borie (Tad Mondale), Edward "Ted" Taylor Lewis Borie, Jr., Renée Borie Blanche (Frederick); four grandchildren: Daniel Sprunk (Courtney), Taylor Borie, Weldon "Wells" Borie, Alexander Blanche; one great grandchild: Cooper Sprunk; and many nieces and nephews: Suzy Mottram, Kathleen Borie Taylor, Fabienne Borie McGovern, Marianne Borie, Kenny Langenbeck, Keith Langenbeck, Peggy Langenbeck; sister-in-law Lucille Langenbeck, and many grand nieces and nephews and cousins. She is also survived by longtime friends Joan Kemp Bringage, Norma Rathe Batt Steele, and her cousin and friend Edwina Prados Hughes. She is preceded in death by her dear husband of fifty-seven years, Edward "Ned" Taylor Lewis Borie, her parents Caroline Prados Mottram ("Meeps") and Francis deLivaudais Mottram ("Peeps"), her brother Preston Mottram and sister-in-law Mary Lou Jurisich Mottram, her niece Gayle Mottram Meyer, her brother-in-law Bernard Borie, her nephew Paul Langenbeck, Jr., and many aunts, uncles, and cousins. Funeral services will be held at St. Thomas More Church, 11441 Goodwood Blvd, Baton Rouge, LA 70815, Friday, October 22, 2021, with visitation beginning at 10:00 AM and a mass following at 11:00 AM. Masks will be required for the indoor service. There will be a live stream of the funeral service viewable on STM's YouTube page for those who cannot attend. Please go to the link below. When the Mass goes live, it will be the very first link in the upper lefthand corner. https://www.youtube.com/c/StThomasMoreBatonRouge An outdoor Post-Mass Celebration of Life will follow….details TBD! In lieu of flowers, donations may be made to Ozanam Inn https://www.ozanaminn.org/ and/or Hospice of Baton Rouge https://hospicebr.org/.
VER MÁS
VER MENOS
FAMILIA

Yvonne "Vonnie" Borie Good (Larry)

Daughter

Louise Borie Kilshaw

Daughter

Adele Borie (Tad Mondale)

Daughter

Edward "Ted" Taylor Lewis Borie Jr.,

Son

Renée Borie Blanche (Frederick)

Daughter

Daniel Sprunk (Courtney), , Weldon "Wells" Borie, Alexander Blanche

(4) Grandchildren

Cooper Sprunk

Great Grandchild

Suzy Mottram, Taylor Borie, Kathleen Borie Taylor, Fabienne Borie McGovern, Marianne Borie, Kenny Langenbeck, Keith Langenbeck, Peggy Langenbeck

Nieces and Nephews

Lucille Langenbeck

Sister-In-Law

Joan Kemp Bringage, Norma Rathe Batt Steele, and her cousin and friend Edwina Prados Hughes.

Longtime Friends

Mrs. Borie also leaves behind many grand nieces and nephews and cousins.
Servicios Previos
viernes,
22 octubre, 2021
Memorial Visitation
viernes,
22 octubre, 2021
Memorial Mass
En Memoria De
Jeanne Marie Borie