OBITUARIO
Valentin Litvin
25 enero , 1925

–

16 noviembre , 2021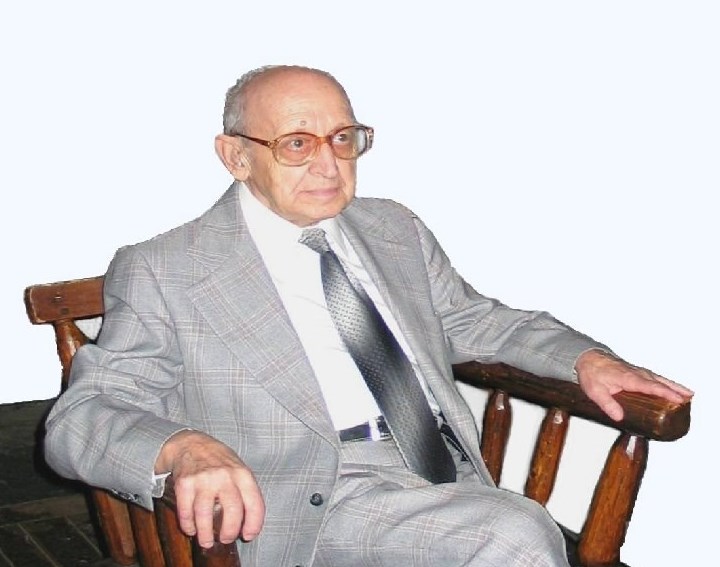 Husband, father, grandfather, great-grandfather, World War II veteran, policy analyst, teacher, and writer, Valentin Litvin passed away on November 16, 2021, at his home in Andover, Mass. He was 96.
Valentin Mikhailovich Litvin was born on January 25, 1925, in Moscow, where his father was a doctor and his mother ran the family and worked at the clinic's office. As a child he learned English and discovered a precocious talent for reciting and composing verse. He was proud of his military service in World War II. After the war he specialized in Western literature at Moscow University. There he met his future wife Clara (Weinberg) Litvin. The young couple moved to the industrial city of Magnitogorsk in the Ural Mountains, then back to Moscow, where Valentin eventually found work in the information department of the Ministry of Agriculture and later earned a PhD in Economics. Together, Valentin and Clara raised two children. They were married for 52 years, until Clara's death in 2000.
Immigrating to the United States at age 54 with his wife and son's family, Valentin rebuilt his career as a specialist in Soviet and Russian affairs. He lectured at Air War College in Montgomery, Alabama; taught Russian and Russian Area Studies at the Defense Language Institute in San Antonio and Monterey; and for two years, prior to his retirement, taught Russian at Phillips Academy, Andover, Massachusetts. His publications include The Soviet Agro-industrial Complex: Structure and Performance (1987) and numerous articles. A charismatic public speaker, he was able to explain the Soviet life and economy's quirks and failures to academic and general audiences alike. He and Clara also campaigned tirelessly for the release of their daughter Irene and her family who were refuseniks in the USSR, enlisting allies from clergy members to Congressional representatives in the effort.
Starting in 1998, Valentin became active in the Massachusetts Club of Russian-Speaking Scientists. He gave dozens of research presentations and formed deep friendships at the club. As the club's vice president for research, he co-organized numerous conferences, delivered presentations, edited volumes, and arranged special events, as well as helping to launch the club's journal, Second Wind. He also worked to secure formal recognition for the club at the state and federal levels, leading to a 2016 20th anniversary congratulatory letter to the club from then-President Barack Obama. Meanwhile Valentin was an energetic researcher and writer, contributing columns on a broad range of topics to Boston's Russian-language newspapers.
Valentin's family will remember him as an eager tourist, a captivating toastmaster and storyteller, an admirer of great literature, and an exceptionally good-natured and loving human being. He is survived by his sister Anna Kamenetsky (Boston, Mass.); his children Gary Litvin (Andover, Mass.) and Irene Ginis (Beit Shemesh, Israel) and their spouses; his grandchildren Yulia Ginis, Margaret Litvin, Brocha Strous, Aaron Litvin, and Ariel Ginis; and ten great-grandchildren. The family wishes to thank Gloryvee Arias, Lisa Clemon, Elizabeth Aguiar and Janet Ndiritu for providing Valentin with care and dignity in his final years.
The funeral service will be held at 11am on Friday, November 19, 2021, at the Beth El Cemetery, 776 Baker Street, W. Roxbury.
Arrangements under the direction of Stanetsky Memorial Chapels.
VER MÁS
VER MENOS
Servicios Previos
viernes,
19 noviembre, 2021
Graveside Funeral Service
En Memoria De
Valentin Litvin
Ayude a contar la historia de la vida única de su ser querido. Deja un recuerdo o comparte una foto debajo para mostrar tu apoyo.