OBITUARIO
DONALD A. DEUTSCH
10 enero , 1927

–

21 noviembre , 2021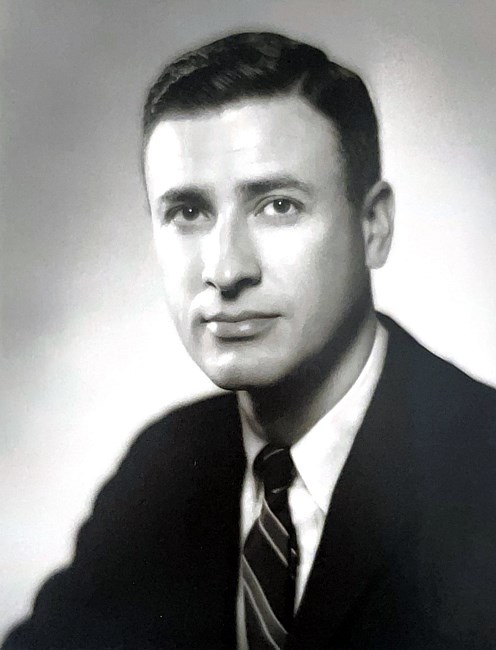 Donald A. Deutsch died peacefully at home on Sunday, Nov. 21, after a long illness. He was 94.
Don was born to Marion Farrington and Cyril John Deutsch on Jan. 10, 1927, in New York City.
He graduated from Gilman School in Baltimore, MD, in 1944, and went on to serve in the U.S. Navy from 1945 till 1947.
A 1949 graduate of Princeton University with a degree in economics, he was also a member of the Quadrangle Club.
Don's career with Sears, Roebuck and Co. spanned four decades. He joined Sears in Lexington, KY, in 1949. After several retail store assignments, he was transferred to the company's national buying offices in Chicago in 1953. He was promoted to the national public relations department as national director of educational programs in 1955 and later assumed responsibilities for the department's consumer information division.
In 1962, Don was named regional director of public relations for a five-state area, with headquarters in Kansas City. He became director of pubic relations for the company's nine-state Southwestern Territory in 1964 and of the 13-state Eastern Territory in 1966. He was named national director of urban affairs in 1968, assistant to the vice president - public relations in 1970, and national director of public relations in 1975.
In February 1982, Don was elected Vice President - Public Affairs for Sears Merchandise Group and served in that capacity until retirement. He was also a director of The Sears-Roebuck Foundation.
In his role in public affairs, he was involved with Sears' sponsorship of 100 plus National Merit annual scholarships. Sears was one of the first sponsors of the National Merit Scholarship program. After retiring, he joined the mentor program with Executive Corps.
Don was an avid reader and enjoyed theater, dance, symphony, opera, sailing and international travel. He supported numerous performing arts organizations in the Chicago area.
He is survived by his daughter, Joan (Mike) Deutsch of Snohomish, WA; son, Don (Dayna) Deutsch, Edina, MN; niece Liz Paradise of Chapel Hill, NC; nephews Robert Paradise of Boston, and James Paradise of Denver; and his first spouse, Jean Hester Wallace of Snohomish, WA,
He was preceded in death by his wife, Jo Hopkins, and his sister, Joan Paradise of Old Greenwich, CT.
Don's family is grateful for the love and companionship of friends especially Liz Beiser and her family. The family also greatly appreciates the compassionate support provided by his caregivers of Comfort Keepers of Chicago and Unity Hospice; and extends sincere thanks to his medical team at Northwestern Medicine.
Private Interment at Rosehill Cemetery. A celebration of life will be held at a later date. Arrangements by Drake and Son Funeral Home, 773-561-6874. Memories at www.dignitymemorial.com.
VER MÁS
VER MENOS
Servicios
No hay servicios programados en este momento. Reciba una notificación cuando se actualicen los servicios.
RECIBIR ACTUALIZACIONES
En Memoria De
DONALD A. DEUTSCH
Ayude a contar la historia de la vida única de su ser querido. Deja un recuerdo o comparte una foto debajo para mostrar tu apoyo.