OBITUARIO
Louise Jean Elsoffer
21 abril , 1928

–

16 noviembre , 2021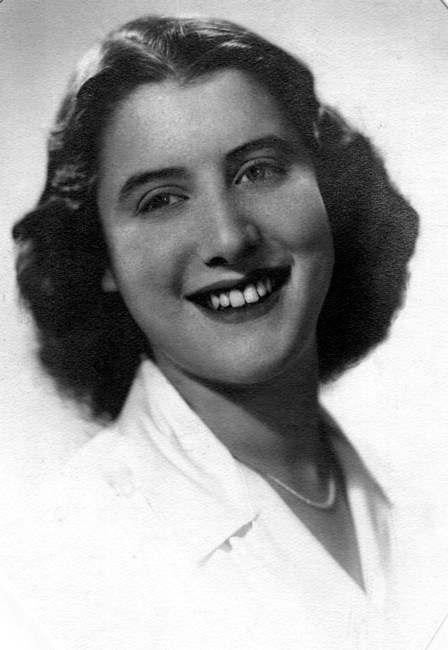 Louise Jean Elsoffer passed away peacefully on November 16, 2021. Loving wife of 56 years to Malcolm Sheldon Elsoffer (deceased). Devoted mother of Jeff (Debbie), Andrew (Jacalyn) and Lisa. Adored grandmother of Lenny, Joey, and Elizabeth. Daughter of Leonard and Doris Blum (née New) and sister of the late Harry Blum. Louise is survived by her sister-in-law, Susan Blum and her nieces, Lesley and Wendy. Services will be held at 12 noon, Tuesday, November 30th, 2021 at the Berkowitz-Kumin-Bookatz Memorial Chapel located at 1985 South Taylor Rd., Cleveland Heights, Ohio. (Those in attendance will be required to wear masks). Interment at Mayfield Cemetery for family only. A full obituary is located on the Berkowitz-Kumin-Bookatz website. Contributions are suggested to Anshe Chesed Fairmount Temple or The Maltz Hospice.
To view this service, please navigate to https://youtu.be/t9guB7Dospo. Louise Jean Blum Elsoffer (1928-2021) - Wife, Mother, Grandmother, Friend, Travel Agent, and a longtime resident of Shaker Heights, passed away after 93 years of enjoying family, friends, Cleveland sports, world travel, theater, fine dining, and shopping.
Born on April 21, 1928 in Cleveland, Ohio to Doris and Leonard Blum, Louise was raised on Ardmore Road in Shaker Heights just a few houses from Fernway Elementary School. Louise spent her teenage summers at Tripp Lake Camp in Maine. After graduating from Shaker Heights High School, Louise attended Ohio State University and Columbia University.
In her twenties, Louise lived in New York City working as a Manners and Etiquette teacher at the 92nd Street YMCA in upper Manhattan. After returning home to Shaker Heights, Louise married Malcolm Elsoffer on October 21, 1958. They were married for 56 years residing at 22100 Calverton Rd. in Shaker Heights. Her lifelong love affair with New York City brought her back often to shop, dine, and attend Broadway productions, always visiting her many friends with lunches at the Monkey Bar, family brunches at Tavern on the Green, and carriage rides through Central Park. Her final visit was a celebration of her 80th birthday.
Louise enjoyed hosting great parties. Her favorite holiday, Thanksgiving, was her greatest joy. Her kids' birthday parties were legendary. At the Oakwood Club, there was a travel agents' themed " Around the World" gala and a Wild West party complete with a stagecoach ride to the entrance. Mal would often sing at their parties, once serenading Louise with the 1932 Maurice Chevalier song, "Every Little Breeze Seems to Whisper Louise", his public thank you to longtime wife, friend, and travel partner.
While traveling and dining at high-quality restaurants with their many friends, Louise and Mal were high profile in the Cleveland restaurant scene. Good food and great stories were always on the menu.
Louise became a travel agent for Flight II Travel. They traveled the world. She gained firsthand knowledge of the best destinations, hotels, and restaurants. Louise made the reservations and Malcolm delivered the itinerary.
A Shaker Heights resident for almost her entire life, she loved her community, enjoyed the Calverton Road block parties, and was always ready for the trick or treat of Halloween with a handful of both plain and peanut M&Ms. From Louise's parents she found a love for Palm Springs … the golf course life was good… the perfect winter getaway. Family and friends were invited as guests … the Blums, News, Levys, Richmans, Luxes, Sheinbarts and Konigsbergs visited for wonderful times in the desert.
Family was Louise's ultimate passion and all her grandchildren shared a deep bond with their grandmother. A great mom and a loving grandmother, Louise was excited by the recent news of her granddaughter Elizabeth's engagement to Tyler Miles. She hoped to attend their wedding next October, symbolically set on her own wedding date 63 years later.
Louise lived an amazing, vibrant, and fulfilling life on her own terms. Her story and memory will be cherished by all who knew her. Louise was both genuine and generous. She brought folks together for good times, never missing a chance to celebrate. Louise seemed to always find the sunny side of the street, lifting spirits, and encouraging positivity. In her words, "Malcolm and I had a wonderful life. We did it all!"
VER MÁS
VER MENOS
Servicios Previos
martes,
30 noviembre, 2021
Louise J. Elsoffer Funeral Video
martes,
30 noviembre, 2021
Interment
En Memoria De
Louise Jean Elsoffer
Ayude a contar la historia de la vida única de su ser querido. Deja un recuerdo o comparte una foto debajo para mostrar tu apoyo.