OBITUARIO
Margaret Anne Descoteaux
1 noviembre , 1930

–

8 septiembre , 2022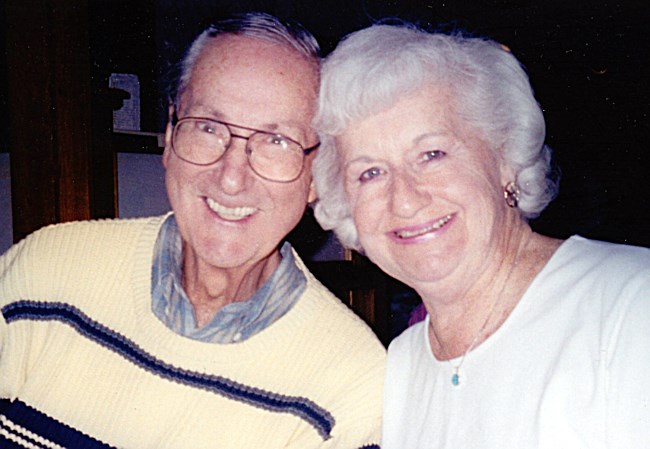 Peggy (Shea) Descoteaux was born in Ware, Massachusetts, the third child of Elfreda (Bloom) Shea and James F. Shea. Her grandparents, John and Louisa Bloom (Janis and Lavise Puke, renamed at Ellis Island), immigrated from Latvia and eventually built a farm in Enfield, where Peggy lived for a time as a young girl. When Boston's growing demands for water resulted in flooding Enfield to form the Quabbin Reservoir, the family moved to Ware. Peggy had fond memories of her first job at Durand's, a high-quality department store where she was treated kindly by the staff and developed a lifelong flair for fashion. When a young Norman (Deke) Descoteaux returned from serving in World War II and spotted Peggy walking out of Durand's with her polkadot scarf, he told best friend Les Campbell, "I'm going to marry that girl someday." Peggy and Deke were wed at All Saints' Church on May 28, 1949. Peggy was working for Ware Trust and Deke for New England Bell when Uncle Sam called them to serve in Atlanta during the Korean War. Upon their return to Ware, they bought their first house on Bacon Road and happily grew their family to four children, eventually moving into a new custom-built ranch house on Woodland Heights in 1962. Living on the edge of a vast forest, the children enjoyed an idyllic life, swimming at Red's swimming hole, gathering wild Concord grapes from the banks of the Ware River, and ice skating on the frozen swamps. Peggy and Deke regularly brought their children to the Quabbin Reservoir and surrounding nature preserve, taking long hikes down deserted roads that led to now flooded towns, digging for old bottles around abandoned foundations, gathering blueberries that lasted through winter, and observing the birds and wildlife that flourished in the Swift River environs. Summers were spent camping and hiking in state and national parks from Gettysburg to Yellowstone, covering 38 states in four years in a tent trailer and station wagon. In 1968, Deke accepted a transfer to Pacific Bell and the family pulled up roots and moved to Sunnyvale, California. Seeking work for the first time since raising her four children at home, Peggy had only one interview and was immediately hired by Wells Fargo Bank at the old Murphy Street branch in Sunnyvale, working her way up to a Personal Banking Officer position at the prestigious Stanford Barn office in Palo Alto. She and Deke greatly enjoyed exploring California, especially Yosemite and the Monterey Peninsula. They both retired early in their 50s, giving them the opportunity to enjoy their passion for bird watching and gardening, first in their retirement home on Llagas Creek in Morgan Hill, and then in their beautiful new home in Sierra Vista, Arizona. They immersed themselves in southwestern culture, spending many happy afternoons enjoying folk music at the Arizona Folklore Preserve, bird watching in Miller's Canyon and Whitewater Draw, and becoming Master Gardeners. They were especially proud to have their home featured for its Xerescape landscaping on an annual Master Gardeners' tour. As they reached their 80s, they reluctantly left Arizona and settled in Clovis, California to be closer to their children. Peggy kept up her crochet skills and loved her friends in the Chat and Stitch group at the Claremont Senior Apartments, who buoyed her spirits following Deke's death in 2015. Peggy was proud to maintain her independence and stay in her lovely apartment with Samantha, her loyal feline companion, up until the day she joined Deke in heaven. Peggy leaves behind her devoted children Brenda Sheeks and her husband Larry; Norman Descoteaux and his wife Chunping; Phillip Descoteaux and his wife Karen; and Linda Descoteaux and her husband Richard Carmen (Samantha's Godparents). Peggy also lovingly leaves behind her grandchildren Justin, Katie, John, Stevie, Eric, and Billy, as well as her great-grandchildren and dear nieces and nephews. She was predeceased by her brother, James Francis Shea, and her sister, Mary Louise Deschamps. The family is especially grateful to Hinds Hospice, and the staff and community at the Claremont Senior Apartments, for their kindness to Peggy. The family will gather in the spring to honor Peggy in a private ceremony in the mountains she loved. If friends or family wish to make a donation to honor Peggy, she would be so happy to know she was remembered to the Yosemite Fund. Thank you for making Peggy a part of your life. She held her family and friends close to her heart. Contributions in Margaret's memory may be made to Yosemite National Park Yosemite Conservancy , 101 Montgomery Street, Suite 2450, San Francisco, California 94104 US, https://yosemite.org/giving/. Fond memories and expressions of sympathy may be shared at www.boicefuneralhome.com for the Descoteaux family.
VER MÁS
VER MENOS
FAMILIA

Brenda Sheeks (Larry)

Daughter

Norman Descoteaux (Chunping)

Son

Phillip Descoteaux (Karen)

Son

Linda Descoteaux (Richard Carmen)

Daughter

Peggy leaves behind 6 grandchildren, 7 great grandchildren, and many nieces and nephews.
Servicios
No hay servicios programados en este momento. Reciba una notificación cuando se actualicen los servicios.
RECIBIR ACTUALIZACIONES
En Memoria De
Margaret Anne Descoteaux
Ayude a contar la historia de vida única de su ser querido. Deje un recuerdo o comparta una foto o video a continuación para mostrar su apoyo.