OBITUARIO
Patricia Jane Hudgins
18 marzo , 1963

–

23 junio , 2020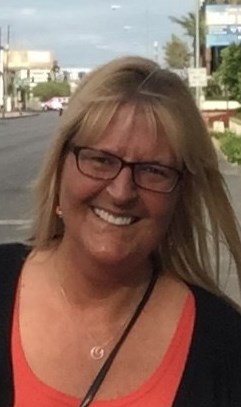 For those whom were unable to attend the services this past Sunday, here is the lovely letter that her wonderful husband Robert wrote: June 26, 2020 My Beloved Wife, Patty, I met you on a Friday night in late August 1993, in a local night club that has since closed. You looked beautiful that night, as you strolled past me, complimenting me on how I looked. I, of course, returned the compliment, wondering just who this blonde beauty was. Mesmerized, I gazed at you from across the dance floor and found that you were gazing at me too. Eventually, I worked up the nerve to move a little closer, afraid that someone else might steal you away. Needing a little "liquid courage", I downed my drink and asked you to dance, it was the beginning of the end of my bachelor life. We danced all night together, talked, and laughed, and enjoyed each other's company. You asked me, what plans I had the next day and I told you none (when in actuality, I had a blind date that I eagerly canceled in order to spend that next day with you.) We drove to Colorado Springs, where I met your sister Gail and her future husband Miguel. I met your parents Don and Bev that day and your grandmother Louise the day after that. It was the start of a whirlwind romance, call it love at first sight if you will, but you and I were inseparable from that moment on. Two months later, we moved in with one another and on our first night in our first home together, I asked you to marry me. Luckily for me, you said "yes". I swear that I got the better part of the deal, but you insisted that we were both equally lucky. I married you on a Saturday, one year to the date of our fortuitous meeting in that night club, August 27, 1994, and for the next 26 years, you would be my wife, my lover, my confidante, my biggest fan and my best friend. You showed me what love truly was, not by kisses, not by hugs, not by words, but by how much you dedicated yourself to your family, your friends, your colleagues and to the world in general. You gave yourself freely and wholeheartedly to anyone that needed a kind word or a bit of encouragement to get through the day. Total strangers would tell you their life story in a matter of minutes, while standing in the checkout line at the grocery story, all because you complimented them on how they dressed or how their hair looked. This was the impact that you had on others. Look around here baby, all these people here today are here because you somehow touched their lives, either through actions of your own or perhaps through me. Our friend Meredith said to me the other night, "You had such a difficult childhood Robert, how is it that you turned out so well? What was the turning point for you?" I told her that, "Patty was the turning point in my life." At 28 when we met, I was floundering trying to figure out what to do with my life. You were educated, you had a great job, a great family, and many great friends. You made me want to be a better man. You made me want to strive to do something great with my life, because I knew that if I did not do everything that I could with the potential that I had, I would surely lose you to a better man than I. So, you pushed me, you poked me, you prodded me to finish school and begin my teaching career. A move that placed me in the company of the greatest educators that I could ever have the pleasure of working with. You were my turning point honey, and you are my light and my love, for now and for always. You died on a Tuesday in June of 2020, the worst year of my life. We both battled the Corona Virus valiantly, I survived, yet you did not. I asked God why I was spared, instead of you and the only answer I can come up with is that God knew about your pre-existing conditions, what this plague would do to your body and that I would have to help take care of you in your time of need. In reality, I feel I did little to truly help you, other than to support our family, who were the real heroes of this tragic story. From your sister Cheryl who oversaw every aspect of your care from beginning to end, my sister Chaz who took care of me and helped nurse me back to the man I am today, to the army of siblings, nieces, nephews, great nieces and great nephews who descended upon on our home when we were sick, and took care of everything from taking care of our little furry children, to paying our bills and handling our finances, to disinfecting our home so that we could come back to a clean, COVID-free house. Unfortunately, you never physically made it back to the home that we built together for the last 22 years, but I know that your beautiful spirit will always be with me there. My dear, sweet Patty, when I am alone, I often wonder how I will ever get along without you? How will I ever continue to live in this hard, cruel, world that feels so vast and so empty, now that you are gone? So, I place my Faith into the guiding hands of the Lord, and then I look around at all of these beautiful people who are here today, and I know that with their love and support and a good swift kick in the ass every now and then, I can do it for you and for us, if I can just focus on things, one day at a time. It will be difficult, it will be heart-wrenching, and I know that I will sometimes lose my way in the grief that I feel, but I have so much more life to live in your name and in the name of our wonderful 27 year relationship. Your light may have been extinguished prematurely, but the ember of your soul continues to burn brightly and I will see you again my sweet angel, in a much more wonderful place than here. Until then, I will continue to love you unconditionally and eternally, Your Loving Husband, Robert Patricia Jane Hudgins, age 57, of Highlands Ranch, Colorado passed away on Tuesday June 23, 2020. Patricia was born March 18, 1963. Patty worked as a Registered Nurse in home healthcare for the past 32 years. The best years of her career were spent when she worked for FirstChoice Home Healthcare. Patty loved going to the Bronco games, doing ceramics with her mom Beverly, shopping trips to Estes Park, going on road trips with her husband Robert, oceans and beaches. She was fond of caring for others, was loved by all and was considered the matriarch of the family. Patty was survived by her husband of 26 years, Robert Hudgins; her fur children (her wonderful cats) Sierra, Sophia, Sassy, Sammie, Socks, and Smudge; her brother Mark (Linda) DeHaven; her sisters Gail (Miguel) Garcia, and Cheryl (Carlos) Hernandez; Nieces Kim, Krystal, and Jackie; nephews Nick, and Adriano; great-nieces Caitlyn, and Isabella; and great-nephews Christopher, Jon, and Matthew. Patty was pre-deceased by her parents Donald and Beverly DeHaven; her grandparents Bert and Louise Ireson; and her fur children Saffy, Samoya, Sugar, Spice, and Sinnamon. Fond memories and expressions of sympathy may be shared at www.olingerhampdenmortuary.com for the Hudgins family. Patty's memorial is on Sunday, June 28 at 10AM. It will be held at Charles Hay World School located at 1221 E. Eastman Ave., Englewood, CO 80113. Out of respect for Patty and Robert and in addition to following state law, social distancing and masks are mandatory.
VER MÁS
VER MENOS
En Memoria De
Patricia Jane Hudgins
Ayude a contar la historia de vida única de su ser querido. Deje un recuerdo o comparta una foto o video a continuación para mostrar su apoyo.