OBITUARIO
Eugene Elliott Bleil, M.D.
29 agosto , 1920

–

7 septiembre , 2020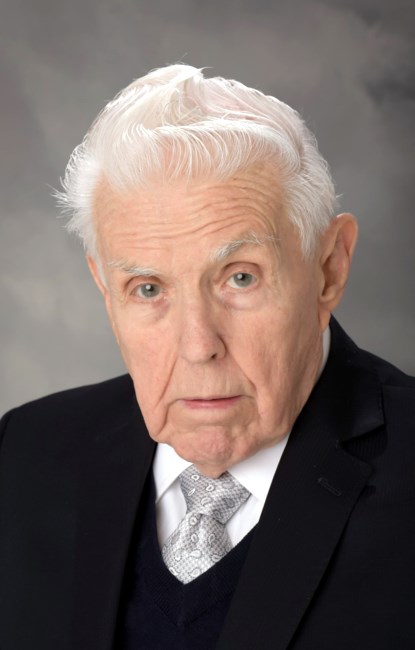 Eugene Elliott Bleil, East Lansing, MI resident of 63 years, died at the age of 100. Honored Veteran, Eugene Elliott Bleil, M.D., TSGT AAF, Pacific Theatre, WWII will receive full military honors and burial in Arlington National Cemetery with his wife of 71 years Opal L. Bleil by his side. Opal Louise (Brazee), born March 7, 1920, preceded Eugene in death, passing away June 27, 2018. Eugene is survived by two daughters, Claudia Bleil of East Lansing, MI and Cynthia Camp of Palm City, FL, four grandchildren and four great-grandchildren. Eugene enjoyed reading, writing, coin and stamp collecting, whittling chess sets, making violins and cellos by hand with his own handmade tools, and restoring a 250-year-old banjo. He liked playing tennis and golf, and especially enjoyed talking with people. He and Opal faithfully attended South Church, Lansing, MI since 1959. Their favorite social activity was going out to dinner often with Sunday brunch as best. Eugene was a loving husband, father, physician, friend and remained faithful to his Lord and Savior. Eugene moved to East Lansing, MI with Opal and his medical school friend Homer Larson to begin medical practice at Sparrow Hospital in Lansing, MI as the first licensed anesthesiologists practicing in Lansing, MI, in 1959, setting up everything surgeons would need for their patients in the basement of Sparrow Hospital, creating a recovery room, and establishing PAS (Physicians Anesthesia Services). Born at home August 29, 1920 in Detroit, MI, Eugene never expected to be the last to survive his father's family of 9 children. After several family moves, Eugene graduated Van Buren Township Consolidated Schools (Belleville High School, Belleville, MI) in 1938. He attended Michigan State Normal College (Eastern Michigan University) for one year, before deciding to join military service. Bleil entered U.S. Army Air Corps December 11, 1939. He graduated Chanute Field, IL, as an aircraft and engine mechanic and was sent to Nichols Field in the Philippine Islands with 17th Pursuit Squadron where he was assigned position as crew chief for Squadron Commanders Major Kirtley Gregg and 1st Lt. Boyd D. (Buzz) Wagner, first flying Ace of the Pacific. Bleil moved up quickly from Private to Technical Sergeant. They were strafed 4 hours before the bombing of Pearl Harbor. T/Sgt Bleil fought in three Battles of the Points on Bataan Peninsula as a provisional infantryman after only fifteen-minute instruction in combat tactics. The three Battles of the Points took place at Aglaloma Bay for 28 days, Quinaun Point and Anaysan Point. After the surrender of the American Command on April 9, 1942, T/Sgt Bleil made the Bataan Death March to Camp O'Donnell. On September 18, 1943, he was sent to Japan and forced to engage in slave labor by the Imperial Japanese Army. During his 1,245 days of incarceration, T/Sgt Bleil worked in the Nippon Steel Mill foundry, and as a longshoreman, unloading ships that carried coal, iron ore, loose cement and grains until his liberation on September 5, 1945. For meritorious achievement while serving with the 17th Pursuit Squadron, 24th Pursuit Group, in the Asiatic-Pacific Theater of Operations from 7 December 1941 to 9 April 1942 in operations against an armed enemy of the United States during World War II, noting his exemplary performance of duty in active ground combat was in keeping with the finest traditions of military service and reflects great credit upon himself, the 17th Pursuit Squadron and the United States Army, Technical Sergeant Eugene E. Bleil received Honorable Discharge, Crew Chief AAF Wings and was awarded by the United States Army Air Corps, World War II, Pacific Theatre: Distinguished Service Cross with Two Oak Leaf Clusters The Bronze Star Medal (2) Purple Heart Prisoner of War Medal with Japan Bar Good Conduct Medal with Two Knots American Defense Service Medal with Bronze Star American Campaign Medal Asiatic-Pacific Campaign Medal with Bronze Battle Star World War II Victory Medal Army of Occupation Medal-Japan Distinguished Unit Badge with Two Bronze Oak Leaf Clusters Philippine Defense Ribbon with Bronze Battle Star Philippine Liberation Medal 7 Overseas Service Bars 2 Service Stripes Once home in Michigan, Eugene attended Michigan State College and earned his B.S. in three years, plus one year graduate school to receive degree in Chemistry. He then graduated University of Michigan Medical School in 1955 and was licensed as Doctor of Medicine in 1956. He completed 12-month residency at the Veterans Hospital in Dearborn, MI in Anesthesiology 1956-57 and continued to serve the Art of Medicine until January 2016. Eugene traveled many years to the Annual Reunion of Bataan and Corregidor conventions. And for many years, he attended monthly meetings of Former POWs at the Ann Arbor VA Hospital in Ann Arbor, MI. In 2003, he was recognized and placed on the Wall of Heroes at Ann Arbor VA Hospital in Ann Arbor, MI. He spoke to many groups and schools, high school students and adults. He was a guest lecturer at the National Museum of the U.S. Air Force in February 2006. His book "Consigned to Death Six Times, Surviving Bataan, the Death March and Life as a POW" was first published in 2011, reprinted in 2011. Copies available privately via email:
[email protected]
On November 11, 2011, Dr. Bleil was among six inducted into the interactive Veterans Memorial at Lansing Community College, Lansing, MI. He received the Key to the City of Lansing by the Honorable Virg Bernero Mayor of Lansing, MI on November 10, 2012. He received the Distinguished Graduate Award from Belleville High School in 2012. November 7, 2015, Eugene was honored as Veteran of the Game at the University of Michigan Football Stadium. Eugene E. Bleil, M.D. was accomplished, resilient and strong, yet generous, gracious, kind and gentle. He was loved by many and will be missed by all. This is an invitation to a celebration of life service May 15, 11am at South Church. You may Stream live from your home or attend...your choice.To attend, please sign in and reserve seating. We will be showing 42 min. video from Arlington national cemetery. Just wanted to invite you. Claudia The link is https://southlife.org/funeral or https://southlife.org/event/dr-bleil-celebration-of-life?instance_id=36779 r
VER MÁS
VER MENOS
Servicios Previos
viernes,
19 febrero, 2021
Graveside Service
Celebration of Life Ceremony
En Memoria De
Eugene Elliott Bleil, M.D.