OBITUARIO
Juan Carlos Gutierrez
25 febrero , 1988

–

19 septiembre , 2022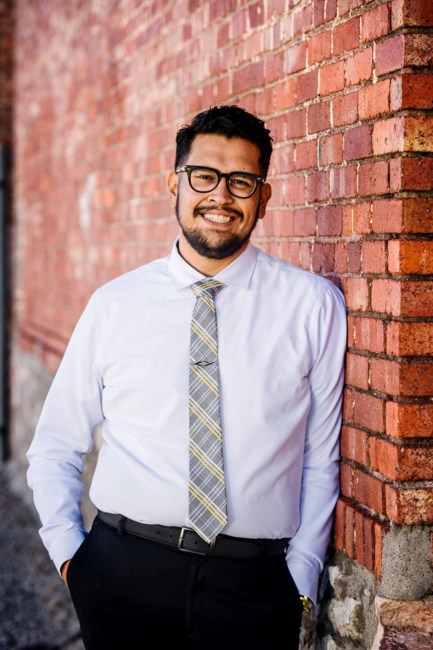 When Juan Carlos Gutierrez walked into the room, those in his company felt energy, an enthusiastic spontaneity. This was just one example of who Juan was and how he impacted those around him. Juan was a clever and gregarious person who always sought out the finest attributes in other people. It was as if Juan wanted to share all of their experiences, revel in their lives and celebrate their discoveries. Juan was tireless and had boundless enthusiasm that would serve him well throughout his life. He was the son of Martina Zubia and Carlos Gutierrez Jr. Juan was raised in El Paso, Texas. Always at the ready with a good joke, he grew up to be quite a humorous person- he was the life of the room. While some who knew Juan might describe him as an idealist, his friends and family understood well that Juan was always in pursuit of life's endless possibilities and opportunities available to him. Juan was raised with two siblings, Raul Camacho and Anna Elizabeth Sanchez. Juan was very accepting and supportive of his family. Whenever discord or tension arose within the home, Juan was typically the member wanted resolution and harmony, while still respecting boundaries. These traits served Juan well in his adult life and, along with his wit, outgoing personality, and understanding of others, drew the admiration of many who knew him. Juan was able to empathize and identify with a vast array of people and personality types. This quality drew him into a diverse group of friends and acquaintances. He was almost always the first to jump in when it came to playing games or participating in other activities. He went to Burges High School and graduated in 2006. Juan did well in college, as a result of his comfort level with tackling new theories and his love of learning. He was studying for a Bachelor Degree in Science and minor in Education. Juan was part of PHI THETA KAPPA, cancer lab studies, and coached football through a co-op at MacArthur Middle School. He was always in quest of new things to learn and experience. On June 18, 2022 Juan married Jessie Armida Pina at St. Pius X Catholic Church of El Paso, Texas. Juan's skill at "building bridges" played an important role in his ability to make his new family happy. He was quite sensitive towards Jessie's needs, showing his constant concern and fondness. Juan was tenderhearted and sensitive, qualities that served him well in helping to nurture his family. Juan was a natural and creative parent who was willing to provide his family with all sorts of new and nteresting experiences. For Juan, parenting was the most enjoyable and pleasurable part of his life. Every activity, from chores to bedtime routines, became a priority in the Gutierrez home. Juan's skill at understanding his son's feelings, his sensitivity to his needs, and his gift for gentle love and support enabled him to find novel solutions to any problem or situation that might crop up. Juan was blessed with Juan Carlos Gutierrez II. Juan was uplifted by new ideas and was excited by life's possibilities. Juan's career path was to become a science teacher and football coach. He coached at MacArthur Middle School and Burges High School. Juan was enterprising, inventive and loved his student athletics as his own. Because Juan loved to have a broad variety of activities in his life, he took advantage of the opportunity to pursue numerous hobbies. His favorite pursuits were music, his beloved son, football, coaching, golfing, getting lost in laughter & deep conversations and wandering for excitement. His charisma, supportive nature and ability to improvise when called upon to do so all made perfect attributes for enjoying a great many sporting activities. In high school, Juan played football and wrestling. Juan was also something of a sports fan and enjoyed watching his favorite events whenever he got the opportunity. Tops on his list were football, soccer, boxing and baseball. Juan was a lover of animals and cherished his pets, India and LaSalem, his beloved dog and cat. His family was rounded out by his dog and cats, Cuba (Oscarin), Figaro (Sylvester), and Fizzy. There was always a certain style and inventiveness to Juan. He was a dynamic, self-expressive person who was forever looking to celebrate the endless possibilities life had to offer. He had a knack for being clever, creative and witty, and for others, was a joy to be around. While he was often fiercely independent, it seemed as if many others looked to Juan Gutierrez for inspiration, leadership, wisdom and even courage. Juan was always more than willing to share life's experiences with his loved ones.
VER MÁS
VER MENOS
FAMILIA

Jessie Pina

Spouse

Juan Carlos Gutierrez II

Son

Carlos Gutierrez

Father

Martina Zubia

Mother

1

Brother

1

Sister
En Memoria De
Juan Carlos Gutierrez
Ayude a contar la historia de vida única de su ser querido. Deje un recuerdo o comparta una foto o video a continuación para mostrar su apoyo.