OBITUARIO
Jack Donald Garman Sr.
9 septiembre , 1929

–

4 agosto , 2022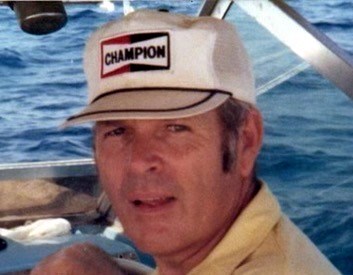 Jack Donald Garman Sr. passed away peacefully on August 4, 2022, surrounded by his two sons, after a blessed and happy life. His family sorrowfully acknowledges his passing while celebrating his remarkable life of nearly 93 years. Born September 9, 1929, in Giles County, Virginia, Jack was the first of two children by his parents Mary Collins Garman and Burnette Kline Garman. Jack's beloved wife of nearly 68 years, Jane Holtzclaw Garman, had preceded Jack in death eleven months earlier. Jack is survived by his son Jack Donald "Chip" Garman Jr. and his wife Pamela Pinney Garman of Hampstead, N.C.; his son David Garman and his wife Kira Finkler of Boise, Idaho; his grandchildren Rebecca Garman Sheppard and her husband Ben Sheppard, Amanda Lane Young and her husband Spence Young, Samantha Garman, Bonnie Stender, Luke Garman, and Katherine Garman; his great grandchildren Jackson Sheppard and Brooklyn Sheppard; his brother Robert Thomas Garman and his wife Nancy Copenhaver Garman of Fayetteville, North Carolina; and his sister-in-law Dorothy Jean Holtzclaw of Jamestown, North Carolina. Jack grew up in the New River Valley of southwestern Virginia. His childhood was spent fishing for trout and exploring the beautiful mountain surroundings near his home in Pembroke, Virginia. He also worked in the family's service station and towing business. After graduating from what was then Virginia Polytechnic Institute (now Virginia Tech) in Blacksburg, Virginia, Jack was commissioned as a 2nd Lieutenant in the U.S. Air Force. He went on to serve in Korea with the "Tomcats" of the 519th Fighter Squadron as a navigator/radar operator in the venerable F-94B Starfire Night Fighter, rising to the rank of Captain. He was awarded the Distinguished Flying Cross and the Air Medal "for heroism and extraordinary achievement" in action that saved his squadron of F-94's which would have otherwise had to ditch in the ocean, avoiding the loss of the aircraft and great peril to their aircrews. After returning from Korea, Jack joined Southern Bell Telephone Company and was working in Asheville, North Carolina where he met his wife-to-be, Jane Holtzclaw. Jack and Jane were married on October 10, 1953. After being transferred by Southern Bell to Charlotte, North Carolina, Jack and Jane started their family with the arrival of their first son, Jack Jr. who came to be known as "Chip." Two and a half years later, after being transferred to Greensboro, North Carolina, their second son David was born. They moved several more times within North Carolina as Jack was awarded with higher levels of responsibility at Southern Bell. Telephone company folks who worked with and for Jack adored him. At each move, employees would turn out to wish him well, often telling him he was the best boss they ever had. In 1964, the family was transferred once again to Miami, Florida, where they resided for several decades in what was then a nearly idyllic setting of sunny beaches and warm waters filled with weekends of family fishing, boating, and snorkeling in and around the upper Florida Keys and the Everglades. The family would come to regard these days as among their happiest. Jack became known around his South Florida neighborhood as the man who could fix anything—skills that came in handy given the challenges of keeping the family's old boat and Jeep in working order. Jack also loved to "putter" in his shop, restoring and painting old cars, fixing whatever was broken, or building some new contraption made from old bicycle parts that entertained his boys and their neighborhood friends. Neither of his sons can remember anytime that a commercial repairman of any kind was called to their Florida home. Washing machines, air conditioners, automobiles and boat motors were repaired and refurbished by Jack. If he didn't know how to perform a repair, he would learn by trial and error. Even after his boys grew older and started families and adventures of their own, the family boating, fishing, and beach trips continued even after they had all left Florida. Jack and Jane moved to Georgia and later to North Carolina, enjoying retirement, grandchildren, and travel. Jack even joined his son David on a two-week adventure to Alaska where they stood atop glaciers, flew through deep mountain gorges, traversed ridge trails in the shadow of Mount Denali, ate fresh halibut, and encountered grizzly bears. But Jack's true nature was apparent in his loving devotion and service to his family, his church, and his community. He managed United Way campaigns and built Christmas pageant props. He served as a church deacon and handyman, fixing whatever was broken in the church building or its nursery. He hung Christmas wreathes at the homes in his neighborhood and attended the countless t-ball, volleyball, softball, and soccer games of his grandchildren. His grandchildren heard his wife Jane refer to Jack as "Honey" so often that the nickname stuck among grandchildren, great-grandchildren, family, and friends. Eventually everyone referred to Jack as "Honey." Jack's devotion and service continued on as he lovingly helped care for his wife Jane during her struggles with dementia as she neared the end of her life. Jack's essential legacy is the example he set for the rest of us. As we compare ourselves to his warmth and selfless actions as a husband, father, grandfather, great-grandfather, neighbor, and friend, we generally fall short yet strive, motivated by our memories of him, to meet the example he set. As his family, we are confident that Jack is finally at rest after a full life of discovery, heroism, service, and compassion. With a nod to Jimmy Buffet, Jack had 92 years of perpetual motion… some was magic… some was tragic… but he had a good life all the way. A private ceremony with the distribution of Jane and Jack's commingled remains will occur at a time and place where the river meets the sea.
VER MÁS
VER MENOS
Servicios
No hay servicios programados en este momento. Reciba una notificación cuando se actualicen los servicios.
RECIBIR ACTUALIZACIONES
En Memoria De
Jack Donald Garman Sr.
Ayude a contar la historia de vida única de su ser querido. Deje un recuerdo o comparta una foto o video a continuación para mostrar su apoyo.