OBITUARIO
Henry Jewett Barnes
23 enero , 1922

–

15 noviembre , 2021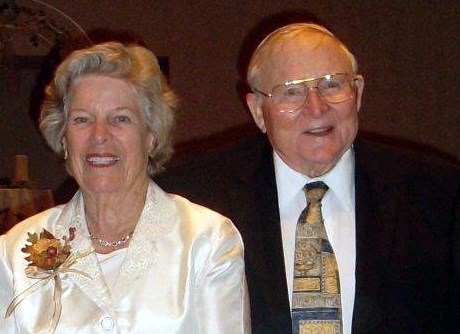 Beloved son; loyal brother, nephew, cousin, uncle, friend; devoted husband and father; Christian believer, civic leader, lifetime companion, stalwart gentleman, and steward of the land, Henry Jewett Barnes passed from this earth into eternity on Monday, Nov. 15, 2021. Born in Ringgold, Georgia, on Jan. 23, 1922, to Gladys Henry Barnes and Bishop Jewett Barnes, Henry was the first born of twins delivered by his maternal grandfather (Dr. Henry) on a cold winter day in the North Georgia mountains. The twins lived with their mother's family the first year of their lives, then moved back to their home, a fully-working farm between Warm Springs and Durand, Georgia. There the two toddlers flourished into young boys and then men, working and helping on the farm when they weren't hunting, exploring, and trekking through the fields and forests of the family acreage. Though growing up during the depression, Henry always recounted that he couldn't remember ever wanting for anything except gasoline because the farm was so self-sufficient and fully sustaining via the crops and livestock maintained. Theirs was one of the farms which then-Governor Franklin Delano Roosevelt often checked as he kept his pulse on the heartbeat of the nation during those lean years. Henry told how the twins and their mother once hopped in the back seat of the Governor's car and rode into the fields so Roosevelt could talk to their father and his father (Father Barnes) who were working the land, the fourth generation to do so. When gasoline did become available, Henry and Harry pulled the old Model T Ford out of the shed and overhauled it for commutes to Warm Springs, where they worked at the public pool--Henry as lifeguard. There he met a certain Greenville beauty and Colonel's daughter, Regina Stokes or Pat, who would become the love of his life. After graduating from Manchester High School in 1938 (the eleventh grade was the senior year), the sixteen-year-old twins attended the University of Georgia, where each studied agriculture and swam on the University swim team. Graduating in 1942, Henry and Harry were commissioned into the United States Army as 2nd Lieutenants and completed their officer infantry training at Ft. Benning, Georgia. On June 5, 1943, Henry married Pat Stokes and they began a lifetime together that would span over seventy-seven years. They were separated only by the war as Henry (along with his twin) served in the Philippines, preparing to invade Japan. Henry, a peaceful man at heart, always cited America's last resort efforts to end the war using atomic bombs as the only reason that he and Harry survived the war. Upon Japan's surrender, both brothers were posted to Tokyo for the "mop up" where they charted the Pacific as Topological Engineers, mapping out the area including the 38th parallel dividing North and South Korea. Pat joined Henry in Japan for the end of his tour and there the couple grew to love the Japanese people and culture, a love they shared throughout their lives. The end of this military tour marked the first ever parting between the twins as Henry, by then a captain, sought separation from the service, while Harry stayed in the Army for life, tragically dying in a plane crash in Panama in 1960. Understandably, Henry was a lifelong advocate for NOT separating twins in school or the service or any life situation. Back in Greenville, Henry and Pat started their family along with many others of the greatest generation! Henry taught agriculture to veterans in night school and set up a dairy with his father in Warm Springs. Eventually in 1950, Henry and Pat purchased land outside Greenville and built the house and dairy on what they called Rock Acres Farm. During those initial years of young married life, Henry served on the Meriwether County School Board from 1956 to 1960. Recognizing his leadership gifts, the county citizens elected Henry to the Board of County Commissioners from 1972 to 1977, where he served as chairman for four of those five years. During Henry's tenure, the board started the county dumpster program, the county ambulance (EMS) service, and the county land fill. Henry also helped in the rebuilding of the county courthouse after it burned in 1976, having prophetically doubled the insurance on the structure early in his board service. Significantly, the courthouse rebuild was accomplished without using any county tax dollars. Henry also served on the county board of health from 1972 to 1977. Having transformed his dairy from its meager beginnings of thirteen cows to a milking herd of over seventy registered Holsteins, Henry operated a fully mechanized milk parlor and silage feed distribution. He not only enhanced his own dairy, but also many others in the area through his training and implementation of the America Breeders Service AI (artificial insemination). Henry brought scientific advancement and monitoring into Meriwether County which significantly improved the herd quality and milk production in the area. In 1958 Henry was awarded the National Dairy Products Corporation's Efficient Production Award. After twenty-two years of full-time dairy production, Henry transitioned to beef cattle then to a focus on forestry. Tree farming would become his ultimate passion, and he managed his accumulated 1500 acres of land with an effort to maintain quality wildlife habitat until the end of his life. In June of 1977, Henry was hired by the Meriwether County Health Department to be the county sanitarian, and he enjoyed traveling throughout the county inspecting health conditions and helping local businesses meet necessary health standards. For over sixty years Henry was a member of the American Legion--Post 186 of Greenville, serving twice as commander. He was also a longtime member of the Greenville Lions Club, serving on their board of directors and as president in 1982-3. Henry held numerous leadership positions as a long-standing member of the Greenville United Methodist Church, including chairman of the Administrative Board and the Board of Trustees. Fully civic-minded, both Henry and Pat were lifetime voters and served numerous terms as jurors. Henry also served on the Board of Directors of the Troup County Area Vocational Technical School. In 1986, Henry retired from the Health Department, whereupon he and Pat began a life of travel. They spent many winters in South Florida and South Texas in their "Skoshi Hacienda" travel trailer, as they called it. They also traveled the world and visited favorites like Alaska, the Panama Canal, Vienna, Russia, and the Caribbean. Henry and Pat loved the water and swimming became the exercise which kept them active and fit well into their nineties. Fly fishing was a favorite for Henry, and he taught all his grandchildren to fish off the docks of the family ponds. Many happy days were spent riding the wooded trails of Rock Acres in the golf cart they called the Blue Buggy. Henry watched every Georgia football game and Braves baseball game, including every game of the 2021 post season! A brick in front of Truist Park holds the names of Pat and Henry Barnes with the family sports' motto: "God first, Family second, Braves third--Bases Loaded!" Adapting their home continually to accommodate the stages of aging, Pat and Henry determined to live out their days at home and both reached age 99, a testament to their wholesome lifestyle. Three generations of their descendants have enjoyed visiting Mom and Dad at the farm, taking in the fresh air through numerous outdoor activities on the home place and extended estate. Children, grandchildren, and great-grandchildren have learned the family blessing around the breakfast, lunch, and dinner table: "Lord, make us thankful for these and all Thy many, many blessings." And it is with thankfulness to God for His provision of such wonderful parents, that the family will gather with the community to celebrate the lives of Henry and Pat—Mom and Dad Barnes--in a joint memorial service at 10:00 A.M., on March 19, 2022, in the Greenville United Methodist Church. Interment will follow in the family cemetery, as well as dinner on the grounds for family and friends. Survivors include Henry's brother Paul Barnes, children Charles Barnes (Roxann), Paula "Polly" Holmes (Gene), Nancy Gonzalez (Raul), Betty Smith (JD), and Bill Barnes (Carolyn), nineteen grandchildren, thirty-one great-grandchildren, one great-great-grandchild, six nieces, twenty-six spouses of the above, and numerous cousins and friends.
Those wishing to share a condolence or remembrance with the family may do so by visiting www.shlagrange.com.
Arrangements are by Striffler-Hamby Mortuary, 1010 Mooty Bridge Road, LaGrange, GA 30240 (706) 884-8636
VER MÁS
VER MENOS
FAMILIA

Charles Barnes (Roxann)

Son

Paula "Polly" Holmes (Gene)

Daughter

Nancy Gonzalez (Raul)

Daughter

Betty Smith (JD)

Daughter

Bill Barnes (Carolyn)

Son

Paul Barnes

Brother
Servicios
A Celebration of Life Memorial Service
10:00 am
Greenville United Methodist Church
En Memoria De
Henry Jewett Barnes
Ayude a contar la historia de la vida única de su ser querido. Deja un recuerdo o comparte una foto debajo para mostrar tu apoyo.