OBITUARIO
Brian Frederick G'Froerer
11 mayo , 1945

–

21 noviembre , 2021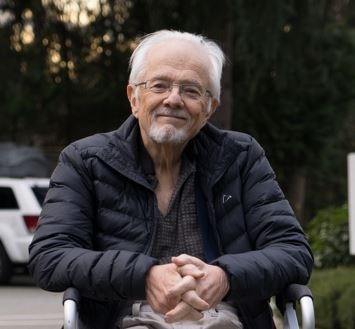 Born May 11, 1945 in small town Balcarres, SK to parents Dorothy and Fred, Brian moved to Mission City, BC when he was two years old, spending his later childhood years in New Westminster and then building his family and life in North Vancouver. A professional musician and teacher, respected and loved by colleagues and students, Brian will be missed by so very many people. Brian's life as a musician started early on the piano and then moved to French horn, which he played in school, community bands and youth orchestras. As a teenager, Brian spent many summers with the National Youth Orchestra of Canada (NYOC), receiving excellent orchestral training and establishing lifelong friendships with people who would become his colleagues in the professional music world. The NYOC was where his beloved Laverne Stewart came into his life, and they soon spent a year together working in the Winnipeg Symphony. After two years of letter writing and half-hour Sunday night phone calls, they wed on December 30th of 1968 in Winnipeg and then settled on the West Coast together. Brian obtained a Bachelor of Music degree from UBC in 1969 and taught the band program at Handsworth Secondary School from 1970-1974. He joined the Vancouver Symphony Orchestra in 1974, first as Assistant Principal Horn, and later moving to Associate Principal and Third Horn. Brian was named Principal Horn of the CBC Radio Orchestra in 1976 and played with both ensembles until his retirement from full time playing in 2008. He was known for the beauty of his sound and for being a true gentleman of the brass section. His playing will live on in the numerous recordings made of these two orchestras during these years, and in the memories of many colleagues around the world. Teaching was a passion of his, evident by the massive outreach of love from his former students when they heard of his illness. He spent over 40 years teaching privately, at UBC and at various colleges around the lower mainland. Brian returned to his old stomping grounds of the National Youth Orchestra of Canada as a faculty member in 2005, where he coached the horn section for 8 summer seasons. He was recognized for his contributions to music and teaching in 2012 as a recipient of the Queen's Jubilee Medal. Laverne and Brian made North Vancouver their home, where they welcomed daughters Joanna and Paula in 1972 and 1975. Brian was an avid photographer and videographer of the girls' lives, meticulous in ensuring that the lives of the family were well documented. The family, while forever busy with a truly overwhelming amount of activities and concerts, managed to take vacations each year to Harrison Hot Springs, ski holidays, and the occasional trip on a cruise or to places such as Hawaii and the UK. Most often though, summer trips were spent driving east through Saskatchewan and Manitoba to visit extended family. Brian's passion for sports cars resulted in the ownership of MGBs, MGAs, a Porsche and a couple of Miatas. Driving his convertibles, enjoying fine scotch, and watching Blue Jays baseball were some of the non-musical joys of Brian's life. In 2017, after almost 50 years of marriage, Laverne was diagnosed with ALS and Frontotemporal Dementia and her final years were incredibly difficult, with Brian acting as her main caregiver. After Laverne's death in 2018, Brian found happiness again with Doreen Banning, enjoying her company and taking several trips together. He also enjoyed playing trumpet and flugelhorn as an amateur in several brass and concert bands in town. However, as ALS affected his lung function more and more, he was no longer able to support a sound. As a lifelong brass player, losing this ability was a great sorrow for our dad. In an incredibly rare instance, in early 2020 Brian was diagnosed with ALS, the same disease that claimed Laverne's life two years earlier. With no family history of this disease on either side, we may never know the reasons why, but we urge all affected by Brian or Laverne's passing to support funding for ALS research and advocate for government action. In lieu of flowers, please make donations to the ALS Society of BC, the ALS Society of your respective province, or to the National Youth Orchestra of Canada (in memory of Brian G'froerer), where a scholarship will be established in his name. Brian is predeceased by his mother Dorothy, father Fred, brother Gordon and wife Laverne, and is survived by his children Joanna (Thor), Paula (Lorne), grandchildren Luke, Olivia and Tarquin, and his sweetheart, Doreen. A memorial service will be held at 1 pm on Sunday, November 28 at Highlands United Church, 3255 Edgemont Boulevard, North Vancouver. The family kindly requests that people attend the service in person only if they have been fully vaccinated. An online livestream of the service will also be available from the Highland's website. We would like to thank the unwavering support of Brian's main caregiver Mahshid over this past year, and the love and support of so many friends.
VER MÁS
VER MENOS
Servicios
No hay servicios programados en este momento. Reciba una notificación cuando se actualicen los servicios.
RECIBIR ACTUALIZACIONES
En Memoria De
Brian Frederick G'Froerer
Ayude a contar la historia de la vida única de su ser querido. Deja un recuerdo o comparte una foto debajo para mostrar tu apoyo.