OBITUARIO
Gabrielle B. Goode
25 mayo , 1928

–

16 noviembre , 2021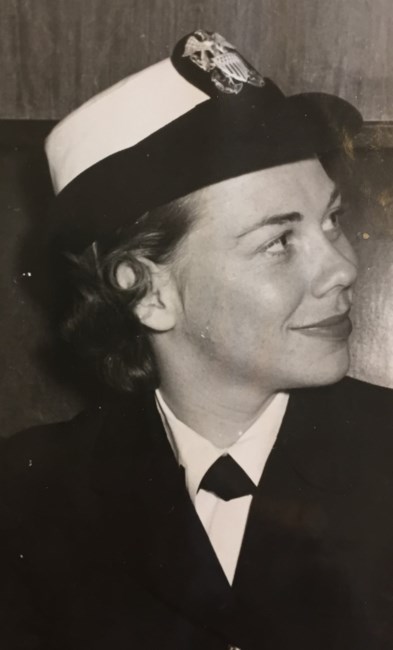 Gabrielle "Gay" Brown Goode was born May 25, 1928 in Morgantown, NC, to Ralph Glass and Lucille Brown Goode, the eldest of their three children, and died November 16, 2021 in Dedham, MA, after an extended illness.
Gay was raised in Connelly Springs, NC, a small railroad town where her father served as postmaster, and graduated from Valdese High School in 1944, where she was the Valedictorian. She attended Winthrop College before transferring to the Women's College of the University of North Carolina (now UNC-Greensboro) where she was elected Phi Beta Kappa and graduated with a Bachelor's of Zoology.
Gay had two vocations that occupied most of her life: social work and military service. Her first job was training public health educators for the Asheville, N.C. City Health Department. After five years there, she joined the United States Navy and was stationed first in Pensacola, FL, and then Charleston, SC, where she worked in the Cryptanalysis Center and the Legal Department.
While living in Charleston, Gay applied for a mortgage at a local bank. In the 1950s, discrimination of everyone except white men was commonplace, particularly in the South. (It wasn't until the 1974 Equal Credit Act that it became illegal to deny women credit.) As a result, the banker refused her a mortgage based on her single female status. Family lore has it that Gay sat on the banker's desk until he relented. He wasn't the first or the last person to come in direct contract with her independent personality. It is hard to confirm, but this act may have made her the first single woman in the state to hold a mortgage in her own name.
In 1961, Gay's orders assigned her to the First Naval District of Boston. This assignment introduced her to a city she would come to love. She joined the Naval Reserves in 1963, when she began classes at Boston College toward a Master's Degree in Social Work, which she earned in 1965. Gay was smart, headstrong, and independent, which served her well as she served others as a Naval Reserve Officer and as a social worker at Catholic Charities and Children's Mission Inc. in Boston. She worked until her seventies, all the while taking full advantage of the culture living in Brookline, MA. offered her. She retired from the Navy with the rank of Commander.
In retirement Gay volunteered at museums and concert halls, and gave family who visited the insider's view into these local gems. Gay lived independently, in the same apartment, until 2017. She became the family's historian and kept heirlooms, including paintings by her mother, her broad collection of menus, and textile pieces made by her grandmother. Late in life she met John, also a veteran and they found happiness together for 8 years before John's passing.
Gay is survived by her brother and sister-in-law, Ralph and Joanne Goode, nieces Hallie Montgomery Cherry (husband Dave Cherry) and Carrie Brown Goode, nephews Nick Montgomery and Christopher Goode (wife Kristin Ingwell Goode), great-nephews Sawyer Davidson Cherry, William McKenna Goode, and Collin Stewart Montgomery, and great-nieces Eliza Connelly Cherry, Abigail Elizabeth Goode, and Noelle Elizabeth Montgomery. She was preceded in death by her parents and her sister, Elizabeth Ann (Bibba) Goode.
Her remains will be interred at the Massachusetts National Cemetery in Bourne, MA, on Cape Cod. There will be a service with Military Honors at a future date. A memorial marker will also be placed at the family cemetery in Rutherford College, NC, at a later date.
VER MÁS
VER MENOS
Servicios
No hay servicios programados en este momento. Reciba una notificación cuando se actualicen los servicios.
RECIBIR ACTUALIZACIONES
En Memoria De
Gabrielle B. Goode
Ayude a contar la historia de la vida única de su ser querido. Deja un recuerdo o comparte una foto debajo para mostrar tu apoyo.