OBITUARIO
Anna "Sophie" Sophia Del Fabro
1 marzo , 1985

–

14 noviembre , 2021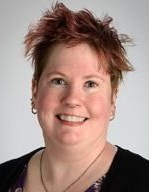 Our beloved Anna Sophia (Sophie) Del Fabro passed away suddenly on November 14, 2021 at her home in Lenexa, KS at the age of 36.
Sophia was special from day one. Born prematurely at 25 weeks, weighing well under two pounds, her strong life spirit and overall health allowed her to survive and thrive as an infant and onwards. Sophia spent most of her life devoted to learning and developed into an amazing physician with skills in her specialty of Spinal Cord Injury within the field of Physical Medicine and Rehabilitation as well as the softer skills learned through her undergraduate education in Social Work. She was perfectly suited to her career path. She adored the three greyhounds she adopted during her lifetime and deeply loved her wonderful husband, Chuck.
Sophia graduated high school in 2003 from the Canterbury School in Fort Wayne. She was accepted into Bryn Mawr College as a freshman but after one year decided to move closer to home and transferred to St. Mary's College in South Bend, where she graduated summa cum laude with a degree in Social Work and a minor in Math. She went on to the Indiana University School of Medicine in South Bend and Indianapolis and graduated in May 2011. Her residency was done at Case Western University in Cleveland in the field of Physical Medicine and Rehabilitation (PM&R), followed by a year's fellowship in the specialty area of Spinal Cord Injury. She found time to participate in the local Greyhound Adoption Center in Cleveland, was an exceptional pianist, a sports enthusiast, an advocate for LGBTQ+ rights, and her favorite thing was being home with her husband and dogs.
Sophie's career spanned a year in Cleveland with the Veteran's Administration Hospital, followed by three years at The Mayo Clinic in Rochester, MN, and she had just begun her new position with the Kansas University Medical Center (KUMC) as Director of Spinal Cord Injury within the department of PM&R this past April. She was thrilled with her new position, enjoyed her co-workers and patients, and foresaw a life-long career with KUMC.
Sophia never boasted of her accomplishments, of which there were many. Upon her graduation from IU Medical School in 2011, she received the Indiana Society of Physical Medicine and Rehabilitation Award. At Case Western, she was awarded the Asikin Mentari Resident Scholarship Award in 2013 and went on to be Co-Chief Resident for the 2014-15 year. As a Fellow at Case Western, she was awarded the Craig H. Neilsen Spinal Cord Injury Medicine Fellowship Scholarship. Sophia was a Clinical Instructor at Case Western Reserve University, Senior Associate Consultant and Member of the Academy of Educational Excellence at The Mayo Clinic, and Assistant Professor of Spinal Cord Injury Medicine at KUMC. She served as a reviewer for the Journal of Spinal Cord Injury Medicine and had a long list of credits for published writings and educational curriculum and course development.
Our entire family is suffering the loss of her beautiful face and nature, delicate yet indomitable spirit, and sensitive, gentle manner. We mourn the life she will no longer have the opportunity to live and the inability to fulfill all of her dreams.
Sophia is survived by her husband, Charles (Chuck) Skluzacek in Lenexa, KS; Father, Kim Del Fabro (KD) (sp: Linda) in Carmel, IN; Mother, Mary (Macey) Fink (sp: David) in Butler, IN; Grandmother, Patricia Del Fabro in Bradenton, FL; Stepsister, Brenda Fernandes in McCordsville, IN; Stepbrother, Brandon Leum (sp: Sheri) in Carmel, IN; and many aunts, uncles, nieces, nephews, and cousins. Sophia was predeceased by her dear grandmother, Anna Sofia Macey, who helped to raise her; grandfather, Charles Macey; grandfather Louis Del Fabro; and Stepbrother, Brent Leum.
To leave condolences, please visit www.mcgilley-frye.com.
In lieu of flowers, the family requests donations be made to: Sophia Del Fabro, M.D. Resident Education and Research Fund at www.kuendowment.org/DelFabro.
Alternatives include: The National Greyhound Adoption Program, or The Trevor Project
A Celebration of Life in Sophia's honor will be held at The Columbia Club in Indianapolis on February 20, 2022.
VER MÁS
VER MENOS
FAMILIA

Kim (KD) Del Fabro (Linda)

Father

Mary (Macey) Fink (David)

Mother

Charles (Chuck) Skluzacek

Husband

Patricia Del Fabro

Paternal Grandmother

Louis Del Fabro

Paternal Grandfather (deceased)

Anna Sofia Macey

Maternal Grandmother (deceased)

Charles Macey

Maternal Grandfather (deceased)

Brenda Fernandes

Step-sister

Brandon Leum (Sheri)

Step-brother

Brent Leum

Step-brother (deceased)

Sophia is also survived by many aunts, uncles, nieces, nephews and cousins.
Servicios
No hay servicios programados en este momento. Reciba una notificación cuando se actualicen los servicios.
RECIBIR ACTUALIZACIONES
En Memoria De
Anna "Sophie" Sophia Del Fabro
Ayude a contar la historia de la vida única de su ser querido. Deja un recuerdo o comparte una foto debajo para mostrar tu apoyo.