OBITUARIO
Sam Ziady Moore
25 octubre , 1929

–

1 junio , 2018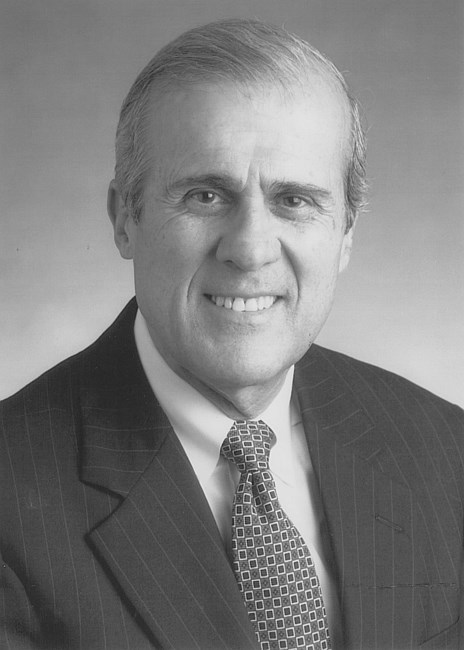 Sam Ziady Moore was born in Beirut, Lebanon on October 25,1929 to George Ziady and Marie Nassar and passed away on June 1, 2018. His greatest joy was found at home with his wife of 59 years, Peggy, and with his children, grand children and great grandchildren. He was a devoted husband, father, grandfather, great-grandfather, mentor, friend and prominent business man. He loved his family, friends, former employees and associates. He was a proud American and loved the freedom his chosen country provides to all its citizens. In 1950, after completing high school, he immigrated to America with only 600 dollars in savings and a dream to attend college. He attended Columbia International Bible College in Columbia, SC and finished his degree at University of South Carolina in Columbia, SC. As a young immigrant, he was welcomed warmly in South Carolina and was always grateful for the people who were mentors and instrumental in assisting him as he navigated this new country and life far away from his home and family. By this generous outpouring of love and Southern hospitality, Sam dedicated his life to extending this same heart and hand of hospitality to others. While working his way through college, he sold Bibles door-to-door. His interest in the publishing business grew and led him to a lifetime of work in that field. He founded National Book Publishers in 1958 and incorporated Royal Publishers in 1961. In 1963 Royal Publishers published its first Bible. In 1969 he purchased Thomas Nelson Publishers, where he served as CEO/President for nearly 47 years. While under his direction Thomas Nelson Publishers became the largest publisher of Christian books and Bibles in the world and was listed on the New York stock exchange. During this time, Thomas Nelson Publishers commissioned the publication of the New King James Version of the Bible. Throughout his career, he served on many boards, such as National Religious Broadcasters, Christian Bookseller Association, The Haggai Institute, Silver Dollar City, Third National Bank, Evangelical Christian Publishing Association, Council for National Policy, The Heritage Foundation, Middle East Bible Outreach, The American Task Force for Lebanon, The Gideons International, and many other institutions and organizations. He was instrumental in the founding of Donelson Christian Academy. Through the years he received many awards and honorable degrees for his entrepreneurship, dedication and devotion to humanity and to the furthering of spreading God's Word. To name but a few: Columbia International University awarded him the Distinguished Alumnus Award, University of South Carolina awarded him the Distinguished Alumnus Award, Palm Beach Atlantic University awarded him the American Free Enterprise Medal. A highlight for Sam and his family was in 2004 when he was presented one of the Nation's most prestigious awards, The Ellis Island Medal of Honor, recognizing Immigrants whose accomplishments embody the spirit of America in their salute to tolerance, brotherhood, diversity and patriotism. Sam was the oldest brother of seven children, the first to emigrate. He was also lovingly known as "Uncle Sam" to his nephews, nieces and the greater Ziady and Moore families. He was the oldest brother who felt the tug from his heart and the responsibility to stay connected to his siblings and their children, wherever they happened to be…Cincinnati, California, Beirut or at home with those in Nashville. He cared deeply for his family and his greater extended family. Picnics and special gatherings at the house were his favorite pastime and were filled with laughter, much food and most importantly, family. Everyone was invited and he always believed more was better. Sam's proudest gifts were his family. He was most proud of being Dad, Papa, Papa Bear, Uncle Sam and devoted husband to Peggy. With an ever-mischievous twinkle in his eye and passion for life, he readily channeled his inner child. Whether wrestling on the floor in tickle fights, competing in a game or race (and competing to win of course), taking them on trips or special outings, passing out dollar bills and ice cream cones, Sam poured constant love on his grandchildren and great grandchildren. Sam's love of children was not limited to his own family, but any child in his path. It filled his heart with joy to bring a smile and laughter to children all over the world. His heart went beyond his family and his extended family to Christian causes and support both at home and abroad. He had a special place in his heart for brothers and sisters persecuted in the Middle East, "the Old Country." The Middle East Bible Society was an outreach with a special mission that was close to his heart and he generously gave to this organization not because of duty, but because God's word was shared with him through a missionary he met in Beirut when he was a young man. It was this evangelism, the spreading of hope, the message of hard work, and the good news of God's word that forever linked Sam Moore to the outreach of others. Sam had a special ability to see one's gifts and to encouraging others to believe in themselves. Sam always enjoyed traveling and through those travels he met some of the world's most influential people and became close personal friends with many of them. In retirement, he enjoyed traveling with Peggy, hunting, fishing and watching his children and grandchildren grow and branch out in their own endeavors. He encouraged and supported his grandchildren in their academic endeavors and was a proud fan at their athletic competitions, dance recitals, play performances, or other achievements. He and Peggy spent their time between their homes in Nashville, Tennessee and Palm Beach, Florida. Sam was fueled by his love and faith in God throughout his life. He remained steady and strong in this faith and hope until his final breath. He will be held in the hearts of his family and friends and his legacy will live on through all the lives he touched. His favorite scripture verse and life motto was: Romans 8:28 was his life verse: "And we know that all things work together for good to those who love God, to those who are the called according to His purpose". (NKJV) For many years, Sam was a member of First Baptist Church of Mt. Juliet. In recent years he was a member of Covenant Presbyterian Church and Westminster Chapel. He is survived by his wife, Peggy Poe Moore, and children, Samuel Joseph Moore (Julia Sams Moore), Sandra Moore Warfield (Steve Warfield), Rachel Moore Webster (Kris Webster) and grandchildren, Timothy Hardin II, Ellery Moore, Matthew Moore, Keegan Moore, Wilson Webster, Minnie Webster and great-grandsons, Timothy Hardin III and William Hardin. His is also survived by siblings, Mike Ziady (Ferial), Charles Moore (Elaine), Aida Kamel, Mouna Nassar, and Kelly Moore (Irma). He had numerous nieces and nephews. He was preceded in death by his mother, father and a brother, Tony Moore and an infant grandson, Jeremy Webster. Visitation will be on Wednesday, June 6, 2018 from 4:00 pm until 7:30 pm at Covenant Presbyterian Church located at 33 Burton Hills Boulevard, Nashville, Tennessee 37215. The Celebration of Sam's Life will be on Thursday, June 7, 2018 at 2:00 pm at Covenant Presbyterian Church. Entombment will be privately held for family prior to the service. The family wishes to express their sincere appreciation for the dedicated service of the employees of Alive Hospice while Sam was in their care. Also to our special caregivers, Cynthia Batts and Joyce Acklin, for their love and care for him. In lieu of flowers, the family suggests expressions of sympathy may be made to: Middle East Bible Outreach, P.O. Box 9764, The Woodlands, Texas 77387; Samaritan's Purse, P.O. Box 3000, Boone, North Carolina 28607; The Gideons International, P.O. Box 140800, Nashville, Tennessee 37214; Westminster Chapel, 7000 Executive Center Drive, Building Two, Suite 125, Brentwood, Tennessee 37027.
VER MÁS
VER MENOS
PORTADORES

Timothy Hardin II

Matthew Moore

Keegan Moore

Wilson Webster

George Ziady

Lee Ziady
DONACIONES

Middle East Bible Outreach

P.O. Box 9764, The Woodlands, Texas 77387

Samaritan's Purse

P.O. Box 3000, Boone, North Carolina 28607

The Gideons International

P.O. Box 140800, Nashville, Tennessee 37214

Westminster Chapel

7000 Executive Center Drive, Building Two, Suite 125, Brentwood, Tennessee 37027
Servicios Previos
miércoles,
06 junio, 2018
Gathering of Family & Friends
En Memoria De
Sam Ziady Moore
Ayude a contar la historia de vida única de su ser querido. Deje un recuerdo o comparta una foto o video a continuación para mostrar su apoyo.