OBITUARIO
Alejandro "Alex" Pastor Soria, Jr.
23 agosto , 1946

–

16 septiembre , 2020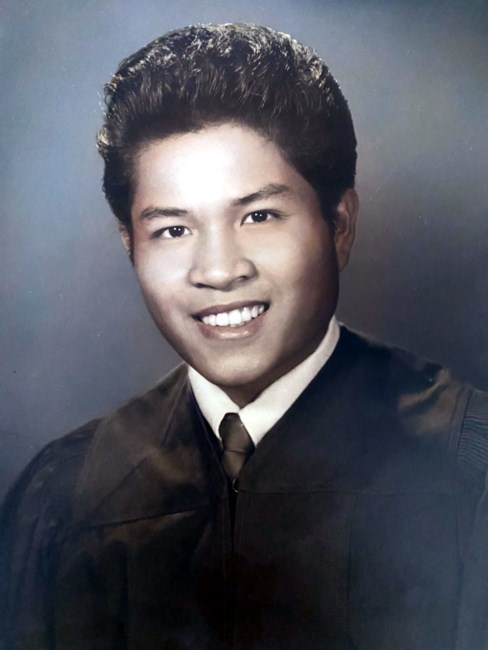 Alejandro (Alex) Pastor Soria, Jr., 74, passed gently away of natural causes the morning of Wednesday, September 16th, 2020.
Alex is survived by his life partner, mother, sister, brother, three daughters, two sons-in-law, one son, one daughter-in-law, six grandsons, three granddaughters, six great-grandsons, and one great-granddaughter.
He is predeceased by his father, sister, and baby daughter.
Alex was born in Catbalogan, Samar, Philippines. He took his first airplane ride at the age of five, when his family emigrated to the U.S. and settled permanently in the farm town of Stockton, California.
It was then he was challenged with adjusting to a foreign land. Not only did he look and act different, Alex WAS different.
As a young boy he was a little star. He grew up and became, Bionic Superman.
Always the smartest and most handsome in the room, he could do anything.
He could write beautifully, speak eloquently, speed-read. Belt opera, dance the cha-cha, do splits, win karaoke. Run up a wall, flip over, land on his feet like Bruce Lee. Drop beats on a conga with deep spirituality, like a voodoo priest. Riff jazz on a piano though he was never taught to play. Sketch like an artist, design clothing, invent technology like vacuums and portable microwaves.
He had his own catch-phrases, and the most memorable was, "Be Cool". He could say this because he was cool, and you just knew. He was cool yet energetic, unflappable yet effervescent, smooth yet quick. He could talk to anyone, roll in every situation. Alex was a chameleon!
He could throw a football in a perfect spiral, land punches like Sugar Ray Leonard. He was such a hilarious person that he had his own jingles. He'd sing about himself, to himself, as he looked in the living room mirror.
Told stories and jokes, and laughed the loudest at them. Laughed with you but never at you. Laughed at himself, too.
He'd drum beats on the steering wheel, the kitchen table, everything in sight. Alex was rhythm personified.
He knew everything about anything, remembered all he read, understood what was said. Overflowed with generosity, gave away all that he had without question.
He was a YES person. Said YES to us, YES to the world, YES to life.
Had willpower that pulled him through unimaginable pain. Never once did he complain. Never once did he change. Saw beauty and possibility in the world the way it was, for all of its dark-light, day-night, joy-pain, loss-gain.
He was an extraordinary bright light, a diamond who ate life.
He is loved. He is missed. He is remembered. He is cherished.
There will never be another Alex Sori-"A", and it is okay. He sprinkled enough magic everywhere to last the rest of our days.
(He did regular things, too. Graduated with an AA from Delta College, a BA from San Francisco State. Fought hard for Civil Rights with P.A.C.E. Served as a GS-15 Director of HUD where he managed 400 employees and built Bay Area Public Housing. Married, had four daughters, and one son. Kept trying for a son until he got one.)
***************************
A Radio Show Tribute honoring Alex aired publicly on Wednesday, September 30th! It lasted one hour and featured his favorite songs! It was a musical celebration of his life!
Copy and paste the following link into a new browser and listen for yourself!
https://www.mixcloud.com/WednesdayThreads/wednesday-threads-the-cadillac-show-sept-30th/
***************************
To maintain your safety and the safety of one another while participating in Alex's ceremonies, we ask that you please adhere to the following:
Wear a proper face mask that covers both your nose and mouth throughout the services even if outside; no gaiters or bandanas.
Minimize your exposure by staying home as much as possible prior to the services.
If you are feeling sick or suspect that you are ill, refrain from attending the services.
Social distance by a minimum of 6 ft. (We don't like this, either, but no hugging or touching!)
Wash your hands regularly and thoroughly or use hand sanitizer if washing your hands is not an option.
Temperatures will be checked during the Visitation only, since this is the only indoor portion of the service. Church ceremony and burial are outdoors.
VER MÁS
VER MENOS
PORTADORES

Alejandro Soria

Shaun Moreno

Brandon Moreno

Danilo Soria

Frank Olaso

Edgar Espanola
Servicios Previos
viernes,
09 octubre, 2020
Mass of Christian Burial
viernes,
09 octubre, 2020
Committal
En Memoria De
Alejandro "Alex" Pastor Soria,
Ayude a contar la historia de la vida única de su ser querido. Deja un recuerdo o comparte una foto debajo para mostrar tu apoyo.