OBITUARIO
Richard D. D'Angelo
18 septiembre , 1927

–

22 diciembre , 2018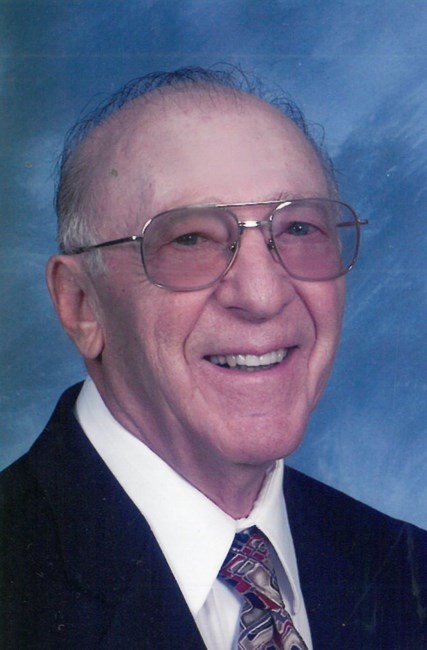 Richard "Dick" D'Angelo was a husband, father, grandfather and great grandfather. He was a brother, a cousin, a teammate and a friend. And to a couple of generations of kids in Tonawanda and Kenmore, NY, he was "Mr. D" — a role model and hero to anyone who stepped near his baseball diamond or basketball court. He passed away peacefully December 22, 2018 in Surprise, Arizona surrounded by his family. He is survived by his wife of 69 years, Geraldine "Jerry," his six kids — Barbara Maier (Bob), Richard Jr., Patricia Dimino (Mike), David (Lisa), Nancy Briggs (John) and Donna Murphy (Tom), 11 grandchildren and 13 great grandchildren. Dick was also "father" and "grandfather" to Dave Sipos (Diane) and his daughter Annabelle. He leaves behind 91 years of kindness, laughter, selflessness and love. Dick grew up in Buffalo, New York where he was born September 18, 1927. He was one of two children born to Louise and Daniel D'Angelo. His younger brother Albert lives in Cleveland. He always had an affinity for sports, particularly baseball and football. He played both all through high school. He was good. Good enough to catch the eye of his future wife. At Fosdick-Masten Park High School, he met Jerry, his high school sweetheart. They married April 30, 1949 and had their first child, Barb, a year later. Dick was a hardworking man, working 42 years for Western Electric/AT&T, most of it in New York. In 1976 the family relocated to Phoenix, Arizona. Dick retired in 1987. What "Mr. D" was best known for in the neighborhoods of Kenmore and Tonawanda was his coaching. To say he was beloved doesn't even begin to cover it. He coached baseball and basketball in youth leagues and at St. Paul's Elementary School, where all his children attended school. He was dedicated to all the kids he coached, giving his time to make sure they succeeded. His players were his "tigers" one and all, and the school even adopted that as their nickname and mascot during his tenure there. "Mr. D" taught sportsmanship and good values and was a role model to every kid he interacted with. He coached for over 15 years at the school and in area youth leagues. Generations of families knew him to be a kind and fair coach — and someone who taught more than just baseball or basketball. Before the family moved to Arizona in 1976, St. Paul's recognized his many contributions to the school with the Richard D'Angelo Sportmanship Award – an honor given out every year until the school closed in 2010. A newspaper article written by Mike Billoni of the Tonawanda News (another former player of his) was a beautifully written tribute and can be found in 'messages from the family'. He loved sports and could never get enough of them, even as he got older. He played competitive softball until he was 50, and turned to tennis and pickle ball when he retired in Sun City. He continued to stay active into his late 80's, and was always a regular at the local Sun City recreation centers. He attended church every day at St. Elizabeth Seton, followed by coffee with friends at a local restaurant – mostly talking about sports. He never missed a televised Buffalo Bills game if he could help it. In his later years, the highlight of his week was heading over to his son Dickie's house to sit in a recliner, wearing a Bills T-shirt and hat, of course, to watch Sunday football with as much family as could gather. Dick had the best sense of humor even through his last days. He never met a joke that didn't make him laugh and he never skipped a chance for a perfectly-timed wisecrack. He could find humor and a silver lining in most every situation. That's what made him the most popular patient at every doctor's office and hospital he ever went to. He never left a hospital without members of the staff swinging by to give him a hug before he left. He found humor in his own frailties, and everyone loved him wherever he went. There wasn't a place in New York or Arizona that the man couldn't make a friend. He lived an unparalleled life and will be profoundly missed by everyone who knew him.
VER MÁS
VER MENOS
Servicios
No hay servicios programados en este momento. Reciba una notificación cuando se actualicen los servicios.
RECIBIR ACTUALIZACIONES
En Memoria De
Richard D. D'Angelo
Ayude a contar la historia de vida única de su ser querido. Deje un recuerdo o comparta una foto o video a continuación para mostrar su apoyo.