OBITUARIO
Sallie (Turner) Budder
2 julio , 1970

–

18 enero , 2022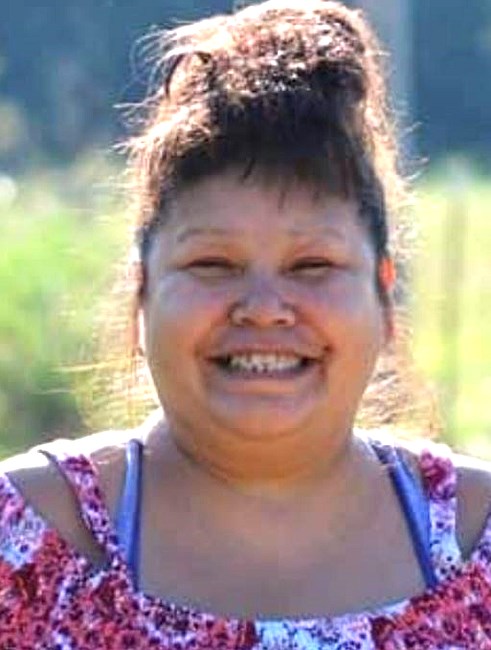 Sallie Ann Budder, or Girlie, was born on July 2nd, 1970 in Tahlequah, OK, the daughter of Roy and Mozelle (Buzzard) Turner Sr. She was raised with six brothers Chooch, David, Steven, JR, Matthew and Lonnie. 5 sisters Tammy, Lisa, Maggie, Amanda and Lana. Sallie acquired her GED later in her life She decided that a career raising a family was what was most important for her. In 1991, she married her high school sweetheart Ricky Budder in Miami, OK. After many years together they thought it was about time .This union was blessed with four sons and one daughter, Shawn Budder, Chub Budder, Thomas Budder, Aaron Budder and Bailey Budder. She loved being the best wife, mother, and grandmother she could be. She cherished and loved her grandbabies which they filled her world full of laughter, hugs and they would melt her heart with their smiles. She was very proud of them and bragged often telling stories while laughing about the things they have done or didn't do. They all knew when they were at Mom's or grandma's house, they would be treated to some of the best homemade cooking. She made fantastic chili, chicken and dumplings, dressing and her Thanksgiving Dinner was unsurpassed. She loved taking her family to the creek for a little swimming and a chance to chase down some crawdads. She loved celebrating birthdays and family gatherings her laugh was loud and contagious everyone knew it was her. It didn't matter what kind of ball games her children and grandchildren played, she would be there to cheer them on you knew she was proud of her babies! She was loving, kind and generous, willing to help anyone at the drop of a hat. She had the kind of sense of humor that helped people learn to laugh. She had a green thumb and could grow any kind of flowers or plants. She loved all kinds of animals from a potbelly pig, chickens, and her dogs Girlie was most apt to have a Steelers football game on as not. With her country music tunes playing in the background. She loved to curl up on the couch and relax, soon the babies would come and tell her all about their day. A Christian by faith, she attended the Euwasha Baptist Church, and enjoyed her church family and time spent with them. She is preceded in death by grandparents, Easley Buzzard and Lydia Swimmer-Buzzard, and John and Sally Turner. Girlie has also gone home to her Dad, one sister, Tammy Wagnon and two brothers, Timothy "Chooch" and Roy J. Turner II. Her memory is cherished by her husband , Ricky Budder of the home in Kenwood mother, Mozelle Turner of Tahlequah, OK, and her children, Shawn Budder and wife Jessica of Purcell, OK, Chub Budder and wife Nina of Seminole, OK, Thomas Budder and wife Jade of Tahlequah, Aaron Budder of Kenwood ok, and Bailey Budder of Kenwood, OK. She leaves her brothers and sisters, Felicia Foreman and husband Travis of Oaks, OK, David Turner and wife Glenda of Kenwood, OK, Maggie Jones and husband Ricky of Welling, Steven Turner and wife Tami of Park Hill, Amanda Chuculate and husband Adam of Rocky Ford, OK, Matthew Turner of Tahlequah, Lana Turner and Lance Nells of Moody, OK, and Lonnie Turner and wife Misty of Shady Grove, OK. She will live on in her nine grandchildren, Jacoby Budder of Purcell, Maddy Budder of Purcell, Zeke Budder of Purcell, Amara Budder of Purcell, Xavier Budder of Seminole, Trevor Budder of Stilwell, Ember Budder of Tahlequah, Tyrann Budder of Seminole and Jeraniah Budder of Tahlequah, OK as well as many nieces, nephews, cousins and a host of friends and loved ones. Graveside services for Sallie Ann (Turner) Budder, or "Girlie" to many family and friends, will be held on Tuesday, January 25th, 2022 at 2:00pm at Agent Cemetery with Reverend Jason Gann officiating. Pallbearers for Sallie Ann include Jerrid Foreman, Jacob Foreman, James Wagnon Jr., Jordan Wagnon, Matt Sapp, and Ricky Jones. Her Honorary Pallbearers include her great nephews and TJ Foreman. Sallie will have a visitation on Monday, January 24th, 2022 from 12:00 pm until 6:00 pm at Reed-Culver Funeral Home. Online condolences for her family may be left at www.reedculver.com.
VER MÁS
VER MENOS
PORTADORES

Jerrid Foreman

Jacob Foreman

James Wagnon Jr.

Jordan Wagnon

Matt Sapp

Ricky Jones

Her Great Nephews

Honorary

TJ Foreman

Honorary
En Memoria De
Sallie (Turner) Budder
Ayude a contar la historia de vida única de su ser querido. Deje un recuerdo o comparta una foto o video a continuación para mostrar su apoyo.