OBITUARIO
Benjamin Franklin Carson
23 febrero , 1923

–

22 marzo , 2020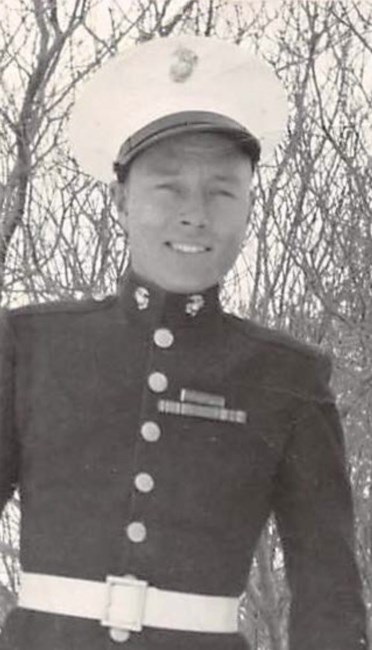 Benjamin Franklin Carson, 97, of Beaverton Oregon, passed away on March 22, 2020. He is survived by his wife, Helen, his son Jerry and wife Paula, daughter-in-law Julie, five grandchildren and four great grandchildren. He was preceded in death by his son, Dennis.
Ben was born in Henderson, Minnesota on 2/23/23 and stayed on the family farm until he was 18. When Pearl Harbor was attacked, he joined the Marine Corps where he earned a spot with Carlson's Raiders. He fought in five major battles: Midway, Makin, Bougainville, Guadalcanal, and Iwo Jima. He was part of the initial group in to occupy Japan and after spending 39 months overseas, came back to Minnesota and married his sweetheart, Helen on May 5th. They were married 75 years.
In 1952, Ben joined the Federal Forest Service. He moved around the country, starting with Iowa State where he attended college. Minnesota, Louisiana, Georgia, Alabama, Illinois, Michigan, Wisconsin, Alaska, California, Washington D.C. and Oregon were all places Ben and Helen called home. They retired to a small farm, aptly named the DunRoamin Ranch, in Oregon where they grew filberts and kiwi. The farm was started with family at the center. The yearly harvests helped to fund the grandkid's education and truly became a multigenerational venture. The family also worked with Washington County's Agritourism Program to promote agricultural education. Ben's love for agriculture gave him the opportunity to serve overseas again, but this time with the State Department. He made two trips, one to the Republic of Georgia and Azerbaijan and another to Uzbekistan and Turkey to help them cultivate kiwi vines.
Ben served as a court mediator for Washington County Courts for many years and was active in the county's "English as a Second Language" program. He also volunteered at a local high school that sponsored a Veteran's Historical Program. He would spend an entire day answering questions from curious high school students, relating stories about his wartime experiences. Along with this, Ben was interviewed by multiple WWII historians and even wrote some manuscripts of his own - documenting his life growing up in the Great Depression and his time in WWII.
Later in life, Ben's focus turned back to the Marine Corps. He became the primary force behind the recovery of nine marines left on Makin Island. He worked with Louis Zamperini and traveled back to Quadralene Island to observe the recovery. A documentary titled "Execution Island" cataloged their journey.
He was a wonderful man, truly one of the "Greatest Generation," who will be dearly missed.
VER MÁS
VER MENOS
Servicios
No hay servicios programados en este momento. Reciba una notificación cuando se actualicen los servicios.
RECIBIR ACTUALIZACIONES
En Memoria De
Benjamin Franklin Carson
Ayude a contar la historia de la vida única de su ser querido. Deja un recuerdo o comparte una foto debajo para mostrar tu apoyo.