OBITUARIO
Georgia Hays
28 septiembre , 1928

–

29 abril , 2022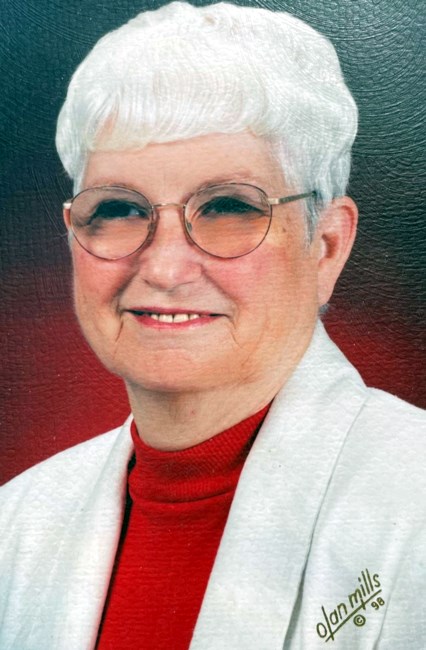 Georgia Lee Autrey Hays was called home to Jesus on April 29, 2022. She was born on September 28, 1928, in Marietta, Oklahoma to Hiram Lafayette Autrey and Ruth Dell King and was the second to the youngest of 6 children (2 brothers and 3 sisters). She married James Albert Hays, Jr. on June 21, 1947, in Dennison, Texas after meeting him during a college basketball game. They both received their degrees in education that eventually led them to accept a teaching post through the Bureau of Indian Affairs in New Stuyahok Village, Alaska, in the Bristol Bay region. They lived there with their three children from 1962 – 1964 and experienced life with the Yup'ik Eskimos. This tight knit, remote community, welcomed them and developed long-lasting friendships. Many villagers would come to visit years later after the family moved to Washington state. Georgia taught 33 years and spent 28 of those years with the Olympia Public School District teaching the first grade at Lakes Elementary School and Woodland Elementary School. Fond memories of Georgia include her love of all sports, having played basketball in high school. She especially loved watching baseball and more importantly was a faithful fan of the Mariners. She loved to fish and became quite adapt at twisting heads off shrimp while fishing with her son's family in Alaska. You could find her at the table for a good game of pinochle or solitaire, sitting in her favorite chair playing electronic Yahtzee, or working a Word Search puzzle. Georgia had an insistent sweet tooth, and would have any assortment of candies, cookies, and sweet tea on hand. Her other weakness included chips, crackers, and her favorite snack of string cheese dipped in salt. She was always happy to go for ice cream or to Taco Bell for a taco and a coke. Georgia was a pucker whistler, and it was loud, sharp, and shrill! When you heard it, you intuitively knew it was her and to get home for dinner. And dinner would be whipped up within 30 minutes of getting home from work, and that includes the clean up! Georgia was strong and tough, and somewhat of a tom boy in her early childhood. It was a good thing, because she needed all that grit and determination and strength after falling into the well while getting a bucket of water. Her brother pulled her up the 60+ feet and, as the story goes, her fingers literally had to be pried loose from the bucket and rope! Georgia had an array of interests that kept her busy and upon retirement learned woodworking, and later crafting. She is known for her Americana décor (red was her favorite color), and her unique, handmade greeting cards. She had multiple pieces of wood working equipment and accumulated over 1,000 card crafting stamps, unknown reems of colored paper, yards and yards of ribbon, and hundreds of bottles of paint and scissors! Somehow, she became the recipient of over 1,000 pig figurines. At one point she said she really wasn't that fond of them, but people thought she was. So over time, Georgia had everything 'pig' related . . . charms, potholders, cups, magnets, clocks, butter dishes - you name it. She cared for her neighbors and friends and promoted the Neighborhood Watch system. Georgia was diligent in taking note of who did or did not have their front window blinds raised by the designated time each day. Georgia's faith was paramount throughout her life. She had a collection of bibles and started every day reading the Word. She believed God gave his one and only son, so that whoever believes in him shall not perish but have eternal life. John 3:16. The family wants to thank the many members of her church that stayed connected with her, especially during the pandemic. We also want to recognize her friend Elise Anderson. Your love, generosity and compassion will be remembered. She is preceded in death by her parents, siblings, husband, and daughter Donna Petter (Jeff). She is survived by her daughter Patricia Stevenson (Bill), and their children Shawn and Laura of Tumwater, WA; and son J. Michael Hays (Gillian) of Juneau, AK and their children Heather Rose (Ben) of Tualatin, OR; Ian Hays (Cooper) of Skagway, AK; and Daniel Hays (Deb) of Austin, TX; and Donna's children Aaron Hack (Beth) of Orting, WA; Connor Petter (Trisha) of Maine; and Mark Petter (Maddy) of New York; and great grandchildren Ashton, Taylor, and Macy Rose; Evelyn Hays; Richard Shaffer (Hack); Taylor, Mason, and Brayden Petter, and numerous cousins, nieces, and nephews. A graveside service is planned for 11:00 am, July 2, at the Masonic Cemetery in Tumwater.
VER MÁS
VER MENOS
Servicios
Envíe flores en las próximas 5 horas para una entrega garantizada.
Graveside Service
11:00 am
Masonic Memorial Park
En Memoria De
Georgia Hays
Ayude a contar la historia de vida única de su ser querido. Deje un recuerdo o comparta una foto o video a continuación para mostrar su apoyo.