OBITUARIO
Peter Sidney Ohler
29 diciembre , 1940

–

7 junio , 2021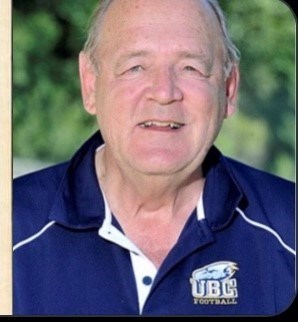 Peter Ohler was born December 29th, 1940, to his Swiss Father Victor and his English Mother Florence. He spent his childhood catching tadpoles in the ditches of Richmond to populate the koi ponds of Lulu Island Water Gardens, which his parents built in the 1930s on what is now Paulik Neighbourhood Park. Peter lost his father at an early age and grew up surrounded by strong women who gave him much freedom to roam. He grew his poet's heart fishing in the Fraser and climbing in the poplar trees. But it was Peter's ability to throw a football in startling spirals that forged his early path, taking him first to school at Vancouver College, and then to the University of Washington to join the Huskies. He often recalled the awe, excitement and terror of walking into Husky stadium as a young man to play in front of the largest crowd he'd ever seen. When Peter left Washington, he returned to Vancouver and was drafted to the BC Lions, where he most famously threw the winning touchdown pass in the 1964 Grey Cup sealing the Lions' last-minute victory over the Hamilton Tiger-Cats. But Peter's true passion was art, which he pursued first with a small bookstore in Richmond before opening his first gallery in the 60s in Vancouver with a small collection of Emily Carr and Group of Seven paintings. His first marriage produced three sons, Paul, Peter, and John, before ending in divorce. In 1971, he married Beverly in his little gallery on Granville Street in what was once "gallery row." In 1976, Peter, Beverly, and their daughter Emily moved to Calgary where Peter established Masters Gallery Ltd., which operates to this day. With his charisma, love for art, and knack for building genuine relationships, Peter built Masters into a hub for people to gather, learn, connect and share. He became known as one of Canada's leading experts in historical Canadian art, and he was always ready to help new artists find their paths. In 1986, Peter returned to Vancouver with Bev and Emily, driven in part by Peter's search for answers for disabling headaches that we now know stemmed largely from the injuries he sustained in his football career. He established a small gallery in Kerrisdale where people would often drop in just to share time with the man who seemingly always had it for those who needed it. He also returned to his football roots, coaching the Vancouver College Fighting Irish in the 90s, the Richmond Raiders, and the UBC Thunderbirds. Peter loved to see people succeed, which he measured by people's own sense of pride in the dreams they sought for themselves. Peter was a relationship builder. He was unassuming. He was charismatic but disliked the spotlight. He knew how to take people as they were. He gave without expectation of anything in return. These traits were hallmarks of his coaching style, his approach to business, and his friendships. He was happiest on the ocean, catching (and usually releasing) salmon; with horses, listening to the crunch of sweet clover in their cheeks or the thunder of their hooves as they powered past at full gallop; offering a steady hand to young people finding their way; writing poems for friends; and spending time with his family. Of his many accomplishments, Peter was most proud of his four children: Paul, Peter, John and Emily. He was a Dad of adventure and love, who would always come when called, or somehow know to simply show up when needed. He was a loving husband, who led his "little Bevie" through adventures and misadventures, always in a spirit of fun (and sometimes mischief). He gave of himself in ways that had a profound impact on many people, an impact that sometimes was slow to unfold itself but always lingered. He is survived by his loving wife of fifty years, Beverly, who remained not only his love but his friend to the end. He is also survived by his four children; by his daughters and son in law; and by his four grandchildren, Catherine, Sophia, Matthew, and Agatha, each of whom he loved deeply and took much pride in. The Ohler family is deeply grateful to the staff of Point Grey Private Hospital who brought love and care to "Papa Bear" every day during his time there. Peter was a coach, mentor and friend to many. He will be deeply missed. If you have memories you would like to share, the family would be most grateful to hear them. We invite you to send your recollections to coachpeterohler@gmail.com.
VER MÁS
VER MENOS
Servicios
No hay servicios programados en este momento. Reciba una notificación cuando se actualicen los servicios.
RECIBIR ACTUALIZACIONES
En Memoria De
Peter Sidney Ohler
Ayude a contar la historia de vida única de su ser querido. Deje un recuerdo o comparta una foto o video a continuación para mostrar su apoyo.