OBITUARIO
Gordon Davidson McKee
20 febrero , 1941

–

8 abril , 2020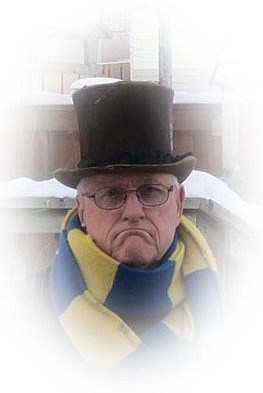 It is with heavy hearts that the family of Gordon Davidson McKee announces his peaceful passing at home.
It was Gord's wish to be at home with his family and he was blessed to have his wife and daughter by his side at the end.
Gord is survived by his loving wife of 54 years, Mary, daughter Patty McKee and son-in-law Martin Tune of New York City, son Ray McKee, daughter-in-law Donna and grandchildren, Austin and Minnie of Winnipeg, sister Sue Petersen of Dauphin, brother-in-law Allen Pasquale of Toronto and several cousins and nieces and nephews. Gord was predeceased by his parents, Dr. Al and Mae McKee of Dauphin, and sister Sally Pasquale of Toronto.
Gord was born and raised in Dauphin, Manitoba where he attended Henderson Elementary, Smith Jackson Jr High, Dauphin Collegiate Technical Institute and continued his education at United College.
Gord was born with some physical challenges and his parents were pioneers in fighting for his rights and providing him opportunities at a time when our society didn't have the awareness that we have today. He and his sisters, Sue & Sally, were raised believing that he could do anything that anyone else could do if only in a different way. Gord was a true champion of a man, loved and respected by everyone he met. He was a born leader and brought friends and family on many unexpected adventures.
From sister, Sue: "He gave everything he had and his love was a true gift that had no boundaries. You can finally run with the giants, free and with endless energy. We will meet again."
Gord's career started as a junior structural draughtsman at Dominion Bridge and he retired as Office Supervisor of the Structural Department at Manitoba Hydro after 35 years of employment. Gord treasured his close friendship with Jose & Carol Fagundes, among many others that began during his time at Manitoba Hydro. Throughout the years , Gord has created and cherished many friendships, including the Geezers' Club and the gang at the Jolly Mug.
It was at United College that he met his future wife, Mary Empey. They were married in 1965 and began their family in 1966 with the birth of son, Raymond Alexander followed almost exactly one year later by daughter Patricia Mae. While they struggled in the early years as a young couple when nobody hired "handicapped" people , Gord and Mary were always rich with laughter and love and went on to build a long and happy life and family together.
Gord gained the new title of "Papa" with the birth of his grandson, Austin and granddaughter, Minnie both of which he treasured and always spoiled with love and attention. He truly was a "GR8PAPA".
Everyone who knew Gord received the gift of his unique outlook on life.
A Celebration of Gord's Life will take place at a date to be announced later this summer.
VER MÁS
VER MENOS
Servicios
No hay servicios programados en este momento. Reciba una notificación cuando se actualicen los servicios.
RECIBIR ACTUALIZACIONES
En Memoria De
Gordon Davidson McKee
Ayude a contar la historia de la vida única de su ser querido. Deja un recuerdo o comparte una foto debajo para mostrar tu apoyo.