OBITUARIO
Mr. John Derek Riley
1 julio , 1922

–

6 mayo , 2018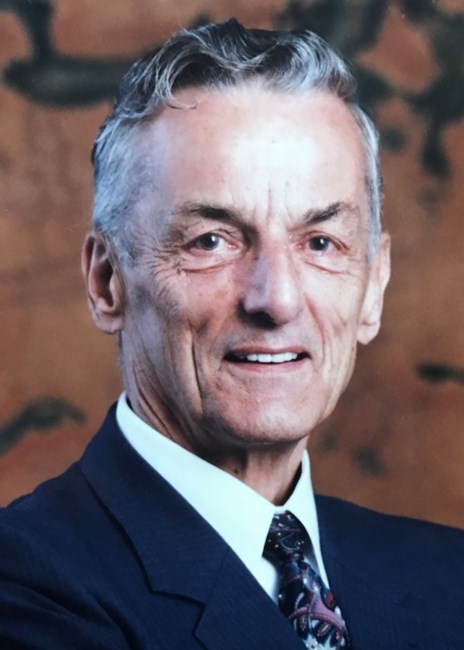 How do you measure a life? Happiness? Purpose? Integrity? Legacy? Love? Dad lived all these values with grace, humility, perseverance and the most wonderful sense of humour. He was passionate about business, sport, philanthropy and family and could recently be quoted saying "All you need is love…" John Derek Riley (JD) was born in 1922, the seventh of eight children to Jean Isabel Culver and Conrad Stephenson Riley. He attended a one-room school for his early education, followed by Grosvenor, Robert H. Smith, Gordon Bell High School and a year at St. John's Ravenscourt. In 1939 he joined the Zeta Psi Fraternity and embarked on a Bachelor of Commerce degree at the University of Manitoba. During WW11, Dad served as a naval officer in the Royal Canadian Navy. He fought in the Battle of the Atlantic aboard the HMCS Skeena, a Canadian destroyer that escorted the merchant ships between St. John's, Newfoundland and Londonderry, Ireland. He was appointed to the Royal Navy Fleet Air Arm, where he received flight training and spent the remainder of the war stationed in Trinidad and England. During a service leave he married Helena Day "Polly" Harris and enjoyed what he would endlessly tell his children was, "the greatest love story ever told". In 1945 Dad returned home to build a life in Winnipeg. He graduated as a chartered accountant at the University of Manitoba and worked as an auditor at Peat, Marwick, Mitchell & Co. In 1950 the Hudson's Bay Company hired Dad as a member of the accounting department, in the Fur Trade Division. He worked his way up to Chief Financial Officer, and left HBC after he purchased Dominion Bronze and Iron Limited. He grew that company until he sold it in 1971 to Indal, accepting a position on their board. Mom (deceased 2007) and Dad had four children: Jeannie (Rod Senft), Debby (deceased 1999), Derek (Anne) and Leslie (Buzz Grant, deceased 2016). They had nine grandchildren: Riley (Sarah), Derek (Patchi) Lauren (Chuck), Andrew (Hilary), Kate (Chris), Jean, Tom, Shannon and Chris. Great grandchildren include Connor, Zoe, Isabela, Maia and four more coming very soon. Our parents' legacy lives on! For many years, Dad served as board director of multiple companies including Royal Trust, Molson, Indal, North Portage Development, Federal Industries, Inter City Gas, Vision Capital, and Manitoba Forest Products. He also served as Chairman of Balmoral Hall School. In 1987, Dad was invited to become the founding chair of The North-West Company, where he played a lead role in its acquisition of the HBC Northern Stores. This resulted in extensive northern travel exposing him to poverty in reserve communities. It sparked a desire to support Indigenous access to post-secondary education. This led to the creation of the Polly and Derek Riley Scholarship fund at the William Norrie Centre and the Derek Riley Scholarship fund at the University of Manitoba. Sports played a particularly important role throughout Dad's life. He played football in high school and for the University of Manitoba Bisons. After the war, he joined the Winnipeg Rowing Club and trained as a competitive oarsman. Over the years he competed in singles, doubles, fours and eights and won multiple regattas regionally and nationally. In 1952, he teamed up to win the Canadian Olympic trials in doubles and represented Canada at the 1952 Olympic Games in Helsinki, Finland. He went on to win several more titles including a World Masters championship in 1985. At age 75, he rowed his last regatta and retired his oars. Dad was an avid squash player and loved both downhill and cross-country skiing. In summers, with his children as crew, he raced his Lightning at his beloved Lake of the Woods and served as Commodore of the RLWYC. He completed his first marathon at age 58. A leader in Manitoba's sports community, Dad chaired the rowing venue of the 1967 Pan Am Games in Winnipeg, and served as president of the Winnipeg Squash Club, Winnipeg Rowing Club and Winnipeg Winter Club. He led the campaign for the Winnipeg Rowing Club's new boathouse, which now bears the Riley name. In latter years Dad very much enjoyed being a philanthropist. He was a passionate believer in Winnipeg and supported numerous charitable endeavours. Dad has been honoured for his business acumen, athleticism and philanthropy. Among his highest achievements are an appointment to The Order of Canada in 2013, an induction into the Manitoba Sports Hall of Fame in 2009, and an honorary Doctor of Laws awarded to him by the University of Manitoba in 2017. More than anything, Dad cherished his relationships with his family and friends. He was very proud of his children, grandchildren and great grandchildren, and they all adored him immensely. For us, he was our rock, our North Star, our role model and our inspiration. He loved his city of Winnipeg and never missed a minute of any Jets hockey game. Dad always said, "All manner of good can be done if you don't worry about who gets the credit." He truly lived that ethos and was a pillar of his community. Our dear Dad will be deeply missed. A celebration of Dad's life will be held, at 2:00 pm on Wednesday, May 30, 2018 at St. George's Anglican Church, 168 Wilton with a reception to follow at the church. In lieu of flowers, please feel free to make donations to the Winnipeg Foundation, Winnipeg Rowing Club, or Grace Hospital.
VER MÁS
VER MENOS
DONACIONES

Winnipeg Rowing Club

20 Lyndale Drive, Winnipeg, Manitoba R2H 3H2
En Memoria De
Mr. John Derek Riley
Ayude a contar la historia de vida única de su ser querido. Deje un recuerdo o comparta una foto o video a continuación para mostrar su apoyo.