OBITUARIO
Marilyn R. & Gerald F. Pillar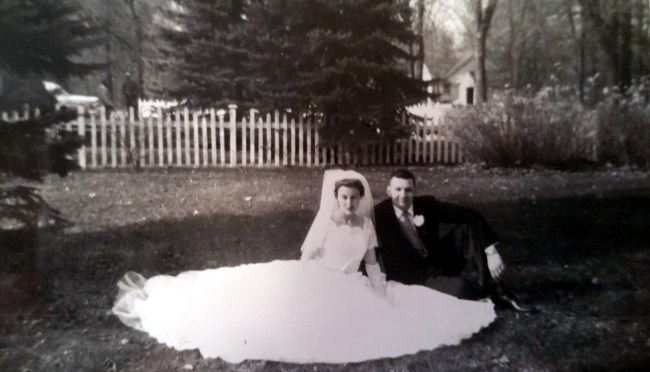 Marilyn Rae Pillar (Andrews) (85) of Oak Park Heights, MN passed away December 1, 2021.
Preceded in death by her husband, Gerald F. Pillar, (86) (November 23, 2020).
Marilyn R. Pillar was born January 17, 1936, in St. Paul, MN to Raymond and Leone (Zemke) Andrews. She grew up in West St. Paul/Newport and after graduating from St. Paul Park High School in St. Paul Park, MN, she began working and took classes at the University of Minnesota. She saved her money and took a 3 month trip to Europe with her best friend Pat and built many long lasting friendships with those she met.
Talking of her travels with a friend while working at 3M, she was prompted to speak with someone else who had just come back from his travels in Europe. After many attempted meetings, they finally came together on Valentine's Day, of all days. That one meeting turned into a romance that led to marriage with Gerald F. Pillar. On April 30, 1960, Jerry and Marilyn were married in St. Paul, MN. The couple lived within a 20-mile radius their entire time together where Marilyn and Jerry raised their four children and their beloved Irish setter.
Marilyn worked for many years at Oppenheimer, Wolff & Donnelly in St. Paul, MN and retired as a legal secretary. She enjoyed the many friendships she made while at Oppenheimer.
Marilyn dedicated her life to her family and to her volunteer work at the hospital after she retired. She enjoyed working with children with disabilities and taking them to the MN State Fair. It brought so much happiness to her seeing the smiles on their faces at the fair. She continued to enjoy travel, going on cruises and exploring along with her family. Her many interests included gardening, hiking amongst the pines, going to the Washington County Fair and spending time with family, especially on the shores of Lake Superior, and her grandpups. She also had an infinity for celebrating St. Patrick's Day and Winter Carnival every year and enjoyed playing cards with her friends and the occasional nickel slot machines at the casino.
Marilyn is survived by daughter Laurice (Andy) Rovella of Colorado Springs, CO; and her three sons, Greg and Lea (Goodwin) of Schertz, TX; Mike and Mary Lou (Johnson) of St. Paul, MN; Tim and Avery (Bredice) of St. Petersburg, FL; sister-in-law, Marilyn J. Pillar (Ehlers) of Colorado Springs, CO.; and numerous nieces and nephews as well as many grandchildren and great grandchildren.
She was preceded in death by her husband, Gerald Pillar; her parents, Raymond and Leone Andrews (Zemke); her sister, Jeanne Williams; brother-in-law, Claude Williams; and niece Cheryl Hilton (Williams); brother in-law, Donald T. Pillar; and brother in-law, Rev. James J. Pillar.
The family thanks all of the health care workers at Boutwells Landing in Oak Park Heights, MN, as well as all of the health care providers that watched and looked over Marilyn. A special thank you to Peggy with Optage Hospice - you showed such care and compassion in her final days. On behalf of the Pillar family, we are extremely grateful.
There will be a funeral service to celebrate both Marilyn and Gerald at 11 a.m., Thursday, December 30, 2021 at Wulff Woodbury Funeral Home with visitation one hour prior to the service. Luncheon to follow service followed by final interment of Marilyn and Gerald at Riverview Cemetery in West St. Paul.
Donations may be made to St. Jude Children's Hospital or the Alzheimer's Association in lieu of flowers.
VER MÁS
VER MENOS
Servicios Previos
jueves,
30 diciembre, 2021
Service of Remembrance
jueves,
30 diciembre, 2021
Interment
En Memoria De
Marilyn R. & Gerald F. Pillar
Ayude a contar la historia de la vida única de su ser querido. Deja un recuerdo o comparte una foto debajo para mostrar tu apoyo.