Avis de décès
Joseph S Blackmon Jr
30 octobre 1926

–

14 septembre 2022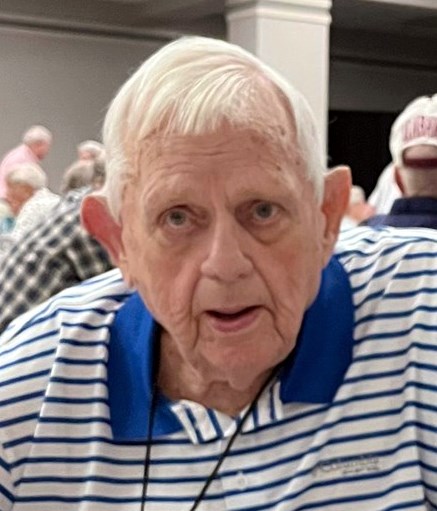 Joseph Simeon Blackmon Jr. (Joe) 96, formally of Saks, AL, reached his Heavenly home, September 14, 2022 at the Col. Robert L. Howard State Veterans Home, Pell City, AL. He is survived by his children, Joan Blackmon Cole (Greg) of Lake Wylie, SC, Joey Blackmon of Columbus, MS, Bethany (Beth) Blackmon Williams of Eastaboga, AL. Grandsons, Jason Cole (Gina) of Charlotte, NC, Rev. Brad Williams (Beth) of Hazel Green, AL, Brett Williams (Diedra) of Eastaboga, AL, Major Ragan Cole (Angelee) of Newport News, VA, and Zane Williams (Jessica) of Hiram, GA. Nine great grandchildren, Xander, Riley, and Jax Cole of Charlotte, NC, Savannah and Ross Williams of Hazel Green, AL. Chase and Colsen Williams of Eastaboga, AL and Zoe and Rylin Williams of Hiram, GA. Several nieces and nephews. Mr. Blackmon was a faithful member and deacon of First Baptist Church of Saks for over 56 years. He was in the 1945 graduating class of Anniston High School. He has just recently attended the AHS Grand Reunion celebrating his 77th year of graduating high school. In 1945 at age 18, Mr. Blackmon joined and served in the United States Air Corp before it became the United States Air Force. After the Army Air Corp was divided into the U.S. Air Force and the U.S Army he served in the 752nd Tank Battalion Command in Caserta, Italy. Mr. Blackmon loved and was very proud of his country and was very knowledgeable about politics until the end of his life. Mr. Blackmon after serving his country for two years became an accountant for the Alabama Pipe Company. After plastic pipe came to be used instead of cast iron pipe, the pipe foundries closed. After this change Mr. Blackmon went to work at Magic Chef in the microwave business. Then later he advanced to M & H Valve Co. His last employment was at Osborne Trucking, Gadsden, AL. Mr. Blackmon's hobbies included golfing, fishing, boating, reading books, magazines and newspapers. He was a very intelligent man and retained everything he read. In his later years he enjoyed watching crime, police and fire television shows such as Blue Bloods and Chicago Fire. He had one of these types of shows for each day of the week and watched them all day long. He also was an avid Alabama Crimson Tide Fan. Mr. Blackmon was a very loving, patient, and positive husband and father. He was the Christian leader of his home. He took his children to church every time the church doors opened. His children certainly had an earthly father as an example of what our Heavenly Father would want him to be. He enjoyed taking his family camping many places and created wonderful memories for all. He was a hands-on Dad teaching his children about space, sports and other interests. Mr. Blackmon was preceded in death by his loving wife of 71 years, Geraldine Emma Morrison Blackmon. His parents Joseph S. Blackmon Sr. and Lena Doss Blackmon. His brothers Fred Blackmon, and Calvin C. Blackmon (Lois), niece Bonnie Blackmon, his sisters Ruth B. Carter (Louis). Sue B. Coston (Ed). His sister in law Naomi Rivers (Frank), brother in law William (Pete) Morrison (Louise). Military Honors Service will be held Monday, September 19, 2022 at Gray Brown Service Mortuary, 1329 Wilmer Avenue, Anniston, AL 36201. Family visitation will be at 11:00 AM, friends at 12:00 PM and the service will start at 1:00 PM. The Rev. Brad Williams (grandson) will conduct the service. Pallbearers will be grandsons Jason and Ragan Cole, Brett and Zane Williams, and great grandsons Ross and Chase Williams. Graveside services will be held at Anniston Memorial Gardens, 4000 US Hwy. 431. If you are unable to attend you may watch the funeral service on Facebook live. It will stream on the Facebook page of Beth Blackmon Williams. The family would like to thank Naomi Woodard for her love and care of their father she called Mr. B. Also, the nurses and staff of the Col. Robert L. Howard Veterans Home Pell City, AL. And to his nurse Allison who had Dad's heart on her sleeve by being a caring servant of the Veterans and the one he truly depended on and loved dearly. In lieu of flowers the family requests donations in memory of Joe Blackmon to the First Baptist Church of Saks, 4723 Saks Road, Anniston, AL.
VOIR PLUS
VOIR MOINS
Services Précédents
lundi,
19 septembre, 2022
Visitation
lundi,
19 septembre, 2022
Funeral Services
En mémoire de
Joseph S Blackmon Jr
Aidez à raconter l'histoire de la vie unique de votre bien-aimé. Laissez un souvenir ou partagez une photo ou une vidéo ci-dessous pour montrer votre soutien.