Avis de décès
Richard Gordon Flauding
2 février 1954

–

26 juillet 2021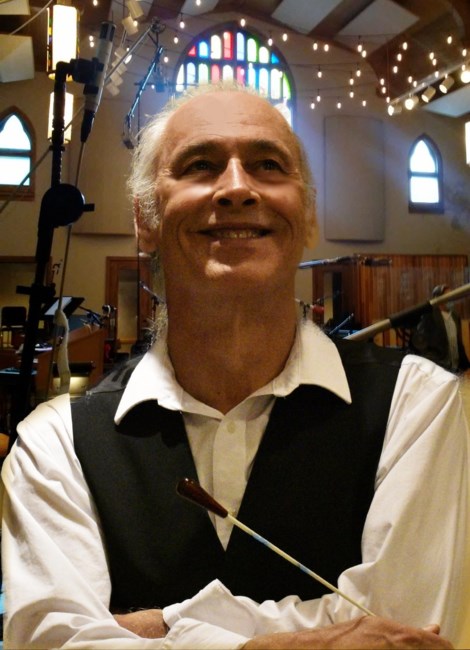 Richard (Ric) Gordon Flauding was a passionate man who loved God, his family, and creating beautiful music that provided listeners with an emotional journey. His music was instrumental and crafted in a way that left listeners no doubt as to what the music was saying. He was held in high regard by his peers and clients who often referred to his work as genius. Ric was drawn to a career in music and music education at an early age. He began his professional career as session guitarist and was also an arranger for the worldwide weekly television broadcast at the Crystal Cathedral in southern California. During his time there he wrote orchestra arrangements for the weekly broadcasts and worked alongside many notable people in the industry such as Amy Grant, David Foster and many others. Ric was a phenomenal guitarist and enjoyed an artist career during the 1980s. Ric's first signed album with Spindletop Records, "Letters" was produced by renowned producer Paul Brown and became a pre-nomination Grammy candidate. During that time he worked with a number of celebrity artists including David Benoit, Wayne Bergeron, Eric Marienthal, Brandon Fields and Russell Ferrante to name a few. His songs received praise across the music spectrum, and Billboard Magazine wrote, "Consistently enjoyable work sparkles with Flauding's beautiful arrangements." Ric received many notable awards, one of which was an Ace award for a documentary "For Safety's Sake" starring Gary Coleman that Ric scored. Ric also was granted a full scholarship to the UCLA Film Scoring Program by the American Society for Composers, Authors, and Publishers (ASCAP). Many of Ric's original recordings and arrangements have been featured on network TV including ABC, CBS, NBC, Oprah Winfrey, Sky Angel TV and has received worldwide TV and radio play. Ric also arranged and produced over 500 albums for top Vietnamese artists. Ric's musical talents spanned a number of genres from jazz to orchestral, in fact touched on everything with the exception of rap. In 2018 Ric was contacted by the music director from St. Louis University High School. The orchestra was traveling to the Vatican to perform several concerts and wanted to include Ric's arrangement of "O Sacred Head Now Wounded" for the Pope. Here is an excerpt from the newspaper article: "The group of musicians quickly rushed from their seats in the audience to the steps of the basilica. After playing a few songs, the group began to play "O Sacred Head Now Wounded," and Pope Francis began walking down the steps towards the group. "I originally thought, 'Oh, well the Pope's gonna walk by and wave to us,' but as he came closer I think I literally shouted 'Oh my gosh it's the Pope! It's the Pope!' He's walking over to us and I'm thinking, 'Do I stop? What do we do? Do we play?' I look up and our trumpet section is just staring at the Pope," said [Ken] Pottinger. Sophomore Bryce Van Bree recalled playing during his flute solo in "O Sacred Head Now Wounded" while the Pope walked ever closer to the group." My nervousness began mounting," said Van Bree. "And it was interesting, because the second the Pope walked over, my nervousness kind of just vanished. It was weird. And for the rest of the piece it continued like that. The Pope just kind of took my nervousness away somehow." The surprise meeting was certainly a surreal moment for all of the band's musicians and [Director] Pottinger. Pope Francis spent about three minutes conversing with Pottinger, asking him where they're from. "He asked me about the piece and the arrangement of the song," said Pottinger. He told me the music was fantastic and the boys were wonderful. He also asked about our school, which I explained, that we were Jesuit and he's Jesuit so I was excited to tell him that. And this was our 200th anniversary, which was a big reason why we were there. For Jesuits, to share this with Pope Francis is priceless." After talking with Pottinger, Pope Francis stopped to shake hands with all of the boys in the band, which was one of the most memorable moments of the experience. It was noted by officials at the Vatican that a Pope had not given a group that came to perform for him this much attention in over 30 years." "O Sacred Head Now Wounded" was performed in four different concerts, one of which was in St. Peter's Basilica. In 2002 frontman of Megadeth, Dave Mustaine, reached out to Ric to be his guitar instructor and help him with his recovery after an accident that resulted in injury and affected his ability to play guitar. Ric also played on Dave's first album released after his injury, "The System Has Failed." Dave also recommended Ric's original composition "Jesus Wept" to be included in the 2004 movie co-written, produced and directed by Mel Gibson, "The Passion of the Christ." Ric taught at a number of colleges and universities in California and Texas, teaching composition, orchestration, theory and other related topics. Mentoring and helping others in their musical journey was one of Ric's greatest talents and provided him great joy. Recent projects included arranging/orchestrating the musical "Chosen" written by Mark Greer, recorded at Ocean Way Recording Studio in Nashville, TN. He worked on numerous selections for a project titled "The Messenger," written by Bill Mullin of Significant Media & Music, also recorded in Nashville at Ocean Way Studios. Ric has worked with the Prague Symphony string orchestra and the Bucharest all-star string orchestra who recorded his string arrangements for various clients and original compositions. In 2020, Ric was named Composer-in-Residence for the Texas Chamber Symphony (Shannon Small Founder & Executive Director), and in 2021 he was named Artistic Director of Recording for the Bucharest All-Star Orchestra. Ric's music has touched many people. A humble man who felt the credit for his work was not his to take. He was happiest when writing, arranging and recording and often said he felt closest to God at these times and was grateful for these blessings. Ric is survived by his wife, Denise Flauding, his children, son Kevin Flauding and his wife Britannie and 3 grandchildren, daughter Janel Carpenter and her husband Jesse Carpenter and 6 grandchildren, brother Steve McGlone and his wife Mary McGlone and their families, brother Kenton McGlone and his wife Joan and their families. Stepson Dustin Rotstein and his wife Kristi and their 2 children, stepdaughter Amber Hersholt-Griffin and her husband Casey Griffin and their 5 children.
VOIR PLUS
VOIR MOINS
Prestations de Service
Aucun service public n'est prévu en ce moment. Recevez un avis lorsque des services sont mis à jour.
recevoir des avis
En mémoire de
Richard Gordon Flauding
Aidez à raconter l'histoire de la vie unique de votre bien-aimé. Laissez un souvenir ou partagez une photo ou une vidéo ci-dessous pour montrer votre soutien.