Avis de décès
Verne Fairbanks Bliss Sr.
28 septembre 1923

–

8 décembre 2017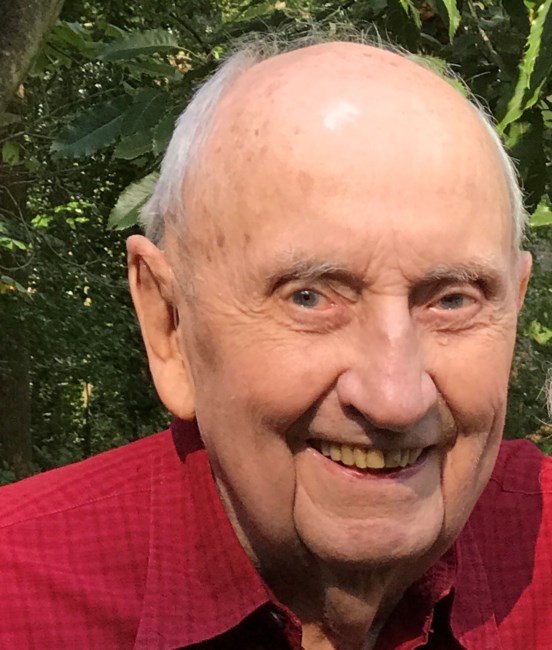 Verne Fairbanks Bliss, Sr. passed from this world on December 8, 2017. He was surrounded by the love and care of his beloved wife and family until the very end.
Verne is survived by his wife, Jean Dennis Bliss. They were happily married for 69 years and have been residents of Atlanta, GA since 1961. He is also survived by their four children, Marsha B. Hornick of Gainesville, FL, Verne F. Bliss Jr. of Atlanta, GA, Dennis K. Bliss of Atlanta, GA and Ann B. Korb of Lawrenceville, GA, a son-in-law, Frank L. Hornick of Gainesville, FL, and a daughter-in-law Linda B. Bliss of Atlanta, GA. He was also blessed with seven grandchildren and 4 great grandchildren.
Verne was born September 28, 1923 in Greensboro, NC to Verne Otis Bliss and Helen Rhodes Bliss of Salem, VA. His sister Mary Jane Sinex of Salem, VA passed in 2016.
Verne graduated from Roanoke College in 1947 with a B.S.in Biology.
Verne served his country during World War II as a II Lieutenant in the Marine Corps. He was stationed in Hawaii and Japan from 1942 -1946.
He later graduated from Duke University with a Master's Degree in Forestry at which time he began a long and very successful career with E. I. Dupont (1949-1982). He was the Southeastern Sales Manager until 1955 when his young family was transferred to Montevideo, Uruguay for 6 years. Verne began the Dupont Agricultural Sales Division in South America. His extraordinary communication skills, respect for people and work ethic led that division to become one of the highest financial divisions in Dupont.
In 1961, Verne accepted a position as a Regional Sales Manager for E.I. Dupont in Atlanta, GA.
He built a home where he and Jean raised their family and have lived for 56 years.
He was a member of St. James United Methodist Church and a member of Cherokee Country Club.
He learned to play golf at the age of six. Verne was an avid outdoorsman and passed that love to all of his children and grandchildren by teaching them all he knew. He loved hunting, fishing, golf, yard work, biking and "piddling". He enjoyed life to the fullest.
Verne will be greatly missed. His tender heart and sweet spirit were evident in all he did.
He verbally and affectionately expressed his love to all. To the end, he was a gracious and blessed man. He was most blessed by his marriage to the love of his life, Jean. They were inseparable and happy. Together they gave their love freely to many over the years. Because of his faith in the saving blood of Jesus Christ, his life did not end, and we will all be together forever.
Celebration of Life Service will be held at St. James United Methodist Church on
Monday, December 18th at 1:00 pm.
Reception following in the Parlor.
His internment will be held at a later date at Sherwood Memorial Park in Salem, VA.
In lieu of flowers, donations may be made to the following charities:
Parkinson's Foundation
American Cancer Society
Alzheimer's Association
Wonded Warrior Project
VOIR PLUS
VOIR MOINS
En mémoire de
Verne Fairbanks Bliss
Aidez à raconter l'histoire de la vie unique de votre être cher. Laissez un souvenir ou partagez une photo ci-dessous pour montrer votre soutien.