Avis de décès
William Edward "Bill" Irwin Jr.
22 octobre 1932

–

4 août 2022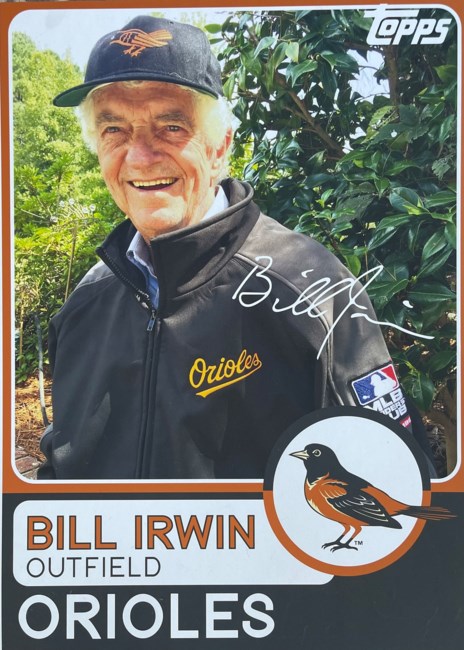 "Take me out to the ballgame.." In baseball, each team is like a family and each player has his own character, skills and goals to achieve. The team, however, has one goal: WIN! Bill Irwin was the veteran superstar outfielder for Team Irwin and because of him, the team never had a losing season. Early in his career, William Edward Irwin Jr. lost his manager William Sr. and thus at just nine years old he stepped up to the plate into the lead role in a clubhouse that included his mother Lorraine, sister Shirley and his younger brother Richard. At the height of the Great Depression, he learned the importance and the value of hard work, dedication, and putting it all on the line to help the team succeed. His loyalty and sacrifice allowed the team to thrive and expand; furthermore, his brilliant play secured countless victories. Bill earned the MVP Award every season of his illustrious career due in large part to the unconditional love he had for his team and for his unwavering faith in God and his country. In addition to his responsibilities on the diamond, Bill took on the extra challenge of joining the Army National Guard, and quickly secured the rank of Corporal. Though he would have been a great leader for his squad, his heart was always set on growing his team. By this time, the team had already added nephews, Ronnie and Bobby Finn. All-Star children, William III and Carla joined the roster shortly thereafter. Years later, in a bold move, Bill led the charge to relocate and settled down in North Carolina where he soon found the opportunity for the team's rapid expansion. Bill signed his life-long MVP and wife, Judy Canady, in 1983 and the two became a dynamic duo on the field. The team thrived and soon began adding to its already talented roster. Team Irwin soon signed promising young prospects and children, Jeremy and Jessica to bolster the squad, but in Bill's mind, the vision for his team was nowhere near complete. He continued to set the example and always left it all on the field; and he did so with grace, honor, and his eyes always focused on God's will. He never took time off; quite the opposite. He worked full time for more than forty-five years for Bendix, Westclox, and Data General before opening the beloved Champion Sports Cards and Memorabilia shop in Clayton, North Carolina. This was all in addition to his stellar, league-leading performance on the field. As a result, growth soon came at an astounding rate as the team added grandchildren: Tommy, Janine, Kyra, Katie and William IV. The team had expanded so much that one would expect Bill to retire. But one thing was soon made clear: William Edward Irwin Jr. was a fighter. He never quit. His team was more important to him than anything else and he was grateful for every moment he got to play with them. The joy of his life was expanding the roster and thus, he recruited grandchildren, Ava Grae and Carson, as up and coming stars to the team. With them, came the news that great grandchildren Brantley, Benton and Harlow would be upgraded to the major leagues and added to the rotation as well. With the addition of all this young talent, the veteran Bill Irwin took upon himself the multiple roles of coach, player and manager and he felt both blessed and grateful for every moment he had to be there for his team. He felt that gratitude was like a currency in that it must be paid for something and to something. Bill was grateful for his team and the love they shared; and he was grateful to God for the many seasons he was able to put on the uniform of husband, father, grandfather, great grandfather, and friend. Bill retired peacefully at his home stadium surrounded by those he loved; but not before learning of his team's newest draft pick James William Irwin, or "Bill" for short. His legacy will be that of his loving smile, his infamous white curly hair, his grace on the field of play, his generosity and the overwhelming and unconditional love for the legendary team he helped create. The services to honor him will be held at First Baptist Church of Garner located at 601 St. Mary's Street Garner, NC on Wednesday, August 10, 2022, at 3:00 in the afternoon. He will be entombed during a private family memorial at Pinecrest Memorial Park Mausoleum, Clayton, NC. Family and friends are invited to attend a Celebration of his amazing life at Brick & Mortar, 217 E. Main Street, Clayton, NC immediately following funeral services. While flowers are accepted, memorial contributions may also be made in memory of William Edward Irwin, Jr. to Southside Christian School located at 1696 Amelia Church Road Clayton, NC, 27520, Shriners Hospital for Children 950 W Faris Rd, Greenville, SC 29605 or to the First Baptist Church of Garner. 601 St. Mary's St, Garner, NC 27529 Fond memories and expressions of sympathy for the Irwin family may be entered below within the "add a memory" tab.
VOIR PLUS
VOIR MOINS
FAMILLE

Judy Canady Irwin

Wife

William "Bill" Irwin, III (Cheryl)

Son

Carla Nixon (Richard)

Daughter

Jeremy Irwin (Jesy)

Son

Jessica Schwab (David)

Daughter

Bill is also survived by his grandchildren, Tommy, Janine, Kyra, Katie and William, IV, Ava Grae and Carson; great grandchildren, Brantley, Benton, Harlow and soon to arrive, James William "Bill" Irwin.
PORTEURS

Robert "Bobby" Irwin

Active

David Schwab

Active

Michael Spates

Active

Tim Canady

Active

Alex Atchison

Active

Robert Bornschein

Active
En mémoire de
William Edward "Bill" Irwin Jr.
Aidez à raconter l'histoire de la vie unique de votre bien-aimé. Laissez un souvenir ou partagez une photo ou une vidéo ci-dessous pour montrer votre soutien.