Avis de décès
George P Cook
14 octobre 1936

–

22 novembre 2021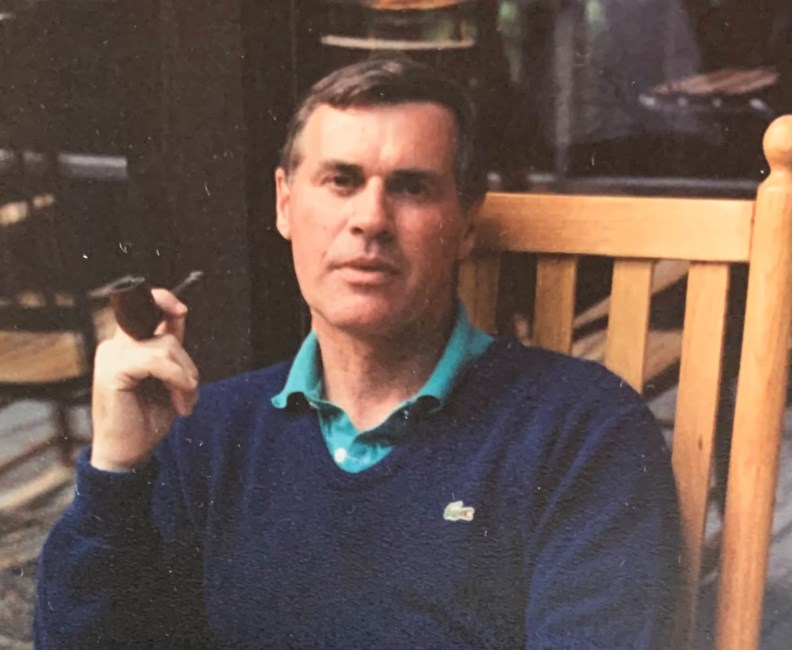 George Paddison Cook, 85, after a long bout with Alzheimer's, passed away peacefully, surrounded by his loving family, on November 22, 2021. George was born on October 14, 1936, in High Point, NC to the late Sarah Everhart Cook and Richard Henry Cook, and raised by his grandparents, John Henry Everhart and Mollie Aaron Everhart. George attended High Point High School. He was married to his loving wife Rebecca Brown Cook for 63 years. After having known each other since they were 14 years old, they were married on September 5, 1958.
He graduated from High Point College in 1959 with a Bachelor of Science degree in business administration, with a major in economics. He then joined R.J. Reynolds Tobacco Company, where he worked for nearly 30 years. Like most new hires during that period, he started on the loading docks, but soon worked his way up through RJR with stints in Corporate Finance and RJR Development Corp. At RJR, he was very involved in Mergers and Acquisitions. He also started the Reynolds Carolina Credit Union, which became Allegacy Federal Credit Union, implemented the company's first 401(k) Plan, and facilitated the start-up of a then revolutionary health maintenance organization, Winston-Salem Health and Dental Care, a significant benefit for the company's employees. He retired in 1988 as Global Director of Personnel for RJR Industries, Inc. George was well-loved and respected by his colleagues and team at RJR and kept in touch with them and their families well beyond his retirement, as they were more than colleagues, but friends and extended family. To say George was very passionate about sports would be an understatement. As a three- sport athlete during high school he was a crafty left- handed pitcher in legion baseball, a guard in basketball, and quarterback on the football team. His love of sports continued with golf, and for 30 years he would meet the same group of high school friends including his brother-in-law, Jack McDowell for their annual October golf trip at Ocean Isle. He passed along his love of sports to his children, Mark, Jeff, and Molly, as well to their friends coaching in Southwest Forsyth Little League Baseball, as well as Pop Warner football. George and Becky attended thousands of games over the years, and if George was not coaching on the field, he could be found coaching and cheering from the sidelines, at every pitch, swing or play run on the field.
He loved to teach the game. In fact, one of his children's favorite photographs is one of him giving golf lessons to daughter-in-law Susanne at Fernandina Beach. This photo captured George in his element and you can almost hear him giving swing instructions. As his Alzheimer's progressed, and knowing his love for golf, his children and daughters-in-law took him to the 2014 U.S. Women's Open held at Pinehurst #2. His wife Becky also continued to support his love of golf up until the time Alzheimer's finally robbed him of his passion. She would drive him to play golf (after he could no longer drive himself) to one of his favorite courses, The Meadowlands, to play with some long-time friends. Becky would wait for George in the parking lot until he finished his round. When he could no longer play the game, his son Jeff would begin taking him to the practice range to hit balls for exercise.
George also had a love for cars. One of the first cars he ever bought was in 1959 as a newlywed. It was a 1957 Chevy for $50, with its mileage measured in quarts of oil. Later, in between many family cars such as Pontiac wagons, he bought a 1974 Nissan 260Z and then, his prized 1965 Mercedes 250SL, which he had fully restored. His son Mark helped him continue this passion, taking him up to Virginia International Raceway in 2015, to watch the IMSA races in person.
George and his wife, Becky, had a passion for animals, loved and lost many family pets over the years, as well as fostered and cared for numerous animals in need. He and Becky developed lifelong friendships and community in their hometowns of High Point and Clemmons as well as Fripp Island, Roaring Gap/Sparta, and Fernandina Beach. George loved people, sports, cars, and animals but most of all loved his family and spending time with them. He always encouraged his children to do what they love and be who they are, and most important to him was for them to be happy. He never hesitated to tell his children how proud he was of them.
George was preceded in death by his parents, Richard Henry Cook and Sarah Everhart Cook, as well as brother and sister, James Cook, and Paddy Cook McDowell, and his grandson George Thomas Cook.
He is survived by his loving wife of 63 years, Rebecca Brown Cook; son, Mark Cook and daughter-in-law Bobbie Best Cook of Apex, NC, son Jeff Cook and daughter-in-law Gena Hauser Cook of Clemmons, NC, daughter Molly Cook and daughter-in-law Susanne Schmal of Durham, NC; three grandchildren, Justin Cook, Todd Cook and Sarah Cook; brother-in-law Jack McDowell, sister-in-law Chris Cook, numerous nieces, and nephews; and extended family.
George was loved by all and will be missed by his family as well as the many he coached and encountered along the way. We are truly certain he is now playing golf again with his buddies and throwing that left-handed curveball, once again baffling batters at the plate.
The family wants to especially thank Trinity Elms, Dr. Gary Copeland, and the staff at Forsyth Hospital for the care George received as well as the support they gave to the family. Becky also wants to acknowledge friends and staff at Bermuda Village for their kindness. A private graveside service with pastor Dr. Don Gordan officiating will be held at a later date. In lieu of flowers, please consider a donation to:
St. Jude's Children Hospital Forsyth Humane Society Alzheimer's Association youthoncourse.org
Fond memories and expressions of sympathy may be shared at www.frankvoglerandsonsclemmons.com for the Cook family.
VOIR PLUS
VOIR MOINS
Prestations de Service
Aucun service public n'est prévu en ce moment. Recevez un avis lorsque des services sont mis à jour.
recevoir des avis
En mémoire de
George P Cook
Aidez à raconter l'histoire de la vie unique de votre être cher. Laissez un souvenir ou partagez une photo ci-dessous pour montrer votre soutien.