Avis de décès
Ernesto Saucedo
22 novembre 1942

–

13 septembre 2022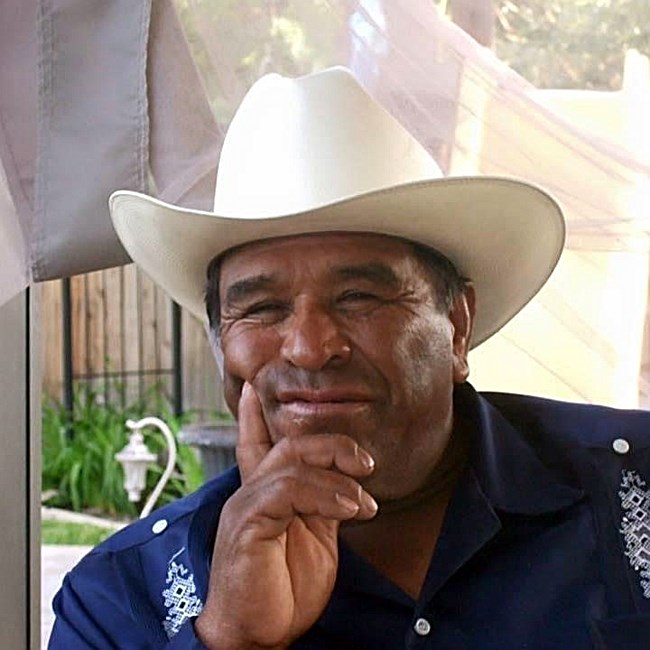 Ernesto S. Saucedo, a beloved son, brother, husband, father, grandfather, and friend passed away at the age of seventy-nine, on Tuesday, September 13, 2022. Ernesto was born in Puerta de Aguilar, Dr. Arroyo, Nuevo Leon, Mexico to Vicente Saucedo and Augustina Sauceda. Ernesto had four brothers and two sisters. He is preceded in death by his father, mother, brother, Ascension "Chon" Saucedo and wife Juana Villanueva Saucedo. Ernesto immigrated to the US as a teenager and set root in Madera, CA. He dedicated his life to both his family and work, his life's greatest treasures and accomplishments. Ernesto, at a youthful age, befriended Gerald and Dorothy Nelson who provided him the opportunity to do what he loved most for 58 years, which was work outside in the sun and meticulously grow, harvest, and tend to the land that he loved. His love of all things green extended to his personal life where he spent countless days and hours caring for his garden and plants. Ernesto was a teacher of the "Jardin". He was always willing to educate anyone who wanted to learn about growing and caring for plants. Ernesto enjoyed spending time with his family and friends. He would often be found sitting outside in his yard, with his granddaughter Jocelyn and his dogs, Felix, Chimi, and Changa or waiting for his son David, to bring him a newspaper and donuts. Ernesto was Catholic and believed that God always had a plan. He enjoyed watching baseball and soccer. His favorite MLB team was the Cincinnati Reds, The Big Red Machine. He enjoyed trips to San Francisco and Los Angeles to watch baseball and enjoy the ballpark food. He had a wonderful singing voice and never hesitated to sing to his wife and children even if he did not know the words to a song, he would make them up. He adored his grandchildren. He was a friend to all. Ernesto is survived by his siblings, Heriberto Saucedo, Isaac Saucedo, Maria Diaz, Aristeo Saucedo, and Olga Garcia, his children Maria Rodriguez and husband Jose, Jose Saucedo and wife Linda, Vicente Saucedo, Alberto Saucedo, David Saucedo and wife Christina, Carmen Saucedo, Linda Carolina Ortega and husband Peter, Catarino Sauceda and wife Dionicia; twelve grandchildren, Andrew Manley, Celina Saucedo, Leslie Gomez, Nathan Bell, Nicholas Saucedo, Jocelyn Saucedo, Tyra Lutz, Katarina Saucedo, Dayton Saucedo, Chasen Farris, Isabella Saucedo, and Emma Saucedo; four great-grandchildren, Layla Bell, Jaxton Bell, Anna Bell and Elaina Gomez. Ernesto is loved deeply and will be truly missed. Thank you God for his beautiful life. "Love you Dad/Papa/Pops/Daddy/Grandpa/Friend" – "Okie Dokie", "Dale Gas". Profound gratitude to the Nelson family and Ryan Jones for providing Ernesto with purpose and great meaning to his life. A Visitation for Ernesto will be held Tuesday, September 27, 2022 from 3:00 p.m. to 6:00 p.m. at Boice Funeral Home, 308 Pollasky Avenue, Clovis, California 93612. A Rosary will occur Tuesday, September 27, 2022 from 6:00 p.m to 7:00 p.m., 308 Pollasky Avenue, Clovis, California 93612. A Funeral Mass will occur Wednesday, September 28, 2022 at 10:00 a.m. at St. Joachim Catholic Church, 401 West Fifth Street, Madera, California 93637. A Committal service will occur Wednesday, September 28, 2022 at 11:00 a.m. at Calvary Cemetery, 28447 Avenue 14, Madera, California 93638. Serving as Pallbearers are Joe Saucedo, Vincent Saucedo, Alberto Saucedo, David Saucedo, Catarino Saucedo, Joe Rodriguez. Serving as Honorary Pallbearers are Aristeo Saucedo and Peter Ortega. Fond memories and expressions of sympathy may be shared at www.boicefuneralhome.com for the Saucedo family.
VOIR PLUS
VOIR MOINS
FAMILLE

Maria Rodriguez (Jose)

Daughter

Jose Saucedo (Linda)

Son

Vicente Saucedo

Son

Alberto Saucedo

Son

David Saucedo (Christina)

Son

Carmen Saucedo

Daughter

Linda Carolina Ortega (Peter)

Daughter

Catarino Sauceda (Dionicia)

Son

Heriberto Saucedo

Brother

Isaac Saucedo

Brother

Maria Diaz

Sister

Aristeo Saucedo

Brother

Andrew Manley

Grandchild

Celina Saucedo

Grandchild

Leslie Gomez

Grandchild

Nathan Bell

Grandchild

Nicholas Saucedo

Grandchild

Jocelyn Saucedo

Grandchild

Tyra Lutz

Grandchild

Katarina Saucedo

Grandchild

Dayton Saucedo

Grandchild

Chasen Farris

Grandchild

Isabella Saucedo

Grandchild

Emma Saucedo

Grandchild

Layla Bell

Great-Grandchild

Jaxton Bell

Great-Grandchild

Anna Bell

Great-Grandchild

Elaina Gomez.

Great-Grandchild

Juana Saucedo

Wife

Vicente Saucedo

Father

Augustina Saucedo

Mother

Ascension "Chon" Saucedo

Brother
PORTEURS

Jose Saucedo

Vincent Saucedo

Alberto Saucedo

David Saucedo

Catarino Sauceda

Jose Rodriguez

Aristeo Saucedo

Honorary Pallbearer

Peter Ortega

Honorary Pallbearer
Services Précédents
mardi,
27 septembre, 2022
Visitation
mardi,
27 septembre, 2022
Rosary
mercredi,
28 septembre, 2022
Funeral Mass
mercredi,
28 septembre, 2022
Committal Service
En mémoire de
Ernesto Saucedo
Aidez à raconter l'histoire de la vie unique de votre bien-aimé. Laissez un souvenir ou partagez une photo ou une vidéo ci-dessous pour montrer votre soutien.