Avis de décès
Peggy Ann Harrold
5 août 1926

–

17 janvier 2022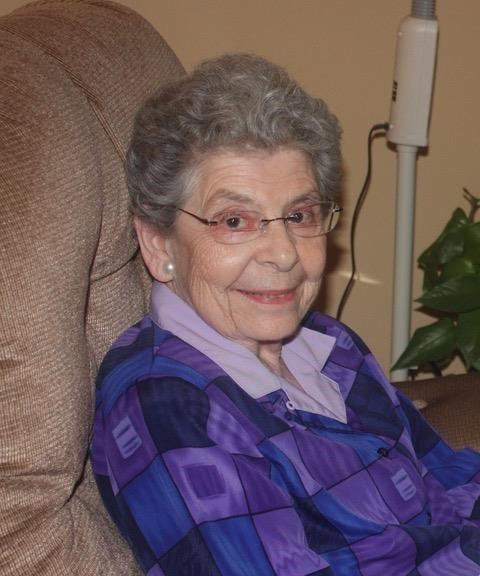 On August 5, 1926 Peggy Ann Blosser was the first child born to Roy Herbert and Alice Luella Furry Blosser. Her brother Don was born 3 years later. Her father was an accountant and her mother was a hairdresser. Peggy grew up on the east side of Dayton, Ohio, and walked to elementary school with Erma Bombeck. Later in life, Erma's books always brightened every day through comedy and helped Peggy to have a positive brighter outlook on life. Peggy loved drama and acted in plays during high school. She loved to entertain and make others laugh by imitating comedians Phyllis Diller and Jonathan Winters. She spent time with her lifelong friend, Noreen, at her family cottage on Indian Lake. It was a very entertaining place with an amusement park, boardwalk, and dances. Peggy graduated from Stivers High School. After graduation she worked for a bank with a girl named Nikki, who now lives in the cottage Bob and Peg lived in at Bethany. Peggy met Bob Harrold on a blind date after the war. They married on July 3,1948 and enjoyed 66 years together. Bob had become a tool designer at General Tool and Peggy continued to work at the bank until Karen was born. Scott was born 3 years later on June 11th. In 1960 they moved to their "forever" home to raise their children. All her life Peggy was a helper. She was involved with women's groups at Good Shepherd Lutheran Church and sang in the choir at St. Marks where she and Bob were married. Peg provided expert care for everyone in her family including her parents, visiting her mother every day at Bethany after the passing of her father. She helped Dottie Cook lead the neighborhood Girl Scout troop. She taught the entire troop many life skills such as sewing, bed making, and embroidery. Peggy and Dottie became close friends through the years as their daughters, Karen and Patty, had become such good friends also. We look back on those years with a lot of laughs. Peggy was a child of The Great Depression, was thrifty, and she communicated those values to us. Peggy was a baptized Christian and a faithful Lutheran who found peace and hope through God. Patty has Peg to thank for taking her to Vacation Bible School with the family in the summer where she learned so many classic hymns. Who knew Patty would one day lead her own congregations. Music was a huge part of Peggy's life and always spoke to her heart and soul. She loved old hymns like In the Garden and The Old Rugged Cross. She enjoyed the big bands and tight harmonies of the Andrew Sisters that brought her to her feet along with a generation who found some temporary escape from the Depression and War. Peggy discovered her love for dancing when she took tap lessons at a younger age. Later, she and Bob enjoyed ballroom dancing and square dancing. Bob and Peggy loved to travel and sight see. They took trips in the United States, to Hawaii, and Europe. They also enjoyed several Caribbean cruises. It is hard to build a life in retirement, but with family, friends and physical activity, their life together was well crafted in fun, love, and laughter. So much of our lives are about food and sharing it in community. She and Bob hosted many Christmas dinners and birthdays for the family over the years. What memories we all have of the dinners eaten around the ping-pong table in the basement. Through the years Peg brought pecan pies, pumpkin pies and brownies to any family or social get-together as well as potato salad and deviled eggs. She was renowned for her meat loaf that had a surprise hard-boiled egg in it. Words that describe Peg: likes being funny and making people laugh; caring, loving, determined, meticulous about her appearance and her house, conventional, accepted, upbeat, very positive. Peg was the type of person who found more meaning in what others did than from what others said. She was devoted to and genuinely proud of her friends and of a family that is devoted to God in Jesus Christ, devoted to music, to hard work and devoted to each other. She deeply loved her nieces, nephews, children, grandchildren, and great grandchildren. She and Bob were involved in the lives of their granddaughters and attended every high school and college graduation and every wedding. She prayed for her family daily. Peggy was a lifelong Christian, a Lutheran all her married life, and in an age that is found searching for its soul in the political arena, I'm thankful for the sacramental life that always led her back to the love of God. Let us follow the holy path of wine and breadcrumbs she has left for us to gather into the joys as well as the complications and decisions of our lives, as we follow her faith into the love of Christ and the communion and fellowship of the saints of light.
VOIR PLUS
VOIR MOINS
DONS

Hospice of Dayton

324 Wilmington Ave, Dayton, Ohio 45420

Good Shepard Lutheran Church

901 E. Stroop Rd., Kettering, Ohio 45429
En mémoire de
Peggy Ann Harrold
Aidez à raconter l'histoire de la vie unique de votre bien-aimé. Laissez un souvenir ou partagez une photo ou une vidéo ci-dessous pour montrer votre soutien.