Avis de décès
Lawrence Mark Lynch Jr.
29 août 1927

–

11 décembre 2017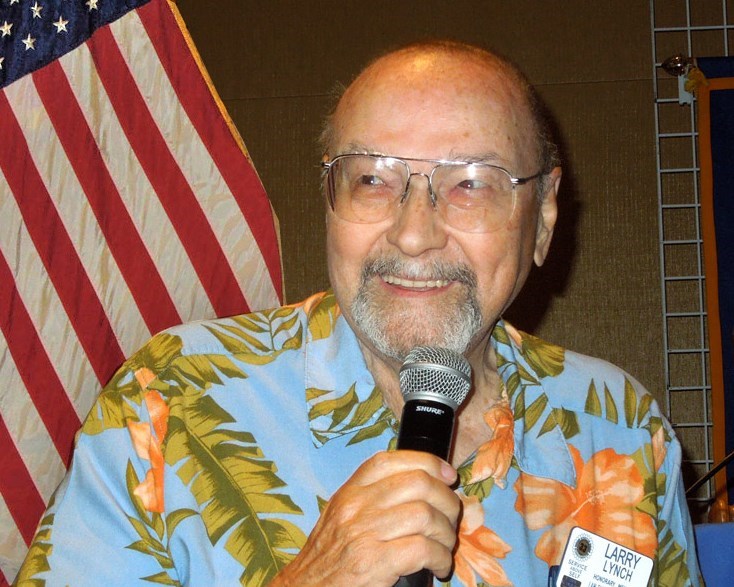 Lawrence Mark Lynch Jr., age 90, of Escondido, CA passed away on Monday December 11, 2017. Lawrence was born August 29, 1927 in Milwaukee, Wisconsin to Lawrence and Lucy Lynch.
Lawrence was an amazing man who had four careers in his life. He was exposed to the concepts of being unbiased and non-prejudicial at an early age. His Dad was Irish, Mother was a French Canadian, he was delivered by a Jewish Doctor, Nurse was Polish, Priest was Catholic, hospital was Protestant run and they lived in the German section of town.
He did not stay long in Wisconsin - took a train ride to upstate New York to Richland, a crossroad farm community and a watering stop for the north/south trains. He attend school in a little one room schoolhouse with a big pot bellied stove in the middle of the room. He met his first wife, Helen, in the sixth grade at St. Anthony's; learned to square dance, play basketball, baseball, and joined the Boy Scouts. He then became an Eagle Scout and later in life a Cubmaster, Scoutmaster, and Merit Badge Counselor.
Soon moved to Syracuse, New York and went on to graduate from a Catholic High School in 1944 at age 16. World War II was hot and heavy and as soon as he turned 17 he enlisted in the Navy, served 2 years, and 8 more in the Reserve. When he got home he married his grammar school gal, started college under the GI Bill at Syracuse University part time; looked for a job - worked in a department store, drove a cab, was a night watchman and finally landed a job - starting career #1 with RKO Keiths, a theater chain as a house manager. High pressure, low pay, wearing a tuxedo, seeing all the movies in town, top price admission on Saturday night was 65 cents - had Vaudeville acts, Dick Contina, Johnny Ray, Oklahoma, Alex Smith, and Victory Jory. It was great however TV came along and you know what happened to movies. While at the theatre he started a photography studio on the side, doing Theatre promotional pictures and the outside advertising, commercial, wedding, legal, and even divorce photography.
His career path continued with a move in 1954 to the police department where he was promoted through the ranks to retire as a Captain in 1974. He was on the Inspectors list, however politics intervened, the list was abolished by the department, the Mayor was indicted and went to a Federal "Rest Home" and Lawrence got out of there. He went on to do Police and College Consulting work, became a licensed Private Investigator in the state of New York, and ended up taking a job as Chief of Police with the DeWitt Police Department in a reorganization mode for the next 5 years, retiring again in 1988.
His second career actually had its start in 1962 when a new Police Chief PV Murphy from New York City took over the department; he later went back to NYC to become the Police Commission. The timing was such that the county was starting a Community College, and Lawrence was assigned as liaison from the Police Department to develop a Police Science 2 year Degree Program for Officers. This developed from a part-time to a fulltime 25 year job and Department Chairman, Instructor, to full Professor; with a law enforcement and civilian student body of over 400 when he resigned in 1988.
His third career was as a perpetual student, doing the usual grammar and even radio school in the Navy, part-time college business courses while at the theater; switching to science courses when he went to the Police Department and was assigned to the Crime Laboratory. After 16 years of night school, he earned a BA degree with a Chemistry major; Physics and Business minors. He took a year off and then went back for 4 more years part -time to get a Masters in Public Administration and then continued taking courses towards a Doctorate stopping short of the dissertation. By this time he was already an "old man"; a Chief of Police in one job and a Professor in another, he felt it did not make much sense to spend the time doing the dissertation.
His fourth and most important career was his family, which as he said "put up with an awful lot from him through all the years." His wife gave him three beautiful kids - a son, and 2 daughters. However, in May 1984 after 38 years of marriage he lost his wife Helen from a heart attack while working part-time job as a switch board operator at the hospital.
For a few years after his wife's untimely death, things were quite difficult. However, he had hired a young lady back in the 1960's while at the Police Department, under some Federal Grant that he was supervising and she typed the manuscripts for a text book on PROACTIVE POLICE MANGEMENT that he co-authored and had published through Prentice Hall. Marilyn ended up working with his daughter at an insurance company and was available, so they got together, wrote a revised edition of the text, and got married. Lawrence got 5 more step children and 4 more grandchildren and headed West in 1988.
Lawrence is survived by his wife, Marilyn Lynch, son, Lawrence Mark Lynch III, daughter, Lou Anne Palmer, step-son Thomas MacBain, step-daughters, Vicki MacBain and Kim Reed, 8 grandchildren, 2 great-grandchildren, and his brother Robert Lynch.
Lawrence was preceded in death by his first wife Helen, daughter Lorraine Rita Lynch-Enright, and step-daughters Christine Laughlin and Wendy Peterson.
Fond memories and expressions of sympathy may be shared at www.mcleodmortuary.com for the Lynch family.
VOIR PLUS
VOIR MOINS
Prestations de Service
Aucun service public n'est prévu en ce moment. Recevez un avis lorsque des services sont mis à jour.
recevoir des avis
En mémoire de
Lawrence Mark Lynch
Aidez à raconter l'histoire de la vie unique de votre être cher. Laissez un souvenir ou partagez une photo ci-dessous pour montrer votre soutien.