Avis de décès
Frances Gearhart Berry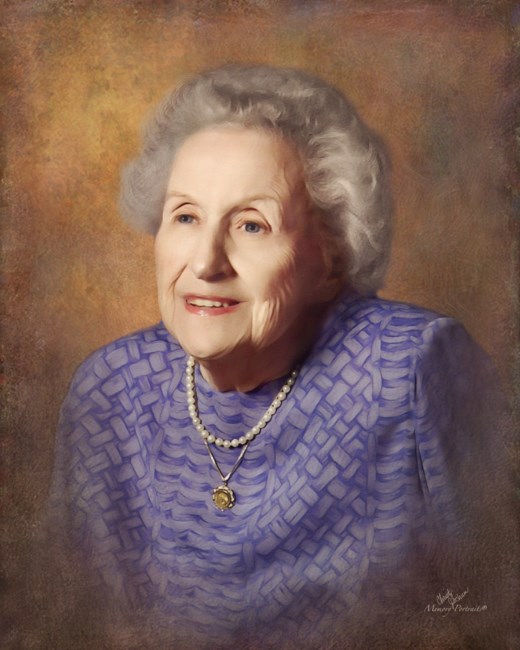 Frances "Chee" Gearhart Berry, age 94, passed away in Fort Smith. She was born in Columbus, Ohio in 1917. She moved with her parents to Fort Smith shortly after her birth and lived here her entire life. She graduated from St. Scholastica Academy in Fort Smith and attended Mount St. Scholastica College in Atchison, Kansas. She was a member of Christ the King Catholic Church and the Presentation Circle. She was a homemaker whose love for her family and faith is a legacy that her children and grandchildren cherish and value.
She is survived by her four daughters, Jane Sanders of Fort Smith, Kay Robbins of Little Rock, Barbara Flynn and husband Warren of Rogers, Joan Kincannon and husband Pettus of Fort Smith; two sons, Arthur (Artie) Y. Berry III of New Blaine and Sam G. Berry and his wife Sandi of Fort Smith. Twenty-four grandchildren: K. Lynn Berry, Ann Cannon, Mike Brady and wife Kristan, Douglas Sanders and wife Brenda, Jana and George Sanders, John Robbins, Jr. and wife Melissa, Ben Robbins, Rev. Tony Robbins, Charles Robbins, Kathryn Davis and husband Parker, Jane Griffin and husband Jess, Julie Wehrmeister and husband Mike, Ellen Laws and husband Carl, Warren Flynn III, Samuel Berry Jr., Catherine Teetor and husband Adam, Derek Sawyer, Kara McCubbin and husband Ken, Gregg McDaniel, Andrew Kincannon and wife Christina, Sam, Karen and Sara Kincannon. Twenty-seven great grandchildren: Michael, Emma and Drew Cannon, Rebecca Eck, Dalton and Brennan Brady, Trey, Layne, John Scott and Stephanie Sanders, Zachary, Sarah, Luke, Andrew and Michael Robbins, Kayley Robbins, Olivia Davis, Reed, Zachary and Hannah Wehrmeister, Campbell and John Laws, Jack and Max Teetor and Glenna McCubbin. She was anticipating the arrival of two additional great-grandchildren. One sister, Sue Kleese of Greensboro, NC, three sisters-in-law, Ree Gearhart Meehan of Fairfield CT, Joan Gearhart Havens and Gretchen Gearhart, both of Fayetteville, AR and a brother-in-law, Stanley Ramey of San Antonio, TX, and numerous nieces and nephews also survive her. She was preceded in death by her husband of 48 years, Arthur Y. Berry Jr., who died in 1988. Chee was also preceded in death by her parents, Samuel E. Gearhart and Maria Teresa (Jeanne) Constantino Gearhart, two sisters, Mary Jane Ramey and Joan Gearhart, five brothers, Samuel Gearhart Jr., twins William and Robert Gearhart, George A. Gearhart, and John A. Gearhart, one daughter-in-law, Janice K. Berry, and two sons-in-law, Douglas W. Sanders Sr. and John J. Robbins Sr. and one great-grandchild, Poppy Davis.
The family wishes to thank her caregivers, Debra, Tracy, June, Carol and Ruby for their loving care and devotion.
Visitation will be Monday, Dec. 5th from 5:00 to 7:00 pm with rosary at 7:00 pm at Christ the King Catholic Church Chapel. Her grandson, Rev. Tony Robbins, will preside at the Mass of Christian Burial at Christ the King Catholic Church at 1:00 PM on Tuesday, Dec. 6, 2011. Burial will follow at Calvary Cemetery under the direction of Edwards Funeral Home.
Pallbearers will be her grandsons. Scripture readings and gift bearers will be by her granddaughters.
Memorial contributions may be made to Christ the King Catholic Church, 2112 So Greenwood Ave, Fort Smith AR 72902 or St. Scholastica Monastery, 1301 So Albert Pike, Fort Smith, AR 72903
To sign an online guestbook visit www.edwardsfuneralhome.com
VOIR PLUS
VOIR MOINS
En mémoire de
Frances Gearhart Berry
Aidez à raconter l'histoire de la vie unique de votre être cher. Laissez un souvenir ou partagez une photo ci-dessous pour montrer votre soutien.