Avis de décès
Theresa Ruth Perez
10 octobre 1933

–

13 janvier 2019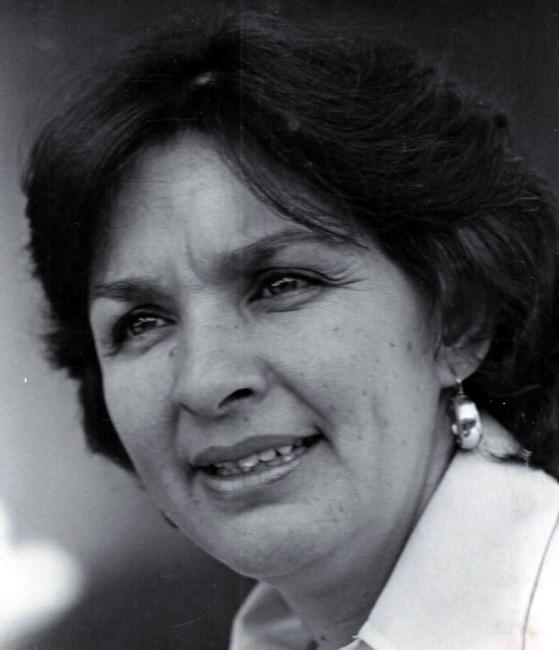 Dr. Theresa Perez, mother, trailblazer, iconic educator, and community activist has died at the age of 85. The cause of her death was ALS. Dr. Perez died at her home in Fresno. She fought a fearless battle with courage and grace against ALS, one that could only be rivaled by her sheer will to transform the educational system so all children could have equal access to education.
In 1975, Dr. Perez was the first Latina to run for the Fresno County Board of Supervisors. Although she was unsuccessful in this bid, the following year she embarked on a journey that would change the direction of her life. At age 43, after having seven children, she took a two year leave from teaching in the La Raza Studies Program at CSUF, when she moved to Stanford University with her three youngest children to obtain her Ph.D in Curriculum and Teacher Education. In 1980, upon completion of her doctoral program, she returned to Fresno to serve her community as a Professor at CSUF and a community activist until 1998 when she was invited to teach at the University of North Carolina at Charlotte (UNCC). At UNCC, she continued to focus on issues of gender and equity in the classroom. After 14 extraordinary years in Charlotte, N.C. the disease brought Dr. Perez home to Fresno. Theresa was a mentor to countless students, teachers, and professionals. She was always willing to give of her time and counsel to students and community activists alike. She will be remembered most for opening the door to education for future generations and sacrificing for the benefit of her community. Dr. Perez was born in San Jose, California, where her mother was a migrant farm worker and her father was in the US Navy. She was raised by her mother and grandparents in California migrant farm-worker camps until age five when her family finally settled in Fresno, California. Living in the labor camps exposed her to many different cultures and experiences that served to forge her indomitable spirit to fight against social injustice, to develop her vision of inclusion and tolerance, and a life of service to others. Dr. Perez was educated at Saint Alphonsus Catholic School and graduated from San Joaquin Memorial High School, where even at a young age she demonstrated leadership, becoming captain of many athletic teams and President of the Girl's Athletic Association. It was also during these early years in her educational experience as a bilingual speaker, she acquired the resiliency that would help her navigate through diverse and challenging experiences to advocate for the needs of others from migrant and dual language backgrounds.
In 1953, she married her husband Manuel, which marked the beginning of their lifelong partnership to bring about social change in the San Joaquin Valley. Manuel said, "Theresa and I have always shared the same types of values about people and our community. We've felt that it was part of life to give as much as we could to make things better for others."
Theresa attended college at a time when universities were not open to many minority students. According to Dr. Andrew Alvarado, in 1960, there were only twelve Chicano Students at Fresno State. Dr. Perez obtained a B.A. in Spanish (1969) and her M.A. in Linguistics and bilingualism (1975) from CSUF.
She was an inspirational model in her quest for social and educational justice. A champion of affirmative action and bilingual education issues, Theresa fought fearlessly both on the Fresno state campus and also in the community where she took on school districts. She actively supported national and local political candidates including Bobby Kennedy, Geraldine Ferraro, Armando Rodriguez, Al Villa, Lionel Alvarado, and countless others, even running for office herself, being one of the first females to do so locally.
She articulated the community's needs and had the courage to speak up and be identified as a champion in the fight for justice. Her strong but soothing voice warmed and inspired others.
In 1975, Theresa took her fight for equal education on a stronger path. Dr. Perez was handpicked to pursue a Ph.D in Education by Dr. Elizabeth Cohen, who founded the Program for Complex Instruction at Stanford University. It was under Dr. Cohen's direction, that Theresa found her calling as an advocate for at risk children and teaching methodologies to solve cultural misunderstanding and gender equity in education. During this time, Dr. Perez and her family would continue to sacrifice for education. She took her three youngest children with her to Stanford, while the oldest kids stayed with Manuel in Fresno, and her second oldest daughter, Sandra, attended UCSD.
After Stanford, she returned to Fresno as a Professor in the College of Education and later as Chair of the then Department of Curriculum, Teaching and Educational Technology. At this that time, she developed many programs and curriculum that served as flagships and models for education and intellectual growth.
In 1998, UNC at Charlotte reached out to Dr. Perez because of her expertise on Bilingual Education and ESL Teacher Training. She and Manuel moved to Charlotte and it was here she found the most intellectual stimulation and her greatest joy as a teacher. She assumed the Chair of the School of Education and worked on theories of teaching and developing curriculum with a focus on inspirational leaders in teaching English as a second language for low income students.
In 2011, she was diagnosed with ALS. Not missing a beat, she continued to teach until her progressing disease brought her back to Fresno. After returning to Fresno, and in the face of her debilitating decease, she continued to help students become admitted to medical school, and also mentored students in high school through the UCSF Fresno Medical Education Program and CSUF HCOP offices.
Perhaps the greatest of her accomplishments were her children. She often said, "If you are around me for more than five minutes you will notice that I either talk about my children or my work. It must be that I am proudest of these two accomplishments." To her children, Theresa instilled that everything would be sacrificed for education. She would remind them that they had a responsibility to help others through tough times. Her children have gone on to follow in her footsteps, giving back to the community as educators, writers, actors, lawyers, and doctors.
Dr. Perez presented at local educational and international presentations in England, Germany, Mexico, China, and Prague. She raised over a million dollars in grant money to fund her teaching projects. She published a history book for children and countless articles in scholarly journals. She received many outstanding recognitions and awards, including 1989 Woman of the Year National Hispanic Scholarship Fund; 1991 Teacher of the Year Award, California Association of Mexican Educators; 1992 One of 20 Fresno Women Committed to Change, and many others. In 1987 she was a founding board member of Arte Americas and she served on countless professional associations on local and statewide boards. She is survived by her husband of 66 years Manuel Perez and children: Dr. Sandra Perez, Andrea Perez-Lemus, Tim Perez, Sallie Perez Saiz, Raquel Perez, and Tino Perez; 15 grandchildren; 7 great-grandchildren; sister Mary Delfin and predeceased in death by her daughter Rebecca Ford and her mother Isabel Hernandez.
Visitation at Lisle Funeral Home, January 25, 2019, 3-7 pm, followed by Rosary Vigil, 7 pm. Mass and burial, January 26, 2019, 9:30 am at St. Alphonsus, followed by interment at St. Peters Cemetery. In lieu of flowers, please send donations in her name to the ALS Association Golden West Chapter, P.O. Box 565, Agoura Hills, California 91376.
VOIR PLUS
VOIR MOINS
FAMILLE

She is survived by her husband of 66 years Manuel Perez and children: Dr. Sandra Perez, Andrea Perez-Lemus, Tim Perez, Sallie Perez Saiz, Raquel Perez, and Tino Perez; 15 grandchildren; 7 great-grandchildren; sister Mary Delfin and predeceased in death by her daughter Rebecca Ford and her mother Isabel Hernandez.
PORTEURS

Antonio Quevado

Jazsper Ford

Fabio Mc Craw

Diego Ford

Pablo Perez

Giancarlo Laguna

Alejandro Laguna

Joseph Quevado
Services Précédents
vendredi,
25 janvier, 2019
Visitation
vendredi,
25 janvier, 2019
Rosary
En mémoire de
Theresa Ruth Perez
Aidez à raconter l'histoire de la vie unique de votre être cher. Laissez un souvenir ou partagez une photo ci-dessous pour montrer votre soutien.