Avis de décès
Ronald Allen Farrell
12 novembre 1943

–

20 janvier 2020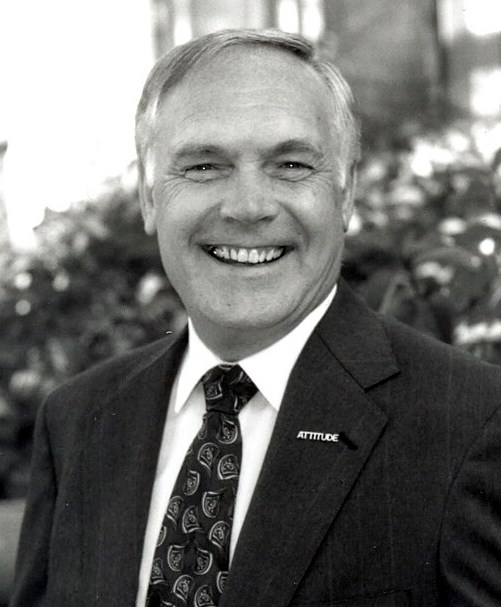 Ronald Allen Farrell of Kansas City died at his home surrounded by his family on January 20th, 2020. Ron was born to Jim and Bernice Farrell on November 12th, 1943 in Storm Lake, Iowa. He grew up on various farms around Northwest Iowa, finally settling on the home place just south of Newell when he was five years old. Ron was proud of his northwest Iowa roots and always spoke fondly of his childhood where he learned the value of hard work, integrity, faith and family from two remarkable parents. Ron attended Loras College and graduated from Iowa State University with degrees in Agronomy and Chemistry. He met his partner in life, Judi, when he was a freshman at Loras. Ron and Judi wrote letters to each other throughout their long, on-again, off-again courtship. Ron proposed in 1966 when Judi was a junior in college and they were married in Tama, Iowa on June 17th, 1967. Ron spent his entire career in agriculture. While still in college, he worked as an intern with DuPont. He later held positions with Union Carbide and Shell Chemical. In 1969, Ron and Judi partnered with 3 other couples to purchase Brayton Chemicals in West Burlington, Iowa. Brayton grew to be a very successful crop protection distributor, but Ron continued to long for the farm. In 1982, Ron and Judi moved their three daughters to southeastern Minnesota to start a farming operation from scratch. They farmed roughly 1,600 acres during the heart of the farm crisis. In 1985, the family returned to Burlington, Iowa where Ron accepted a management position with what was then the Brayton Division of Wilbur-Ellis Company. In the summer of 1991, Ron studied at Stanford University and earned an Executive MBA. When he returned from Stanford, he was named Vice President of Wilbur-Ellis Company, Southern Division and he and Judi moved to McAllen, Texas where Ron had responsibility for the southern United States and Mexico. In 1997, Ron retired from Wilbur-Ellis and partnered with others to found Farrell Growth Group, an ag consulting firm for which he was President and CEO until the end of 2019. He concurrently served as President and CEO of AgGateway Corporation (RAPID, Inc.) until the end of 2008. Ron was a true visionary in the ag industry and left his mark on many colleagues and customers. Although Ron was passionate about his work and his farms, he valued his family above all else. Ron is survived by his wife of 53 years, Judi; three daughters: Jennifer Farrell of Ankeny, Iowa, Susan (Harry) Wallem of Hayfield, Minnesota and Kelly (Mick) Freyermuth of Kansas City; five grandchildren: Hailey Rostad, Grace Doraska and Luke, Rory and Caitlin Freyermuth and a special young man, Austin Gessell. He is also survived by one brother, four sisters, six brothers-in-law, three sisters-in-law and numerous nieces, nephews and cousins. He is preceded in death by his parents, Jim and Bernice Farrell, his stepfather, Donald Farrell, his brother-in-law, Mike Balster and his nephew, Sherman Hogrefe. A wake service will be held on Thursday, January 23rd, 2020 at 4:30pm at Holy Family Catholic Church, 919 NE 96th Street, Kansas City, Missouri, with visitation to follow until 8 p.m. Mass of Christian Burial will be at 11am Friday, January 24th, 2020 at Holy Family Catholic Church. Inurnment will be at a later date at St. Columbkille's Cemetery in Varina, Iowa.
VOIR PLUS
VOIR MOINS
FAMILLE

Jim Farrell

Father

Bernice Farrell

Mother

Donald Farrell

Step-Father

Judi (Waterbeck) Farrell

Wife

Jennifer Farrell

Daughter

Susan Wallem (Harry)

Daughter

Kelly Freyermuth (Mick)

Daughter

Hailey Rostad

Granddaughter

Grace Doraska

Granddaughter

Luke Freyermuth

Grandson

Rory Freyermuth

Granddaughter

Caitlin Freyermuth

Granddaughter

Austin Gessell

Family Friend

Mike Balster

Brother-in-law

Sherman Hogrefe

Nephew

He is also survived by one brother, four sisters, six brothers-in-law, three sisters-in-law and numerous nieces, nephews and cousins.
PORTEURS

Michael Balster

Kevin Balster

Doug Grover

Tyler Hogrefe

Jim Farrell

Nick Farrell

Chad Stedman

Jerome Waterbeck

Weston Waterbeck
DONS

Charity of the Donors Choice
Services Précédents
vendredi,
24 janvier, 2020
Mass of Christian Burial
En mémoire de
Ronald Allen Farrell
Aidez à raconter l'histoire de la vie unique de votre bien-aimé. Laissez un souvenir ou partagez une photo ou une vidéo ci-dessous pour montrer votre soutien.