Avis de décès
Modene Motley
13 janvier 1919

–

1 décembre 2021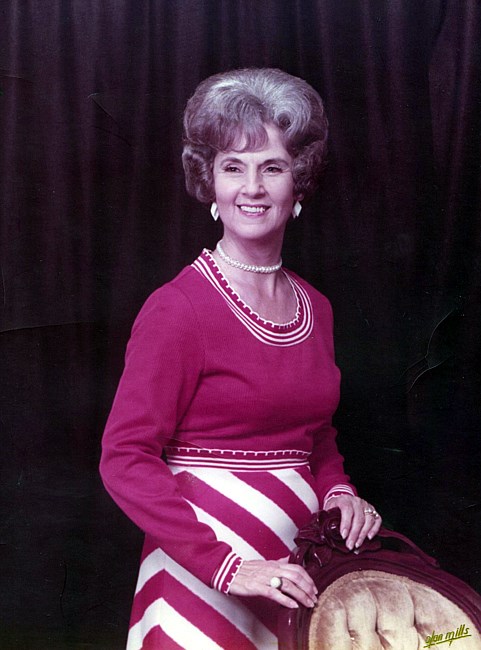 Gladys "Modene" Thornton Motley born in Lovelady Houston, Texas on January 13, 1919. She was the 10th of 12 children born to Mary Rebecca Smith and James Mitchell Thornton. Her family lived in Houston, Hamilton, and Runnels Texas where she graduated high school.
Modene was a beautiful, vivacious young lady who loved fashion. She modeled for Neiman Marcus and occasionally worked for Merle Norman Cosmetics. She was very involved in various social and civic clubs in Grand Prairie.
Modene and Douglas C. Motley were married on March 23, 1940 and enjoyed 58 wonderful years of marriage until Doug's death in 1998. Modene and Doug traveled extensively and recorded their many domestic and international travels with movies and photos. Modene loved her family and often visited her special nieces Billie Moore, Gayle Willard, Judy Dunn, Dicey Brestron, Sue Hicks, and their families. She and Doug cherished the annual family reunions that they attended at Mariposa at Canyon Lake.
Her favorite colors added to her bright personality. Everyone who knew Modene loved her for her honesty, sincerity, kindness and concern for others.
In 1960 Modene accepted a Bible study from one of Jehovah's Witnesses, Ella Mae Kincaid (wife of Judge Kincaid). As she began to know God personally, her love for him became her passion. She was baptized ­­­­­in March 1962 in Bowie Texas.
Modene was an avid reader of God's Word. She had a wealth of knowledge from her research and held true to God's view. She would always encourage anyone to 'read their Bible' and come to an accurate understanding rather than sharing personal opinions. She was zealous and bold in all forms of the ministry, whether door to door or conducting Bible Studies. Her greatest joy was in sharing the good news about her Great God Jehovah and his son Jesus Christ to anyone who would listen. She was very generous and caring, often providing transportation to the meetings and conventions for those who needed it. As Modene's health declined, she moved to Arlington Care Rehabilitation Center where she continued to faithfully and boldly speak to staff and residents about her wonderful Father Jehovah. She was dearly loved. On occasions when she would "dress up" and leave the facility, the residents would line the hallway to cheer as she left the building. She was always coordinated with her stylish glasses and matching accessories.
Modene is preceded in death by her husband, Douglas C. Motley; her parents James and Mary Rebecca Thornton; Siblings - Mineola, Virgie Mae, Ottie Lee, Grace Beatrice, Ollie Inez, V.T., Lang, Ben, James, Lee Roy and Harold Eugene.
We thank Jehovah and his Son Jesus Christ for knowing Modene and having her in our lives. We look forward to seeing her again soon.
VOIR PLUS
VOIR MOINS
Services Précédents
samedi,
11 décembre, 2021
Memorial Service
En mémoire de
Modene Motley
Aidez à raconter l'histoire de la vie unique de votre être cher. Laissez un souvenir ou partagez une photo ci-dessous pour montrer votre soutien.