Avis de décès
Jeane Isobel (Stevens) Gage/Barlow
9 février 1926

–

21 novembre 2021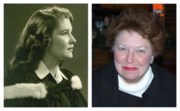 Passed away peacefully at St. Joseph's Hospital, in Hamilton, on November 21, 2021, with her family by her side.
Jeane was born in Toronto on February 9, 1926, to Douglas and Margaret (nee Evans) Stevens. She was raised in Hamilton where she graduated from Loretto Academy and McMaster University. She is survived and sorely missed by her husband Christopher Barlow, her three children George (Debbie), Brian (Cristina) and Margaret (Kirk), three stepchildren, Persephone (Rob), Caroline (James) and Crispian (Christi), grandchildren Cameron (Angela), Alessandra, James (Jacqueline), Robert (Andra), Conor (Kennedy), Kahle (Jesse), and Joseph; and two great-grandchildren Freya, and Isla Rose. She is mourned by her sister Margaret and her nieces and nephews and all the members of the extended Hopkins family.
During her lifetime she earned the love and respect of two exceptional gentlemen. Jeane was married to Cameron Gage Q.C. from 1949 until his death in 1991. She has been married to Christopher Barlow since 2003. Thanks to the patient and attentive care provided by Christopher, Jeane was able to remain in her home until shortly before her death. The family are grateful to Josie and Charmaine for the support and assistance they have provided over the past year.
Jeane was active in the community throughout her life. She served as a member, and on the executives of, the Home and School Associations of Central Public and Ryerson Elementary, the Women's Wentworth Historical Society, the Junior League and the Big Sisters. She was a lifetime member of the Church of the Ascension. She participated in the restorations of Battlefield House and Dundurn Castle and led the restoration project at Whitehern.
She maintained an interest in architecture and art throughout her life. She had an extraordinary life, full of travel, adventure, and fun. In 1965 she drove, completely on her own, and camped with her children all the way across the United States to San Francisco and then up to Vancouver. She had a close circle of good friends. Her New Year's Eve parties were justifiably legendary. She treasured her time in Tobermory, Naples, Florida and Ellicottville, New York. She lived her life to the fullest, with gusto and passion and courage.
Family and friends will be received on Monday, November 29, 2021 from 3-5 and 7-9 p.m. at Marlatt Funeral Home & Cremation Centre, 615 Main St. E. Hamilton, Ontario (905-528-6303). A Memorial Service will be held on Thursday, December 16, 2021 at 2 p.m. at Church of the Ascension, 64 Forest Ave. (at John St. S.), Hamilton, ON (905-527-3505).
In accordance with the Covid-19 regulations, proof of double vaccination and ID is required for all guests attending the visitation and Memorial Service. Masks are required upon entry.
If desired, memorial donations made to a charity of one's choice would be appreciated by the family. Online tributes and condolences may be made at www.marlattfhhamilton.com.
VOIR PLUS
VOIR MOINS
En mémoire de
Jeane Isobel (Stevens) Gage/Barlow
Aidez à raconter l'histoire de la vie unique de votre être cher. Laissez un souvenir ou partagez une photo ci-dessous pour montrer votre soutien.