Avis de décès
Lois McCall
2 novembre 1921

–

18 avril 2021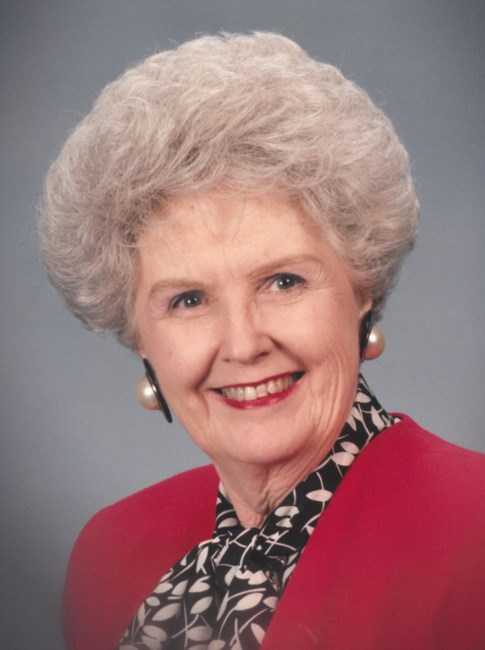 Lois McCall, second daughter of Lloyd V. and Julia Harrison Mallon, was born in Dallas, Texas, on the 2nd of November 1921, and died on Sunday, the 18th of April 2021. Deserted by her father on Christmas Eve after her 5th birthday, the small family struggled, but she learned to trust her Heavenly Father through the faithful model of her Christian mother. Precocious and motivated, she barreled through school and college, graduating cum laude from Baylor University at age 18, anchoring Baylor's prestigious Forensics team, winning national championships for Baylor in both debate and extemporaneous speaking.
While at Baylor, she met the love of her life, the handsome Texas Aggie engineering graduate student, Richard Hawley (Mac) McCall, whom she married at age 19, after graduating from Baylor and teaching school for a year, just in time for the attack on Pearl Harbor six months later. Their first child, Richard H. McCall Junior, was born while his daddy was overseas in the Army Air Corps. When the family was reunited after the war, two more boys and a girl (Michael, Julie, and Doug, chronologically) completed their family in due time.
Lois thrived as wife and mother as the family moved frequently around the Gulf Coast oil fields with her husband's oil business job, and she became an expert in moving, mothering, and making friends. When encouraged by her husband, she became a popular book reviewer, giving her an opportunity to share her speaking skills with audiences once again.
About the time that her youngest child was about to leave the home, Lois discovered, or renewed, a fresh, deep, fulfilling personal relationship with Jesus Christ. Her mother's faith had taken her through a difficult childhood and challenging parenting years, but this personal awakening and commitment stirred her own soul, deepening her own relationship with God. Embracing the Lord's promises to guide her steps, she became a Teaching Leader with Bible Study Fellowship, an international and inter-denominational Bible study. Lois started the first class in Houston, teaching weekly groups of 450 for more than 10 years. Giving up her class to join the board of directors for BSF International in 1982, she enjoyed visiting various BSF classes around the world and thrilled to see God at work changing lives through his Holy Word, the Bible. She retired as Board Member Emeritus in 2013.
After being widowed in 1988, she continued a ministry in Houston as a host family for the Institute for International Education, "mothering" graduate students from mainland China, Taiwan, India, Pakistan, and Japan, while they studied at Rice University. She served on the Board of Directors for Star of Hope Mission, a faith based outreach to the homeless and needy, and was also a frequent speaker at women's retreats and conferences and for Christian Women's Clubs across several states, sharing her faith and the difference her Savior made in her life. At the request of Colonel Carol Reineck, Army Nurse Corps, she wrote the devotional booklet, "In His Service", used by US military chaplains for service women deployed overseas.
Even after retiring to a senior retirement complex, she taught a weekly Bible study until Covid-19 shut down most social interactions. In her spare time, she interacted with the other residents, resulting in her writing a monthly "Meet Your Neighbors" column for the community's newsletter, with biographical sketches of these new friends. She would say, "None of us were born here, and almost none of us knew each other before moving here, and all of us have stories that need to be told!"
With the telling of HER story, she leaves a legacy of faith and trust, a testimony of a life well lived, a tribute which she would deflect to the author, finisher, and object of her faith, the Lord Jesus Christ.
Lois is predeceased by her husband of 47 years, R.H. McCall, her sister, Marie Schulze, and is survived by her children: Richard and Susie McCall, Michael and Perry McCall, Julie Ousley, and Doug and Audrey McCall. There are 8 grandchildren: Will McCall, Michelle and Sam Morris, Margaret and Ryan Emis, Timothy and Courtney Ousley, Erin and Trey Mangan, Daniel and Allie Ousley, Sarah and Zach Brown, and Rachel McCall. There are 15 great-grandchildren: Heidi, Charlotte, and Michael Morris; Eleanor, Emma and Elise Emis; Gabriel and Niko Ousley; Annaliesa, Clara, Liana, and John Mangan; Luna, Hawley, and Shiloh Ousley.
Friends are cordially invited to a visitation with the family from eleven o'clock in the morning until two o'clock in the afternoon on Monday, the 26th of April, in the Jasek chapel and drawing room of Geo. H. Lewis & Sons, 1010 Bering Drive in Houston.
The memorial service is to be conducted at ten o'clock in the morning on Tuesday, the 27th of April, in the Sanctuary of Second Baptist Church, 6400 Woodway Drive in Houston.
Following the service, all are invited to greet the family during a reception to be held at Bethel Church, 825 Bering Drive in Houston.
Memorial contributions in her name can be directed to Bible Study Fellowship, International, 19001 Huebner Road, San Antonio, TX 78258-4019 (or online bsfinternational.org, "to support BSF"), or Star of Hope Mission, P.O. Box 1505, Houston, TX 77251-1505 (or online SOH website, GIVE NOW, Tribute).
VOIR PLUS
VOIR MOINS
En mémoire de
Lois McCall
Aidez à raconter l'histoire de la vie unique de votre être cher. Laissez un souvenir ou partagez une photo ci-dessous pour montrer votre soutien.