Avis de décès
Mildred Irene Ferrari
17 mars 1938

–

14 janvier 2023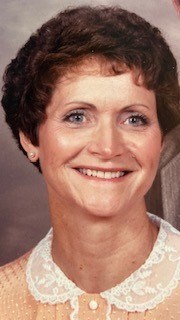 Mildred Irene Ferrari born on March 17, 1938 to parents George and Kansas Burns in Coolidge, AZ. Milli was born number seven of her ten siblings. Milli passed away at the age of 84 on a Saturday, January 14, 2023 peacefully at her home in Riverbank, CA with family around her. Milli is survived by her two children, Daughter, Jackie Hamrick and Son, Art (Teri) Nugent, Grandchildren Josh Hamrick, Cody and Rachel Nugent, Jayme and Tony Kline, Brandi and Ryan Popke, Amber and Ross Henry; Great-grandchildren Jessica Popke, Abbigale Thomas, Trent Nugent, Chance Nugent, Jeremiah Popke, Kimber Nugent, and Trayce Kline; and one sibling John Burns. Milli is preceded in death by her husband Richard Ferrari by ten years to the day and her parents George and Kansas Burns and eight siblings. Milli was born in on March 17, 1938 in Coolidge, AZ to parents George and Kansas Burns. She was born number seven out of ten of her siblings. Her family moved to Calilfornia for her father to work in the ranching field for several years. They moved to MO when she was about 8 or 9, which was her favorite place she lived growing up. She said the ranch they had was the most beautiful place and she loved the home. In her later elementary years they moved back to California and lived in the Firebaugh and then Kerman area. She went to a little one room schoolhouse in the Kerman area which was still standing when Art and Jackie were elementary age. She always loved music and was active in the band and orchestra in her junior and high school years. She was a very shy girl. She met Jack Nugent in her junior year at Ceres High School. They married young and were married for 17 years. They had Jackie first in 1956 and then Art in 1960. Milli always made God and taking her kids to church a priority and did it as a sacrifice all of our young lives. Milli also played the piano for worship at her church for most of her life. She started with Art having to sit on the bench with her to keep him from crying when he was no more than three. Most every morning for years Milli would have her Bible reading it before any other tv or any part of her day started, Milli was an accomplished seamstress and she made many of Jackie's school clothes to make sure she was in style since they had a modest income during those years. Her and Jack build their first new home on Pelton Ave. Modesto, in 1961. Both Art and Jackie went to James Marshall Elementary School where Milli was quite active in the PTA, Girl Scout Leader and classroom assistant. Jack and Milli were divorced in 1972. She had been working for Gene Corfman, Chiropractor and were close friends with he and his wife Paula. They were very supportive to her through that difficult time. It was there at that office three years later that she met and fell head over heels in love with Grandpa (Richard Ferrari). They were married on December 27, 1975. Milli used her bookeeping talents to assist Richard with his Electrical Contracting Business. She excelled at sewing, canning, baking, gardening, loving being a wife, mom and grandmother. They lived on 8 acres of apricots and we all remember her famous fried apricot pies that were to die for. Not to this day have we been able to duplicate them. In the years when her health allowed she was the happiest while cooking and entertaining her family and church friends. Milli was very talented and drew all the specs for her kitchen and laundry/sewing room at their 1908 Patterson ranch house when they remodeled it. She would insist on doing all her own custom curtains and wallpaper. For as many talents that Milli had we can safely say she has 20 times more pairs of shoes in her closet. Teri believes that Art inherited the shoe fetish gene based on his closet!! One of Brandi and Jayme's favorite memories is playing in grandma's closet with Amber. They would try on all her dresses and shoes but there was always one rule - and that was to never touch or play with her snake skin shoes. She was always a beautiful classy woman from the earrings down to the shoes. Two weeks ago Jackie was taking her back to bed and she sat on her walker to stop and brush her teeth. She got out her toothbrush and this four step supersmile whitening products. That's our grandma, still trying to stay pretty till the end. As Grandpa Richard always made clear, it was God who truly blessed them with an offer to purchase their property to develop for homes that left them with a comfortable retirement. They were blessed he was able to retire early. At that point they moved to their beautiful home in Riverbank which was a great source of pride for both of them. Mom made her own bedroom curtains and comforter set and put up a ton of wall paper. Mom was the wallpaper queen. She taught me her wallpaper tricks and helped her with many wallpaper projects in her homes. Grandpa Richard went to the Lord exactly ten years to the day before her on January 14, 2014. Milli has struggled with her health and chronic pain for many years. In the past few months she has told Jackie at least daily that she was so tired of this pain and why does it just keep getting worse. She has said numerous times to us - try not to cry and grieve for me when I'm gone, because I will finally be out of pain. As we know that's not easy to do, but today let's definitely celebrate her life and that she is whole and healthy and out of pain. She is part of each of us that knew her. We love you and will always miss you but imagine that you are dancing before Jesus.
VOIR PLUS
VOIR MOINS
En mémoire de
Mildred Irene Ferrari
Aidez à raconter l'histoire de la vie unique de votre bien-aimé. Laissez un souvenir ou partagez une photo ou une vidéo ci-dessous pour montrer votre soutien.